Can I Outsource My Entire Real Estate Investing Business?
I've been automating my business for a long time. Each year I've added new methods of automation to make my job easier as a real estate investor.
I've also started outsourcing the work that can't be automated. Some of these techniques are taught in the Automarketer program and some are so new, I've only shared them with my mentor students and partners.
Here is a look at where we are going.
You can watch it in this video.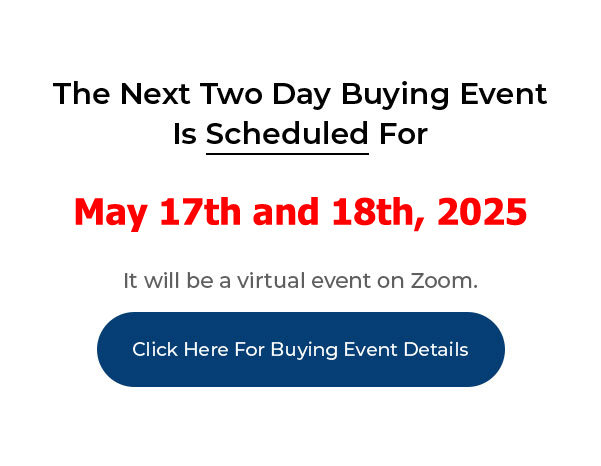 ____________________________________________________________
My PushButton Automarketer Program – Automate your business:
http://www.pushbuttonautomarketer.com
My 6 month mentor program:
http://www.ZeroDownInvesting.com
http://www.JoeCrump.com/partner
My Two Day Buying Events
My Real Estate Investing Blog:
My home study program (there are 68 free videos you can watch on this site):
http://www.PushButtonMethod.com
A Free Audio About How To Automate Your Real Estate Investing Business:
http://www.JoeCrump.com/pushbuttonmethod
My ebook:
http://RealEstateMoneyMaker.com
Free E-letter Opt-In Page:
A few Case Study Video Interviews with my Students:
http://www.JoeCrump.com/partner/casestudy.html
30 Day Free Trial Monthly Printed Newsletter and Audio:
http://www.RealEstateMoneyMaker.com/newsletter/main.html
And on youtube.com search "joseph4176″
Read Transcript for "Can I Outsource My Entire Real Estate Investing Business?"
"I'm sure there are lots of people like me out there who want to do this business remotely. In other words, in cities and states where we would never be able to meet the sellers and buyers, see the house, let people see it, etc. you've addressed some of the factors involve in your teaching but I'd like to see one whole module devoted to that subject and methodology, one place where we could go to get answers to all of the questions that apply to that situation." – Bill Shappy, The Villages, Florida
Joe: The only place I have this right now is in my mentor program. I talk about it through all of my programs, not just automation but also outsourcing, because I think that's what you're talking about – not just automation, which is what the Automarketer does – it automates nearly everything that can be automated.

Joe: Outsourcing is if you want somebody who is going to make the calls to your sellers, someone who's going to be talking to your buyers and selling the deals for you so you can just sit back and watch this stuff happen and direct them and make sure that they're doing their work properly and looking at the numbers and making sure that everything's happening properly – that's the way I do my business, and you can do the same thing for yours by bringing other people into this process to help them do that.

Joe: But right now, I'm developing some new techniques in how to outsource, and we're adding new things to the Automarketer to make outsourcing a little easier – a phone module that'll make it possible for people to call through your system even if they're in the Philippines or they're in say, Jamaica – they can call into a local area.

Joe: Let's say I want to work in Idaho – we get an Idaho area code and we set it up on our sites, then I let the people that I hire call in from that website, I click a button and they can call out from that number, and it'll record their call, keep track of how long they're on the call, and it'll let you know that if they're charging you for ten hours and they're only on the phone for half an hour you know there might be a problem there, so you can monitor what they're doing there.

Joe: You can also listen to their recordings to make sure that they're doing it properly and see where they're getting hung up and then train them through this process.

Joe: These are things that I'm developing in my mentor program and I'm teaching to my mentor students as we go, because frankly, I'm learning some of this stuff myself. We're trying to figure out what is the optimal way to do that. And eventually, we're going to set up a module inside the Automarketer that teaches all of these things as well so you'll eventually get all of that information as well, just not at the beginning. I try not to create new training programs unless it's tested and proven and I'm absolutely happy with it. It's usually six months or a year or two years behind my process in the system.
"How do we show the house remotely? How do we gain respect and trust over the phone? How do we find mortgage brokers to send buyers for prequalification? How do we get them to give us results? Who do we use for closing the deals and collecting money and where do we find them without traveling to the area? Do we really have to put signs in the lawns or just ads in Craigslist? Where do we get lockboxes and who to get to trust to get them into place? Should we just have a homeowner show us the property if they're willing, and so forth and so on?"
Joe: And I think this all relates to his earlier question about creating a module because this is a much bigger question than I can answer on a three minute video.
"I know these are basic answers to some of these, but put an ad in the paper or go through the phone book for bankers, but maybe you know some tried and true methods that can streamline the whole process…"
Joe: I do.
"…maybe a sort of step by step blueprint just for the remote method of doing the lease to buy or the FRM deals long distance."
Joe: He's asking for this module, so, yes that is what works. And if you're in my mentor program, you're going to get it as I do it, and you'll even be testing things out with me, because my mentor students will say, 'I'd like to do this.' I'll go, 'that's great. Let's try it. Here. Do this, this and this. Here's an ad that you can run to find a person to do it. Here's how much money you should be spending on it. Here are the numbers – lets break those down. Let's look at the exit strategies. Let's see how this is all going to work. What's it going to take? How many people are you going to have to hire before you get one that sticks? How do you keep those people onboard?'

Joe: All of those things we're doing right now in the mentor program and we're teaching those things as we go. There's a lot of information in the Automarketer program, too, so go to the Automarketer training tab, scroll down and there are some Q and A sessions that we did that I think would be very valuable to you because we talk about some of the outsourcing and automation in that.

Joe: Now, with all of this said, before you start outsourcing – outsourcing is really an advanced method – you want to automate and you want to do the calls yourself, the high value jobs, which is making the calls to the sellers and then sometimes talking to the buyers, and talking to the buyers is the first thing you're going to outsource. You're going to outsource talking to sellers last, and it takes some skill to be able to train somebody to do that, and we've broken it down in a way that makes it easier.

Joe: If you go into the Automarketer, you'll also find the lead sheet. The lead sheet is the questionnaire. You'll see things popping up on the Automarketer that aren't very well explained on the Automarketer yet because they're brand new – and one of those is the lead sheet. The lead sheet is where we give it to a telemarketer and they ask questions and find out if that lead is serious, and if the lead is serious then we call and follow up and close the deal, and by doing that enough times, the telemarketer gets good at learning how to close that deal themselves.

Joe: Our goal is, within three to six months, to have that telemarketer – first of all, within a few weeks to find out if the telemarketer is actually going to do the work, and then within a few months, have that telemarketer learn how to close a deal so that they can start closing on those leads and then we can expand into a new area, and then get another telemarketer and then expand into another area, and another and another. So those are all things that we're learning the process of – what is the most optimal way of bringing those people in.

Joe: Some of it is luck – getting the right person, but much of it is how you train them, how you teach them, what you pay them, how you structure it, and so these are techniques that we're exploring right now and that you're going to see eventually.

Joe: My answer is 1) get into the mentor program and I'll teach you these things personally and 2) wait for me and ill eventually get them up on the Automarketer within the next year or so and you'll be able to see this stuff as it goes. Alright, I hope that helps. Thanks.