Can The Automarketer Bring Me Wholesale Deals?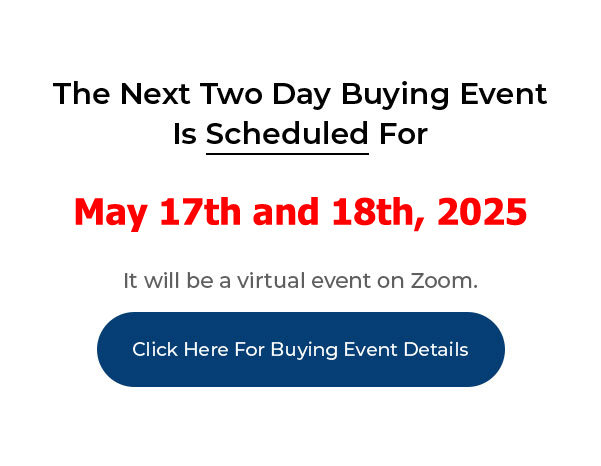 ____________________________________________________________
My PushButton Automarketer Program – Automate your business:
http://www.pushbuttonautomarketer.com
My 6 month mentor program:
http://www.ZeroDownInvesting.com
http://www.JoeCrump.com/partner
My Two Day Buying Events
My Real Estate Investing
Blog:
My home study program (there are 68 free videos you can watch on this site):
http://www.PushButtonMethod.com
A Free Audio About How To Automate Your Real Estate Investing
Business:
http://www.JoeCrump.com/pushbuttonmethod
My ebook:
http://RealEstateMoneyMaker.com
Free E-letter Opt-In Page:
A few Case Study Video Interviews with my Students:
http://www.JoeCrump.com/partner/casestudy.html
30 Day Free Trial Monthly Printed Newsletter and Audio:
http://www.RealEstateMoneyMaker.com/newsletter/main.html
And on youtube.com search "joseph4176″
Read Transcript for "Can The Automarketer Bring Me Wholesale Deals?"
"Hey, Joe. My question is what would it take for me to use this program…" (the "Automarketer" I presume) "…and your method for wholesaling properties (getting contracted for properties well under market value in hopes of selling to investors)? Could you provide the documents for us and walk us through the process one time so that we can gain a better understanding?" – Danny, Chatsworth, California
Joe: Well, I'm not sure which method you're talking about. There's different zero down methods that we use. We use "Subject-To", "Multi-mortgage", land contract, lease option, assignable cash deals, which I think maybe what you're talking about here, if you're talking about wholesaling. Most people, when they're talking about wholesaling, are talking about getting a property under contract and then turning around and selling it to an investor. But that's the option that we use least often because there's a lot fewer of those that make sense for you to try to sell as a for sale by owner without using the MLS.
Joe: Now, I've bought properties dramatically under market value and put them on the MLS with a real estate agent in different states around the country, and that works just fine and you can make a profit on those as well, but I think that most of the deals that you're going to get are going to be other types of deals, and I find that the one you get the most is the "For Rent Method", the lease option flipping deals, and if you market for that type, you get more people that are willing to do it, which means that you get a lot more leads.
Joe: But, some of those leads that come in through that marketing method will be able to do it other ways or it may be more optimal to do it other ways – they could do a Subject To where you could take over the deed, or a land contract, or they might want to do a wholesale deal where they just want to get out of the deal and are willing to discount it by 40 or 50% of its market value. When you come across those, those are what you really need in order to sell it to an investor for cash.
Joe: And there are some people that have good cash investor lists, but it's a lot of work putting those together, and it's a lot easier putting together a lease option list than it is an investor list who have cash to spend, and all of the problems they have trying to decide whether or not to buy a property because this is a big deal for one person to buy a property and spend cash on it, when if you can give it to them Subject-To or if you can give it to them on a land contract, where they don't have to get a loan and all they need is 5 or 10% down, and they don't have to qualify, and they can come in and make payments and maybe they can fix it up or maybe they can put a tenant in there, that makes a lot more sense to an investor and it's a lot easier to sell it to an investor than a wholesale deal. That's why we focus on the For Rent Method or Subject To or land contracts over wholesale deals.
Joe: I know a lot of teachers focus on wholesaling because it seems, intuitively, the way you should do this, but as you can see from the stuff that I'm teaching, I think that's secondary. It's still possible, and we still come across them, but for every 10 leads that we can get, maybe 5% of them are wholesale deals – the rest of them can be done other ways – they can't be done as wholesale deals but they could be done as Subject-To, Multi-mortgage, land contract or lease option.
Joe: So learn the zero down hierarchy of structures that I teach, which I teach in practically all of my programs, so get ahold of that and you can learn those things. I've talked about almost every one of them on this blog as well, so you can do some searches for that and I think you'll be able to find the information that you need in order to be able to put those deals together. Alright, good luck.