I have been a real estate investor since 1986. During that time I have helped many hundreds of people buy and sell real estate and sold a ton of it for myself. I've also taught many, many folks how to become real estate investors, quit their job and change their life.
My Story – (Long & Occasionally Painful)
I've been married to my wife, Nancy since 1990. I'm a dad to Alex and Katie. Alex is a writer and Katie is a dancer. We live in Indiana now – the town where I grew up. I've come full circle.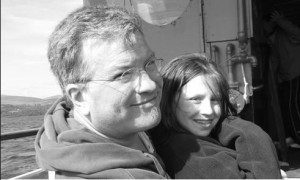 I have very few complaints about my life at the moment. I've found some excellent ways to make a living that don't take up all of my time (it hasn't always been this way). I get to spend time with my kid's whenever I want to. Nancy is a stay at home mom (that's the way she wanted it too). I spend weekends with my family. I love what I do and I don't ever intend to retire.
I graduated from Columbia College in 1981 with a degree in Film Production (making movies) and promptly moved from Chicago (were I went to college) to Los Angeles. I worked in the movie industry for the next 5 years as a "Grip."
"Grips" are the guys that rig the lights and camera to prepare for a shot. It wasn't a bad living. I made good money and I had half the year off (it was all freelance work). But I wanted to be a script writer – (they say everybody in L.A. has a script)
So, over a 5 year period, I wrote 12 feature length screenplays until, finally, some executive at 20th Century Fox gave me a call and told me they liked one of my scripts and wanted to develop it.
Hooray! I was going to make $350,000 and begin my real career. Or so I thought. Well, after about a year of "development" and rewrites, it finally sputtered and died.
I said, "enough of this garbage," (but not in those exact words) and decided that I would make enough money to make my own damn movie. I was sitting on the dolly during a break one day talking to the Assistant Cameraman. He told me his house had gone up in value $75k that year – that was more than either of us made all year. I thought that real estate might be the way to get rich and promptly bought a house in Lancaster.
Real estate *was* more fun than being a grip. No bosses, no regular hours, good money (better than gripping) and lots of freedom.
I started real estate investing back in 1986 in Los Angeles, California. Three years after I started I had bought $17,000,000 (that's 17 million!) worth of property. The first property I bought was brand new construction.
I didn't know what I was going to do with it. I didn't know if I was going to rent it or sell it.
I did know that I didn't want to live in it. It was too far away from where I worked.
I was making $60k a year as a grip – good money by most people's standards in the mid-80s. I only worked about 100 days a year, had lots of time off and got to work on sets and do lighting.
Blind, Dumb Luck
A month after I bought the Lancaster, CA house, the value had gone up 20%. I was in the right place at the right time.
I turned around and immediately sold that new house and made a nice chunk of money with almost no work.
I didn't realize at the time that markets don't jump like that very often and when they do, they are hard to predict.
My good fortune started me on a road to start buying properties like crazy. I started doing rehabs after that first success. I fixed them up, waited a month or two for the values to rise, and then sold them for another big chunk of cash.
While all this was happening, I fell in love and married Nancy. I still think it was the smartest thing I've ever done.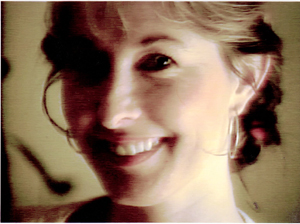 My Business Kept Growing – Leverage Was King!
In three years I bought over $17 MILLION dollars worth of property and a big wad of that was equity. Everything I had was buried in these properties – I was leveraged to the hilt and constantly looking for more property to buy.
I was living up in the Hollywood Hills in Los Angeles in the Laurel Canyon Area. A shack up there cost $350,000 at the time. I was building properties like crazy. I think the most expensive one was a $1.6 million. They were all on the hillside. These properties had $300,000 foundations because of the earthquake rules in L.A.. They had 3 foot wide concrete and rebar pillars going down 50 feet into the ground. They were huge properties and I thought they were going to make me a fortune.
My Fall to Earth was Rapidly Approaching
Then, 1991 came along and the market dropped by 30%. Nothing like the crash in 2007, but bad enough to sink me.
The construction lenders that I had borrowed from, came to me and said, "We're going to stop the loans." I said, "But I just finished the foundation, a $300,000 foundation – it's in the ground – concrete, steel. You can't get it out."
They said, "We're very sorry. We can't continue giving you more money. We have to cut our losses. You'll have to stop building." They stopped me and everything fell apart. I could no longer make any of the payments on my infrastructure.
I Lost Everything
I lost my house. I lost my cars. I lost my dump truck, my bulldozer, my bobcat, my concrete forms.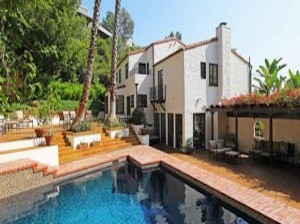 I had people coming to my house in the middle of the night pounding on the door wanting money. I had people serving me legal papers. I got served with lots of lawsuits for unpaid bills because when you're doing construction, there is a lot of stuff going on.
It Was a Hard Lesson
When it all played out, I knew that I had to leave my house. I was walking up in the Hollywood Hills (I lived in Laurel Canyon) with my dog Jessie.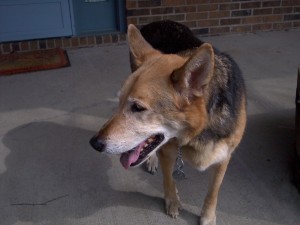 I remember looking out over L.A. (it's really beautiful at night, you can see the whole city from up there). But that night, as I looked out over the city, it was in flames. On top of everything else, the L.A. Rodney King riots where in full swing.
The riots were going, my business was in the tank, Nancy was 6-months pregnant with Alex, our 1st child, we had no place to live, no place to go – but I had family in Indiana and they still loved me.
Ex-Millionaire Eats Humble Pie
So there I was – 32 years old, driving back to the Midwest in a big rented moving truck to move in with my parents. Talk about eating humble pie. I'm sure a lot of you have been in tough financial situations before. I know a lot of people have gone through this sort of thing, but it didn't make it any less difficult. I wouldn't wish it on anyone. 
My Grandpa Pete said, "There's no shame in being poor, it's just damned inconvenient."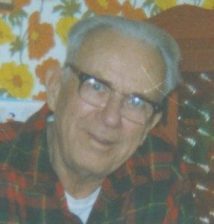 And that's the truth, I've been broke and I've had money and I can tell you, it's better to have money. But being broke doesn't mean you can't start building the life you want.
We had to start over. I didn't have any money to work with and my credit was trashed, but my Mom and Dad gave us a place to stay and my brother Dan gave us an old car – lifesavers.
I knew a lot about real estate. I became a real estate agent and started selling property. I needed money quickly.
An Incredible System for Buying with No Money & No Credit Arose From The Ashes Of My Failure
Eventually, I came out of the haze of humiliation, self pity and self loathing and started to open my eyes again. I realized, "I can buy property if I do things a little differently."
Here was the equation I was using before the crash.
I would get a conventional loan, I would put money down and use creative financing to help leverage the deal. That is how I built the business so big, so fast.
With my new situation (no money and terrible credit), I knew I was not going to be able to take out any conventional loans. I had to pull out of that system altogether. I had to learn to invest without any money because I didn't have any money.
All I had was my knowledge of creative financing. So my question to myself was, "How am I going to make that work?" I learned how to do it with no money.
The answer to the question, "How am I going to make it work?" is what evolved into the "Safety Net" method and my "Millionaire Matrix," the "Push Button Method" and the "Push Button Automarketer."
I developed these systems for real estate investing over the past 15 years. They are revolutionary and you will not find them in the way that I teach them, anywhere else.
Nobody, anywhere, is teaching these methods because, with the input and support of my mentor students, I INVENTED them.
Using these methods you can:
Do deals in a matter of minutes.
You can do them from your HOUSE – you never even have to leave.
The deals will not close unless they are good deals and you make money.
You never put your finances or credit at ANY risk with these methods.
You are able to leverage your profits so that you can make literally hundreds of thousands and millions of dollars without having to get a single loan or use your credit.
I've been involved in over $30,000,000 in real estate transactions since my own personal "crash." There have been lots of headaches, I've screwed up more than I'd like to admit and I've even been stabbed in the back a few times, but overall, it has been a blast. I now personally own a ton of property in different states around the country… all of it managed by professional property managers.
Over these years, I've helped many people buy their first investment property.
Some of them had money and good credit, many of them did not. I've dedicated the book I wrote on real estate investing to the folks who had NOTHING to start with and built a money-making real estate business to be proud of.
I put my first venture online in 1998.
Then, I started a real estate investor newsletter called "The Real Estate Money Maker E-zine!" It's FREE and gives tips about how to buy and sell real estate with little or no money down, with bad credit or no income. I've got over 50,000 subscribers and it's growing every day. You can subscribe by going to: www.joecrump.com
It's free and you can unsubscribe any time you want.
Now I train new investors and partner with them on deals I help them find. For details about my Partner/Mentor/Training Program.
Life is Good
I believe that our success in life is directly related to the amount of stress we can bear without burning out. I've learned how to live with high levels of stress because of my failures and success. I want "good" stress in my life because it lets me know things are moving forward.
I also know that when you get complacent, you tend to get old. You sit on the couch and you die. For some reason, this is the vague dream of retirement that most Americans have – no job, lots of freedom, nothing to do – no purpose. I've had lots of freedom nearly all my life. I haven't had a real job since working at "Terminal Photo" in a train station in Chicago during my college years. The name of that photo store was exactly how I felt about having a job – "terminal."
But purpose is vital and when one purpose is being fulfilled, it's time to add another.
I'm not mega rich. I have a lot of real estate, some of it mortgaged, some of it free and clear. I don't want to lose the money that I've earned in my business over the years and I don't ever want to have to start from scratch again. I've done that and it wasn't fun.
I woke up one morning, not too long ago, with a scene from the old movie, "Citizen Kane" running through my head. I don't know where it came from – I hadn't seen the movie in years.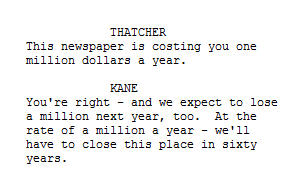 Kane is talking to his business manager at his failing newspaper.
I can't lose a million dollars a year for sixty years like Kane, but I could lose SOME money every year for the rest of my life without impacting my lifestyle or my family very much.
What if I decided to start losing money?
What if I decided to spend what I could on something I loved?
How much could I afford to lose?
What if I revived that old dead dream?
What if I did it the way I choose to do it rather than following someone else's conventional wisdom?
What if I started making shit happen on a new business project or two?
Who knows where it would lead?
But you know something, it doesn't really matter where it leads.
Yes, I want my projects to succeed and yes, I want them to lead to profits.
I want to viscerally impact the lives of others in ways that can potentially change their lives.
But what I want most, is to live "in" the process – experience the moment as it happens – have a good time producing value in my life, in the lives of those I work with.
That's where I'm at now – that's the journey I'm on.
I'm ready for a bumpy ride.
I hope you will join me.
Things are busy here, but I try to stay accessible. Click Here if you need to send me a note.
I wish you and your family the best of all good things.
Sincerely,
Joe Crump
My Company Name Is:
Crump Publishing, Inc.
5868 E 71st St, Ste E #205
Indianapolis, IN 46220-4076
Contact Us
"If a person is looking to get started in the business, there's a lot of mentors out there, there's a lot of coaches out there. And me, myself, have purchased information from other people and I honestly, truly believe Joe Crump is the best person out here in the business. And if you're looking to get started, I strongly recommend starting in Joe Crump's program."
"Joe gives away much more information than you get from other real estate investors. The information that Joe provides and his willingness to get back to you – you can call him and you can email him – you have the calls with the group, and I would highly recommend that somebody get involved with Joe's program."
"Last month I made $9,000. I'm not sure how much I'm going to make this month, but I'm hoping it'll be more than that. It's just amazing what you can make if you just put the time in. You know, and I literally just started putting the time in so now I'm seeing the fruits of it, so, do what he says. Do what he says. He knows what he's talking about."