Do You Ask Mortgage Lenders To Qualify Your Lease Option Buyers?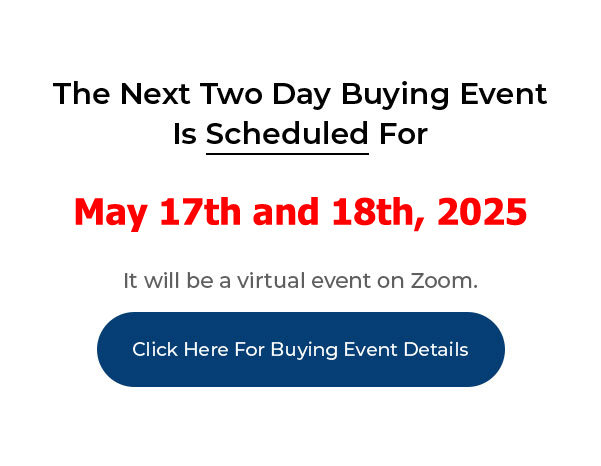 ____________________________________________________________
My PushButton Automarketer Program – Automate your business:
http://www.pushbuttonautomarketer.com
My 6 month mentor program:
http://www.ZeroDownInvesting.com
http://www.JoeCrump.com/partner
My Two Day Buying Events
My Real Estate Investing Blog:
My home study program (there are 68 free videos you can watch on this site):
http://www.PushButtonMethod.com
A Free Audio About How To Automate Your Real Estate Investing Business:
http://www.JoeCrump.com/pushbuttonmethod
My ebook:
http://RealEstateMoneyMaker.com
Free E-letter Opt-In Page:
A few Case Study Video Interviews with my Students:
http://www.JoeCrump.com/partner/casestudy.html
30 Day Free Trial Monthly Printed Newsletter and Audio:
http://www.RealEstateMoneyMaker.com/newsletter/main.html
And on youtube.com search "joseph4176″
Read Transcript for "Do You Ask Mortgage Lenders To Qualify Your Lease Option Buyers?"
"When soliciting buyers for the for rent program, you mentioned that a mortgage broker will review the buyers finances to determine when they'll be able to exercise their option to buy the house…" – Jeffrey Smith
Joe: Let me stop you right here to start with. Yes, we sometimes have lenders look over their finances to find out if they qualify. If you have any skill as far as qualifying people for a loan, it's not that difficult to find out how to do that, i.e. find out what the front end ratio and the back end ratio is, how to look at their credit report and do those type of things – you can learn that yourself and any mortgage broker can teach you how to do that – or you can just send them over to a mortgage broker and have them do it for you. But if you know that they're not going to qualify and you know they've got a lot of problems with their credit, then it's difficult sometimes to get mortgage brokers to work with us.
Joe: And we've tried it different ways where we would give these people two mortgage brokers, and we know that one or two out of ten probably qualify for a loan (they just don't think they do) but it's hard to get mortgage brokers to stick with it unless you pay them to do it and in that case, you might as well pay somebody to do it and pay them a lower amount to make that happen.
"Part of your qualifying the buyer includes the down payment, about 5% of the purchase price. My question is how do you avoid competing with the government home loan programs that are for credit challenged buyers, i.e. with the FHA at 3.5% or some of the USDA zero down payment programs? Wont the mortgage broker have a fiduciary obligation to inform the buyer of the availability of these government home loan programs?"
Joe: Yes, if he's dealing with a lender, that lender is going to try to get him into the best type of deal that he can. We, as lease option buyers, are going to try to get them to come up with as much down payment as possible. The first question we usually ask a buyer Is, 'how much do you have for down payment?' if they say, 'well, I've got $3,000,' we'll say, 'well, if you had 5, I know we could make this work.' If they say, 'I've got $5,000' we'll say, 'if you had 7, I know we could make this work.' So you're always trying to negotiate a little bit more.
Joe: But we also want to try to stay within that 3.5% range which is typically what we do. And we'll tell them, 'Usually an FHA loan requires 3.5% so that's what we require for the down payment for these.'
Joe: And remember, the down payment, when they finally buy this, may or may not apply to their purchase, so they may have to make a down payment now and then maybe later make a down payment again. And one of the ways we can solve this problem (and we've done this for people that we knew wanted to buy the property) – within the last year of their lease option, we can convert them over to a land contract and they can make those 12 months of payments, and when they do those 12 months of payments, the lender will actually look at those payments as another loan and they'll see this as a refinance instead of purchase money or a new loan, which means they don't have to come up with the down payment which is pretty handy when they go through that process.
Joe: So those are the things… Down payment is adjustable or negotiable and we try to negotiate the most that we can get. We feel that it benefits everyone for us to get more down payment. First of all, we make more money which is good. The seller has a more stable investor or buyer for that property,. which is good for them and the buyer has a better chance of buying that property if they put more money down because it makes them more motivated to do that and follow through with that process. So it works all the way around if we try to get a higher down payment. But we don't always get what we like so we just try to negotiate for what's reasonable.
Joe: There's other things that we can do with down payments to try to increase those down payments by allowing them to make payments after the fact and things like that. Those are all things that we teach in the program and I'll leave that for later. Alright. I hope that helps. Bye bye.