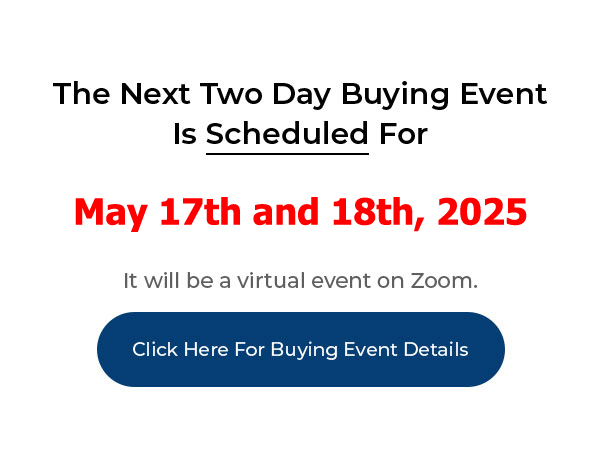 Click Here For Buying Event Details
____________________________________________________________
My PushButton Automarketer Program – Automate your business:
http://www.pushbuttonautomarketer.com
My 6 month mentor program:
http://www.ZeroDownInvesting.com
http://www.JoeCrump.com/partner
My Two Day Buying Events
My Real Estate Investing Blog:
My home study program (there are 68 free videos you can watch on this site):
http://www.PushButtonMethod.com
A Free Audio About How To Automate Your Real Estate Investing Business:
http://www.JoeCrump.com/pushbuttonmethod
My ebook:
http://RealEstateMoneyMaker.com
Free E-letter Opt-In Page:
A few Case Study Video Interviews with my Students:
http://www.JoeCrump.com/partner/casestudy.html
30 Day Free Trial Monthly Printed Newsletter and Audio:
http://www.RealEstateMoneyMaker.com/newsletter/main.html
And on youtube.com search "joseph4176"
120 Hours To Success
Would you be willing to work 120 hours to launch your real estate investing business?
What if you could spend 120 hours and after you are done, know that you could put together deals ON DEMAND any time you want?
Here is how it breaks down:
10 hours a week – 4 weeks per month – 3 months – 120 hours
Three months to learn a skill that will feed you for the rest of your life.
According to the A.C. Nielsen Co., the average American watches more than 4 hours of TV each day (or 28 hours/week, or 2 months of nonstop TV-watching per year). In a 65-year life, that person will have spent 9 years glued to the tube.
It is unlikely that the time spent in front of the TV will help you build a business or will transform your life, but if you refocus your time and take action on the techniques I teach you in these missives, you can transform yourself, your life and the lives of those you love.
All you have to do is start calling sellers and making 'no money down' offers.
Start with the "For Rent Method." It's how I start all of my mentor students.
I've talked about this method before, but if you don't know it, here it is in it's simplest form.
 Call FSBOs (for sale by owners) that you find on Craigslist or Zillow and ask them if they would consider selling their home Rent To Buy rather than selling it outright? You can also use the Automarketer if you want to completely automate this process. http://www.PushButtonAutomarketer.com.
If they say yes, have them sign a one page "Lease Option Agreement Memo" that makes you a principal in the transaction. That makes it legal for you to turn around, raise the price (typically by 10%) and sell the property to a Lease Option Buyer.Since you are a principal in the transaction, you don't need a license to do this. If you don't get the document signed and you don't have a license, you will be breaking the law.
Once you are the principal, put the house on the market for 10% above what the seller wants for it. That 10% is your profit.Since you are selling on "terms," you can actually sell a property a bit above market value – this means you can get the seller full market value for their property.You are going to ask the new buyer to come up with a 10% down payment (usually half in cash and half as a promissory note). They are also going to come up with the first month's rent, which you are going to pass along to the Seller.
Fill out the Lease Option Agreement, get signatures, get the money wired into your account, pass the first month's rent to the seller along with the buyer.
That's it. It usually takes less than 30 days from the first call you have with the Seller (15 minutes) to the last conversation you have with the final buyer (maybe 8 to 10 hours of talking to buyers in total).
120 hours to a lifetime of income using ONE simple technique.
If you learn a few other ways to do deals, like "Subject To", "Multi-Mortgage", Land Contract or Contract for Deed, or Assignable Cash Deals – you could exponentially increase the number of deals you do.
The more options you can give a seller, the more likely it is you will have a solution that will fit their needs.
If you'd like to learn how to do this, you might consider getting into my mentor program and allowing me to walk you through this whole process and show you how seamless it can be.
If you want to work with me personally (not a hired hand), you can find out all about my Six Month Mentor program here:
http://www.ZeroDownInvesting.com
This website will show you how my program works, what is included, what it costs, what you can expect from me and what I expect from you if you sign up.
There are 3 training videos on the site that go into great detail about what you need to do to build a profitable real estate investing business.
They add up to about 2 hours of education. I call them my "Advanced Training" because that is exactly what they are. If you know nothing about real estate, they may be a bit over your head.
The techniques I teach in these videos come from my personal experience and you won't find this information anywhere else.
If you aren't interested in working with me personally or can't afford to join my mentor program, these 3 videos will still be worth your while.
They will give you an overview of my entire business and show you how to model YOUR business after the step-by-step systems I've created.
Even if you ultimately decide not to join my mentor program, I can safely say this Advanced Training Program can completely transform your thinking about building a real estate investing business.
I think these 'Advanced Training' videos are one of the best training programs I've ever created – and they won't cost you a dime.
They distill my 35 years as an investor and 20+ years as a coach and give you a complete outline of how we build a powerful, profitable, consistent, reliable, ethical, PEACEFUL business.
They give you the milestones, benchmarks, and SOPs (standard operating procedures) you need to succeed.
That's it for today!
Good deals are not that hard to find if you have the skill to craft an offer that MAKES SENSE.
I hope you will join me.
If you like this video, please SUBSCRIBE and hit the LIKE button.
You can also go to www.JoeCrumpBlog.com and sign up for my free email newsletter.
I put out a lot of free information there that you can't find anywhere else.