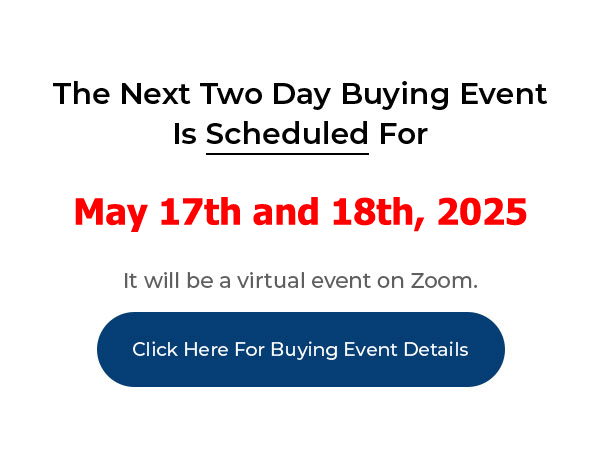 Click Here For Buying Event Details
____________________________________________________________
My PushButton Automarketer Program – Automate your business:
http://www.pushbuttonautomarketer.com
My 6 month mentor program:
http://www.ZeroDownInvesting.com
http://www.JoeCrump.com/partner
My Two Day Buying Events
My Real Estate Investing Blog:
My home study program (there are 68 free videos you can watch on this site):
http://www.PushButtonMethod.com
A Free Audio About How To Automate Your Real Estate Investing Business:
http://www.JoeCrump.com/pushbuttonmethod
My ebook:
http://RealEstateMoneyMaker.com
Free E-letter Opt-In Page:
A few Case Study Video Interviews with my Students:
http://www.JoeCrump.com/partner/casestudy.html
30 Day Free Trial Monthly Printed Newsletter and Audio:
http://www.RealEstateMoneyMaker.com/newsletter/main.html
And on youtube.com search "joseph4176"
$2 leads vs. $100 leads – finding motivated sellers
Nothing is more important to a real estate investor than finding good leads.
If you don't have sellers who will work with you, you won't have any income.
Sellers create inventory. If you don't have inventory, you don't have a business.
The goal is to create a portfolio of inventory. You want to be able to hold on to that inventory for the long term.
Sometimes you want to flip that inventory for quick cash – you have to eat, after all.
So that leads us to these questions:
How much should we pay for leads?
Where should we find those leads?
What kind of leads are best?
and
How do you get more leads for less money?
Cheap leads are great, but if a lead costs you $100 or even $500, would it be worth it if it made you 10,000?
Sounds like a good return on investment to me.
Here is my philosophy about buying leads.
When you're getting started as an investor, you need a lot of leads – mainly because you are incompetent. Sorry – harsh but true – and, of course, temporary.
You need to learn how to talk to sellers in order to convince them to accept your offers.
They won't work with you if you're incompetent unless they are desperate.
Usually, it's not that they think you're incompetent, they think you're a scam.
Learn to speak to them or they will keep their distance and won't work with you.
I've worked with thousands of students over the years and, on average, a new investor will need to speak with 100 sellers and make 100 offers before they get their first deal.
If you do it the way I teach, you can do that within three to four months by working 8 to 10 hours a week.
After you put your first deal together, your second deal will take FAR fewer calls. You will have developed your skills – and sellers will begin to trust you.
Eventually, you will get to the point where you can put a deal together for every 2 or 3 people you speak with.
When that happens, you can spend a LOT more on your leads without fear of loss.
There is a big variance in the cost of leads. I've paid less than 10 cents for leads and I've paid more than $1,000 each.
I've made money with both types of leads.
Leads in the Automarketer System cost a dollar or two apiece. If you're just getting started and you need a hundred leads before you put your first deal together – so it's going to cost you about $100-$200 to get your first deal done.
If you send out snail mail (e.g. postcards or letters), your cost per lead will be between $20 and $200 each (depending on the quality of your marketing piece and the quality of your list).
If you have to talk to 100 of these sellers before you put a deal together, that means your first deal will cost you $2,000 to $10,000. Still profitable, but ONLY if you don't give up halfway through.
It feels crummy to spend $20 to $200 on a lead and have them say "No" – people tend to stop buying leads before they've spent thousands this way. They give up before they develop their skill.
It's a lot easier to spend $1 or $2 instead – you can screw these leads up over and over and not feel so bad about it.
That brings us to the quality of the lead.
Theoretically, the more you spend for a lead, the more qualified that lead should be.
Unfortunately, it's not that simple.
Let's look at the difference between leads generated by the Automarketer that cost pennies, versus leads that come in through the CLONE sites in the Automarketer.
The Automarketer comes with several different seller focused websites. They are ready to go and already set up for you.
One of them is focused on the "For Rent Method", one is focused on "Subject To" deals and one is a general "We Buy Houses" website.
We drive traffic to those sites with text message sequences in the Automarketer. When someone fills out one of the opt-in forms on those sites, those leads are GOLD – some of the best leads we ever get.
We get a lot fewer of these leads than we do regular Automarketer leads, but when someone fills out that form, if I want that deal, I know it's mine.
These are leads that any skilled investor can close nearly 100% of a time IF THEY WANT THEM.
So my advice to you is, if you are a new investor, buy cheap leads.
If you are an experienced investor, my advice is…
BUY CHEAP LEADS
Are you starting to see a pattern here? lol
After you get competent, add expensive leads, but never stop the cheap leads. Cheap leads that you follow up with (using automated marketing sequences) will create a never ending pipeline of deals.
This is how you create consistency and reliability in your business.
Quantity is more important than quality if you are nurturing those leads over time using drip marketing campaigns.
The Automarketer will give you cheap leads.
But I would be remiss if I didn't tell you that free leads can be had by simply going to Zillow and looking up 'for sale by owners.'
I've talked a lot about the "For Rent Method" on my blog and in my programs and emails in the past. All you need to do these kinds of deals is FSBO (for sale by owner) lists and a telephone.
But if you want to streamline the process and make things a LOT easier, use the Automarketer.
You can find out more about this system here:
http://www.PushButtonAutomarketer.com
You might also want to consider getting into my mentor program so that I can walk you through this whole process and show you how seamless it can be.
If you want to work with me personally (not a hired hand), you can find out all about my Six Month Mentor program here:
http://www.ZeroDownInvesting.com
This website will show you how my program works, what is included, what it costs, what you can expect from me and what I expect from you if you sign up.
There are 3 training videos on the site that go into great detail about what you need to do to build a profitable real estate investing business.
They add up to about 2 hours of education. I call them my "Advanced Training" because that is exactly what they are. If you know nothing about real estate, they may be a bit over your head.
The techniques I teach in these videos come from my personal experience and you won't find this information anywhere else.
If you aren't interested in working with me personally or can't afford to join my mentor program, these 3 videos will still be worth your while.
They will give you an overview of my entire business and show you how to model YOUR business after the step-by-step systems I've created.
Even if you ultimately decide not to join my mentor program, I can safely say this Advanced Training Program can completely transform your thinking about building a real estate investing business.
I think these 'Advanced Training' videos are one of the best training programs I've ever created – and they won't cost you a dime.
They distill my 35 years as an investor and 20+ years as a coach and give you a complete outline of how we build a powerful, profitable, consistent, reliable, ethical, PEACEFUL business.
They give you the milestones, benchmarks, and SOPs (standard operating procedures) you need to succeed.
That's it for today!
Good deals are not that hard to find if you have the skill to craft an offer that MAKES SENSE.
I hope you will join me.
If you like this video, please SUBSCRIBE and hit the LIKE button.
You can also go to www.JoeCrumpBlog.com and sign up for my free email newsletter.
I put out a lot of free information there that you can't find anywhere else.