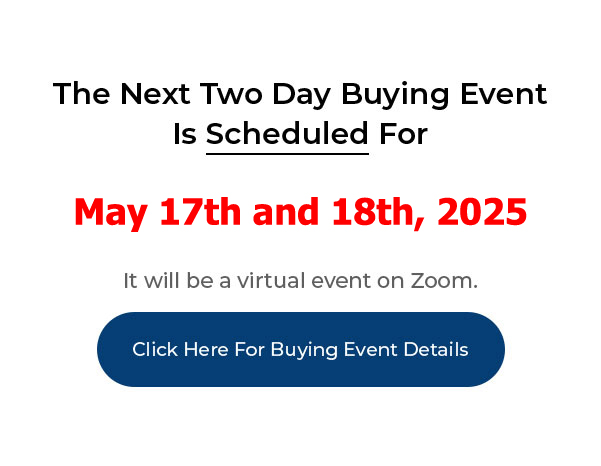 Click Here For Buying Event Details
____________________________________________________________
I believe the best way to learn the business of real estate investing is to hear how others have done it. When these interviews were recorded, I asked the interviewer to ask questions that would help the viewer see how these folks got started.
I wanted to hear the struggles, the successes and a clear path and explanation of what they had to do to make these deals happen. I did NOT want them to be a bunch of people telling you how wonderful Joe Crump was. I wanted content, examples and real life experiences.
I hope we succeeded.
Case Study – Derrick Warner – Indianapolis, Indiana.
____________________________________________________________
My PushButton Automarketer Program – Automate your business:
http://www.pushbuttonautomarketer.com
My 6 month mentor program:
http://www.ZeroDownInvesting.com
http://www.JoeCrump.com/partner
My Two Day Buying Events
My Real Estate Investing Blog:
My home study program (there are 68 free videos you can watch on this site):
http://www.PushButtonMethod.com
A Free Audio About How To Automate Your Real Estate Investing Business:
http://www.JoeCrump.com/pushbuttonmethod
My ebook:
http://RealEstateMoneyMaker.com
Free E-letter Opt-In Page:
A few Case Study Video Interviews with my Students:
http://www.JoeCrump.com/partner/casestudy.html
30 Day Free Trial Monthly Printed Newsletter and Audio:
http://www.RealEstateMoneyMaker.com/newsletter/main.html
And on youtube.com search "joseph4176"
42% Annual Return On My First Cash Investment Property
Derrick: My name is Derrick Warner. I'm from Indianapolis, Indiana. Searching the web, checking out different programs and by chance came across Joe. And he was more convincing than the other people that I researched. It was the way he talked. His voice. He made it pretty convincing that he's the man that I should pursue, shall I say.
Derrick: It was a homeowner, they were going through a divorce. The lady, she was pregnant at the time. She didn't have a job, she didn't have a car and she was just looking for a way out. But she needed cash. She needed cash. And she told me that the house was paid for. Only thing she needed was like, $25,000. So, I just said, well, I'll get it. Can we have this deal? And she said, yes. I said, so, you're saying if I give you $25,000 we got a deal? She said, definitely, we've got a deal. So that's what I did. I had a 401k and I borrowed against it and gave her the $25,000 and we went to close and I think I had to pay like, $2,500. So, probably $27,000 all together. And it's been cash flowing I think this is $965 I believe, $965. I let my wife handle all that, but, as far as I know, it's $965 and that's just straight cash flow.
Derrick: Less work and more money. Pretty much just outsource everything and I want to just deal with the yeses. Let me – give me the yeses and let me talk to the yeses, or maybes. I'll take either one.
Derrick: I expect it to take me away from my job, my eight-hour job. Just take me away and that's for this year. This is what I'm working on this year. Spend more time with my family to bring my daughters, well, I've got three daughters in two different states. I've got one here, so I plan on having her work with me. But the other two, they live in, one's in Houston, Texas, and one's in Dallas-Ft. Worth. So I want to branch down there, too. So, those two can be my boots on the ground, per se.
Derrick: It's a little intimidating at first, but like Joe said, seems like you're drinking water out of a fire hydrant and even though I've been in it as long as I have been with Joe, it still feels that way every time I come to a buying event. But eventually that's going to ease over.