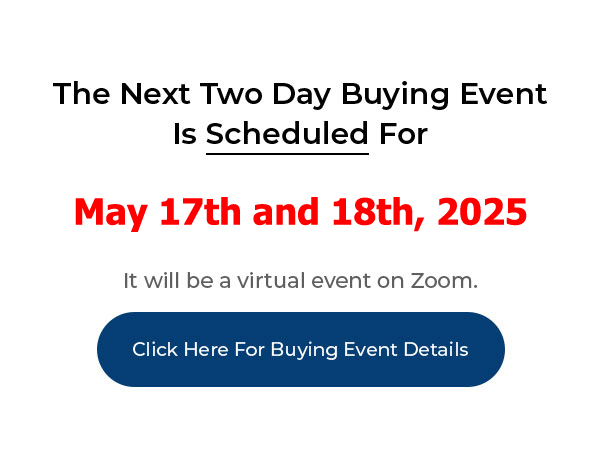 Click Here For Buying Event Details
____________________________________________________________
Let's look at 6 property investment strategies that work with no money down to help you build a successful real estate investing business!
My PushButton Automarketer Program – Automate your business:
http://sales.pushbuttonautomarketer.com
My 6 month mentor program:
http://www.ZeroDownInvesting.com
http://www.JoeCrump.com/partner
My Two Day Buying Events
My Real Estate Investing Blog:
My home study program (there are 68 free videos you can watch on this site):
http://www.PushButtonMethod.com
A Free Audio About How To Automate Your Real Estate Investing Business:
http://www.JoeCrump.com/pushbuttonmethod
My ebook:
http://RealEstateMoneyMaker.com
Free E-letter Opt-In Page:
A few Case Study Video Interviews with my Students:
http://www.JoeCrump.com/partner/casestudy.html
30 Day Free Trial Monthly Printed Newsletter and Audio:
http://www.RealEstateMoneyMaker.com/newsletter/main.html
And on youtube.com search "joseph4176"
6 Property Investment Strategies That Work With No Money Down
Joe: How to build your real estate investing business in the most ethical way possible. You can have an ethical, honorable, sustainable business that allows you to make a lot of money, sleep well at night and treat everyone that you come in contact with like they were friends or family.

Joe: And if you start looking at everyone like that, it's going to make all the difference. Everyone has certain choices about how to deal with their real estate. If they understand all of their options, then they can make the best choice for them. If they have a problem, it may not be a good situation, and it may not be a good choice for them. But there are certain choices that they have. You know, if you're a doctor and your patient has cancer, you tell that patient you've got cancer. That's not good. It can kill you.

Joe: But, we do have some options. You can do chemo. You can do radiation, you can do surgery. Which one of those makes the most sense to you? And you can explain how each one of them might work and might not work. And then that person can make the decision on which one makes the most sense for them. Even though it's a bad situation, even though it's not a healthy situation. It's still a solution, and it's the best possible outcome.

Joe: Sometimes there are no good outcomes. So you have to take a hit. You don't have to steal people's equity. You don't have to screw some old lady out of the equity in her home that she was planning on giving to her kids. You can give her options. And I've been in situations, I buy a lot of properties dramatically under market value and I won't buy them unless they are dramatically under market value if I'm paying cash for the property. So, if I'm going to buy cash properties, I want to get a great deal on those properties.
Joe: And I till that seller that. I say here are some options here. We could do it this way, where you fix up the property and then we could turn around and rent it out. We could sell it on a lease option, you won't have to do much work on it at all. Here's a property that's not in great condition, it won't rent out, we can't sell it on a lease option. We could sell it on a land contract. There's an option for you. And we might be able to get people to make payments on it over time. That's another option.
Joe: We could sell it, you know, you could continue to sell it For Sale By Owner. It doesn't work very often, but it works 5% to 15% of the time. And then if you give up on that you can sell it with a real estate agent if you've got the equity and it's going to cost you X amount of dollars to get it sold, probably between 10% and 15% of the cost of your home to get it sold with closing costs and repair costs and negotiation fees and all the other fees, realtor fees, to get it sold. But selling it with a realtor makes a lot of sense if you want to do it that way, if you don't mind giving up all that equity.
Joe: Or, you can sell it on a lease option and I can get you full value for the property, but we're going to get it for you over time. Which one of these things makes the most sense for you? Or, I can buy this property myself for cash, or if you don't have the case to do it, you could offer it as a wholesale deal. I could buy this property, or my investor could buy this property for cash, but we're going to have to give you dramatically less than market value to make that work. And here's the dollar figure that we would give you. And I don't mean to give you that as an insult. This is just what we can do in order for it to make sense for us.
Joe: Which one of these ways makes the most sense for you? I've had a lot of people tell me I'll just take the cash. I want out. I'm done. I don't really don't want to think about this property ever again. And so I give them the cash, I walk away with a chunk of equity in my pocket and they're happy. But they knew their other options. They knew all the other things that they could do. And by doing it that way, I believe that's an honorable way of doing business. If it's not going to make me a profit, I can't do it sustainably. So it doesn't make sense for me to go out there and give people options that don't solve my problems as well as theirs.

Joe: But sometimes we have to look at their situation and say, look, maybe not working with me is a better solution. Maybe going with this realtor over here and doing it that way. Maybe that makes more sense for you. You decide. We've got this other option here. It takes less time, costs you less money. It'll make you more money in the long run, but you don't get your payoff right away. And the agent might be able to do that for you right away. Or, if I pay cash for the property, under market value, that'll do that for you right away.

Joe: So, be honest with people. Use the Golden Rule – Do unto others as you would have them do unto you. And I think you'll do okay in this business.
Joe: All right. Don't forget to subscribe. There's a little bell down there, if you ring it it'll send you a notification every time I send out a new video. Go to JoeCrumpBlog.com and sign up for my free newsletter, email newsletter. And PushButtonAutomarketer.com is my automation situation, and ZeroDownInvesting.com is my mentor program.
Joe: All right. I hope that helps.