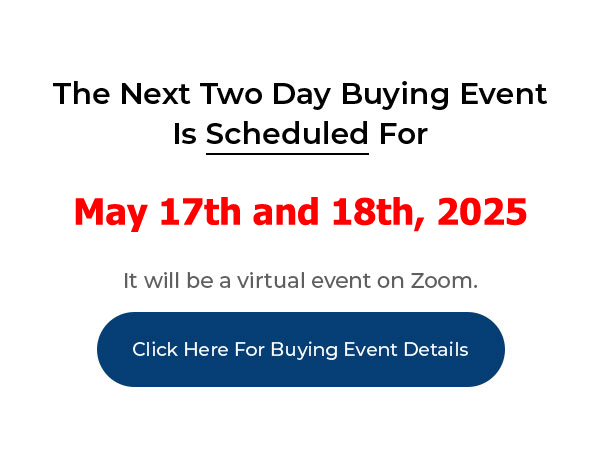 ____________________________________________________________
My PushButton Automarketer Program – Automate your business:
http://www.pushbuttonautomarketer.com
My 6 month mentor program:
http://www.ZeroDownInvesting.com
http://www.JoeCrump.com/partner
My Two Day Buying Events
My Real Estate Investing Blog:
My home study program (there are 68 free videos you can watch on this site):
http://www.PushButtonMethod.com
A Free Audio About How To Automate Your Real Estate Investing Business:
http://www.JoeCrump.com/pushbuttonmethod
My ebook:
http://RealEstateMoneyMaker.com
Free E-letter Opt-In Page:
A few Case Study Video Interviews with my Students:
http://www.JoeCrump.com/partner/casestudy.html
30 Day Free Trial Monthly Printed Newsletter and Audio:
http://www.RealEstateMoneyMaker.com/newsletter/main.html
And on youtube.com search "joseph4176"
Biggest Obstacle To Consistent Income
Joe: Hey, it's Joe. I've got a question here from one of my students. "What is the biggest obstacle to consistent income as a real estate investor?"
Joe: One of the biggest problems I see with most investors is inconsistency. If you want consistent income, you've got to have consistency. But you don't want to be consistent yourself. You don't want to have to do that consistent work yourself. Most of us entrepreneurs are not very consistent people. I mean, we like our freedom. We like to be able to go out and do things that we want to do when we want to do them. We want to put our time in when we want to put our time in. The whole idea is we don't want to be tied to a job and certain hours and having to do those things and have somebody looking of our shoulder. We want to be able to do those things ourselves.
Joe: But we have to have a way to make our business consistent, otherwise we won't be able to have reliable income. And we want to have reliable income and we want to reliably be able to build our wealth by putting more properties in our portfolio. So, the way that you do that is through systems and marketing and automation and outsourcing. And these are things that you'll hear me talk about over and over and over again. I have created a software system called the Pushbutton Automarketer and that Pushbutton Automarketer is a complete automation system for real estate investors.
Joe: It brings leads in, it helps you develop those leads. It helps you convert those leads using web pages. It helps build your credibility, it helps you manage your leads. It helps you take your deals and keep track of everything in the deals. It helps you sell your properties, helps you find buyers for the properties. It goes through step by step of everything that you need to use in business. And there's also some good training in there that'll show you how to walk through that process.
Joe: But if you want to have any consistency in your business, you're going to need to do that. So, automation is a vital part of building any system.
Joe: The other thing is getting rid of all the junk that you're doing right now that doesn't matter. The more, the better you get at this business, the more you'll start to understand there's a bunch of stuff that you just don't need to do. And if you'll throw that stuff away and just ignore it, that 80% of the business that only makes you 20% of your income, you've got to throw that out. Take the 20% of the work you do that makes you 80% of your income and do that 20%. It'll make your job a lot easier. It'll make you a lot more money in a whole lot less time and it'll create a lot less stress in your life. So, automation.
Joe: And then the next thing is outsourcing. There's certain things that you can't automate and you can't get rid of. And you're going to need somebody to help you do that. But you don't want to do it yourself. So, you hire somebody to do it for you. And I have a lot of different training on how to outsource and find the right people for the job, whether it's you're getting an admin person to help you, whether it's boots on the ground to help you with your signs and your pictures and dealing with from remote locations where you might be working.

Joe: Whether it's someone who's your buyer finder helping you talk to buyers and find your buyers for you because there's a lot of calls that you get from those and you just don't want to talk to hose people. Or, finally, having a seller finder. Somebody who's going to help you find deals. That's the one that you're going to outsource the last thing you're going to outsource. So, because it's the one that's the hardest to teach. But all these other things can take a lot of weight off your shoulders and even if you're paying them hourly, as long as you're doing that and you've got a consistent pipeline created in your business, you're going to make money. And it's going to be worth it to pay them because they're going to be a small fraction of your actual cost.
Joe: Anyway, that's how you get consistent income. Hope that helps.