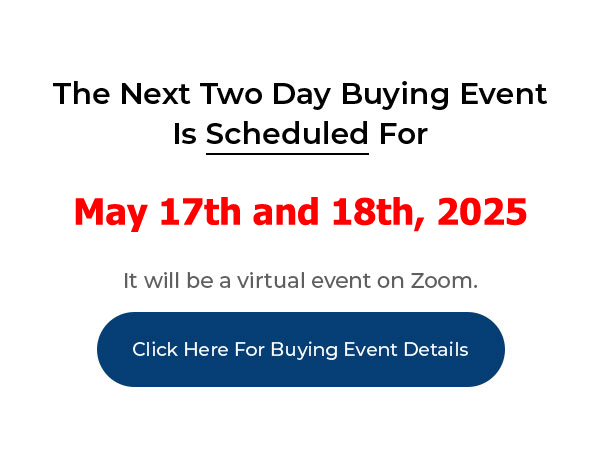 Click Here For Buying Event Details
____________________________________________________________

My PushButton Automarketer Program – Automate your business:
http://www.pushbuttonautomarketer.com
My 6 month mentor program:
http://www.ZeroDownInvesting.com
http://www.JoeCrump.com/partner
My Two Day Buying Events
My Real Estate Investing Blog:
My home study program (there are 68 free videos you can watch on this site):
http://www.PushButtonMethod.com
A Free Audio About How To Automate Your Real Estate Investing Business:
http://www.JoeCrump.com/pushbuttonmethod
My ebook:
http://RealEstateMoneyMaker.com
Free E-letter Opt-In Page:
A few Case Study Video Interviews with my Students:
http://www.JoeCrump.com/partner/casestudy.html
30 Day Free Trial Monthly Printed Newsletter and Audio:
http://www.RealEstateMoneyMaker.com/newsletter/main.html
And on youtube.com search "joseph4176"
Read Transcript for "Build A Massive List Of Investors To Buy Your Homes"

The most valuable thing a real estate investor can have is their list of investors. Let me explain why that is and how to market in ways that will build your list.
"You should talk about how new investors can work with experienced investors, securing their interest in deals that they find and getting paid. Also, on how to get really good contacts and listings that are not on the market." – Sonata Bastion
Joe: Getting listings that aren't on the market is all about marketing. In any business that you're in, you need to learn how to do the marketing. If you understand the marketing process, you're going to make money.

Joe: As far as getting investors, what you want to do is put people on your list and build a list of investors. Right now, I have about 50,000 people on my investors list and whenever I have a property that I want to sell, I can send out an email or I can do a video like this and say, 'Hey, I have this property. Here it is. Is anybody interested?' Before you know it, ten to fifteen minutes later after I send it out, I'll start getting calls, or the people I've assigned to that house will start getting calls and they'll put together a deal in a very short period of time. So, it's a great way to do this.

Joe: You need to put the investor list together. That comes through advertising and marketing, whether its classified ads or through an investor that you meet personally. I do it through internet marketing. That's what I teach in my 'Push Button Method' program I have for sale. If you're interested, it's at PushButtonMethod.com. It has a complete system for finding buyers and sellers and building lists.

Joe: One of the things that you're going to find when you learn how to build lists is that your list is going to be more valuable than your real estate. It's really hard for people to understand this, especially coming from a real estate investor, but I can tell you now that my list is worth more to me every year cash flow wise than my real estate is.

Joe: It's just a powerful, powerful thing. It appreciates more than that and as I build it more, I make more money on it. So learn how to build those lists, how to optimize them, how to use websites and get your leads off the internet and you'll make a lot more money. Good luck.