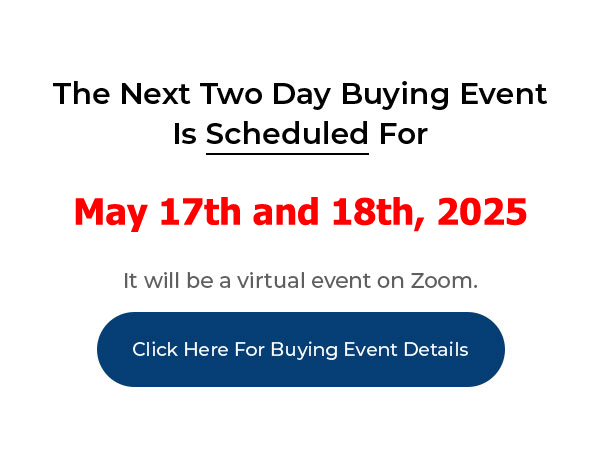 Click Here For Buying Event Details
Real estate investment expert, Joe Crump, teaches zero down investing techniques. Learn foreclosures, short sales, subject to, land contracts, multi-mortgage and other creative real estate financing structures. Free newsletter teaches you how:
My PushButton Automarketer Program – Automate your business:
http://www.pushbuttonautomarketer.com
My 6 month mentor program:
http://www.ZeroDownInvesting.com
http://www.JoeCrump.com/partner
My Two Day Buying Events
My Real Estate Investing Blog:
My home study program (there are 68 free videos you can watch on this site):
http://www.PushButtonMethod.com
A Free Audio About How To Automate Your Real Estate Investing Business:
http://www.JoeCrump.com/pushbuttonmethod
My ebook:
http://RealEstateMoneyMaker.com
Free E-letter Opt-In Page:
A few Case Study Video Interviews with my Students:
http://www.JoeCrump.com/partner/casestudy.html
30 Day Free Trial Monthly Printed Newsletter and Audio:
http://www.RealEstateMoneyMaker.com/newsletter/main.html
And on youtube.com search "joseph4176"
Read Transcript for "Can You Show Me How To Structure My Business For Taxes?"

Focusing on the things that make you money makes all of the difference in the world when you first start investing in real estate. I'll explain more…
"We live in a litigious society. Can you show me how to structure my business so I don't get sued and lose everything I've worked for? I'm really concerned about this and it stopped me from even doing my first deal."
Joe: Well, that's a shame. Don't let it stop you from doing your first deal. I have so many people that come to me and say, 'Well, Joe, I need to get my LLC together. I need to get my S corporation together. I have to get my trust set up before I can do my first deal because I don't want to get sued.'
Joe: Well, you don't have anything to lose. They sue you because you have stuff to lose. Nobody sues you unless you have something they can take from you; it just doesn't make sense. It costs too much money to sue people if they don't have something you can take from them. So if you don't have anything to lose, don't worry about it – get out there and do some deals – start making some money.
Joe: As soon as you start making money, that's when you want to start setting up your structures. You want to be able to protect yourself from the taxman and from lawsuits. That's a pretty simple process to set up and I can show you exactly how to do it, which I do for all of my mentor students who are interested in learning, so I help them through that process.
Joe: But I also encourage them not to lose focus on the things that make them money. In fact, focus only on the things that make you money. I know that every day, when I get up and I come down to my office, I get out my yellow pad and write down all of the things that I need to do, and then I put a star next to all of the things on there that are going to make me the money. I say, 'Where is the money on this list?'
Joe: Those things that have the star next to them? – Those are the things I do first. All of the other things, i.e. the administrative stuff and all of the other garbage I have to deal with, all the fun stuff, I put that aside until I get the money stuff done first. That way, I know I've made money in the time that I've been working.
Joe: And that's what you need to do when you get going with this real estate business – you need to do the things that are going to make you money. Those are the things that I teach in my mentor program and all of the other programs. Start focusing on those things.
Joe: Now, the materials that come with the mentor program – it's a huge amount of material – it's a master's program in real estate education. And you're going to learn a lot from it, and when you get these big boxes in the mail and all of this email from me and places to download information, it's going to be pretty overwhelming – don't let it get to you. I'm going to show you, 'Focus on and listen to this one audio. Its 45 minutes long. Listen to this one audio – it's an hour long.'
Joe: Listen to those two audios, and after that, pull out this particular form and I want you to make offers on this specific type of property immediately. And so, literally within two or three hours after you've started the program, you can start making offers.
Joe: That is, in fact, how we do the buying event. I have people come into these events here in Indianapolis. We do two day buying events. They come and sit and learn for two or three hours in the morning, and then for two or three more hours in the afternoon, I have them get on the phone and make calls and make offers.
Joe: We had one buying event where we had 45 people in the room that made 98 accepted offers – they made lots more offers than that – they had 98 offers on the calls that they made in just about in an hour and a half's time. So everybody had, on average about 2 deals per person; it's phenomenal.
Joe: We see this happen on a pretty consistent basis. As a matter of fact, what we're seeing is that one in three of the people we talk to are saying yes on these types of deals.
Joe: Now, is this the best type of deal to do? It's a good type of deal and it makes money and provides income. But is it the best? No, I think there are some other ways that might make more sense ultimately in the long run. But you need to learn how to make offers and you have to learn how to talk to sellers, and these are the things you learn by using this technique in addition to making money in the process, so it's a great way to get started. I hope that helps.