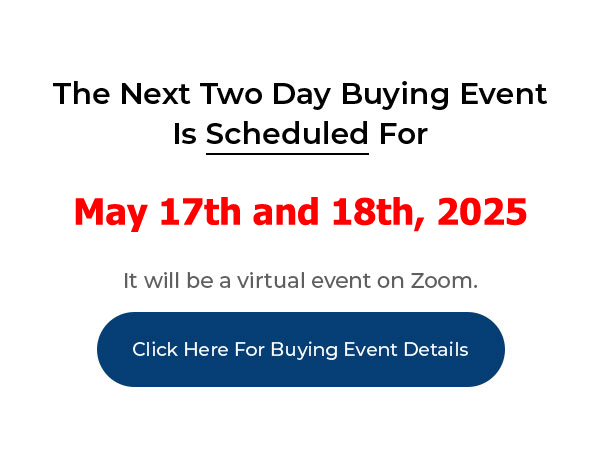 ____________________________________________________________
My PushButton Automarketer Program – Automate your business:
http://www.pushbuttonautomarketer.com
My 6 month mentor program:
http://www.ZeroDownInvesting.com
http://www.JoeCrump.com/partner
My Two Day Buying Events
My Real Estate Investing Blog:
My home study program (there are 68 free videos you can watch on this site):
http://www.PushButtonMethod.com
A Free Audio About How To Automate Your Real Estate Investing Business:
http://www.JoeCrump.com/pushbuttonmethod
My ebook:
http://RealEstateMoneyMaker.com
Free E-letter Opt-In Page:
A few Case Study Video Interviews with my Students:
http://www.JoeCrump.com/partner/casestudy.html
30 Day Free Trial Monthly Printed Newsletter and Audio:
http://www.RealEstateMoneyMaker.com/newsletter/main.html
And on youtube.com search "joseph4176"
Read Transcript for "Do You Teach To Buy Residential Or Commercial Properties?"
"In your training programs, do you teach to buy residential properties or commercial properties?"
Joe: I focus on residential properties because I think it's something that most people understand better than commercial. I also think there's a lot more deals out there for someone to do.
Joe: Now, commercial properties can be home runs and they can be wonderful but there's also a lot more to know when you're dealing with commercial properties. There are some advantages to commercial properties. You can buy a duplex or a 20 unit or 100 unit building. You don't have to have them all rented and often you can still pay the mortgage and pay for them that way.
Joe: You can use all of the same techniques and strategies that we use for single family for commercial, as long as you understand the other issues that you have to deal with, i.e. trying to figure out what the cap rate is, and figure out what the real values are, figure out what the income is on that property, making sure to figure in the utilities and the trash takeaway and the repairs and the vacancies and the management costs and all of the things that commercial property have that residential property isn't as difficult to handle.
Joe: So, I would suggest that if you're just getting started, start in residential. There's a lot more deals out there. You're dealing with the less savvy sellers that you still want to treat properly – I'm not saying you're trying to screw people – but there's a lot more people out there that don't know how to handle their stuff.
Joe: And with commercial properties, there's a lot of guys out there that have problems as well and don't know what they're doing, but they started with something in order to buy those properties in the first place, especially if they're large buildings. And they have a better understanding of how that works. And if you're intimidated by talking to them, it's going to be harder for you to put together a deal with them.
Joe: But if you're not, then you can put together a deal, you can improve their property… a lot of the income that's made from commercial properties is by improving that property, whether its by putting more tenants in it, by doing rehabs – all of those things require money and time. and if you're just flipping residential properties, you don't have any of those issues and the due diligence that you have to do is much, much smaller on a single family home that you're flipping than on a commercial property that you're keeping. So, keep that in mind as you get started.
Joe: Again, though, I have to say that all of the techniques, i.e. the Subject To, the land contract, the Multi-mortgage, the lease option, etc. – all of those things can work on commercial properties the same way we do with single family. So once you learn how to do single family, then you might want to keep some commercial properties, which is something that I've done – to keep commercial properties for my own portfolio. But it's not something I do as often, simply because there's a lot more deals with the single families. Alright, I hope that helps.