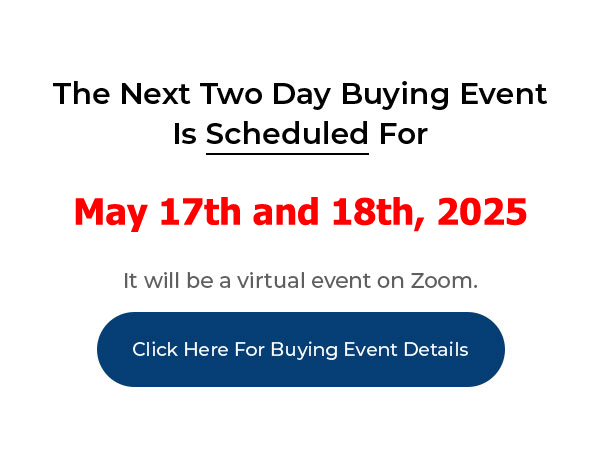 This is the third video in my series on Automation and Outsourcing the work in your investing business. I'm going to show you the tools I use to automate and outsource 99% of the work required to run my business.
____________________________________________________________
My PushButton Automarketer Program – Automate your business:
http://www.pushbuttonautomarketer.com
My 6 month mentor program:
http://www.ZeroDownInvesting.com
http://www.JoeCrump.com/partner
My Two Day Buying Events
My Real Estate Investing Blog:
My home study program (there are 68 free videos you can watch on this site):
http://www.PushButtonMethod.com
A Free Audio About How To Automate Your Real Estate Investing Business:
http://www.JoeCrump.com/pushbuttonmethod
My ebook:
http://RealEstateMoneyMaker.com
Free E-letter Opt-In Page:
A few Case Study Video Interviews with my Students:
http://www.JoeCrump.com/partner/casestudy.html
30 Day Free Trial Monthly Printed Newsletter and Audio:
http://www.RealEstateMoneyMaker.com/newsletter/main.html
And on youtube.com search "joseph4176"
Drip Market To Motivated Sellers For 2.5 Cents
Joe: I'm going to show you how to drip market to your seller leads and your buyer leads for 2.5¢ per message. Instead of having to send out a postcard that costs you a dollar to send out, you can send out a text or a voice blast that costs you 2.5¢ and you can also put them into a drip system that sends them a sequence of messages over a period of time.
Joe: The Automarketer is actually set up with sequences already in place. We've got a three-month sequence for For Sale By Owners to help them, to make offers to them so that they will contact us and allow us to buy their property on terms. And when we buy properties, by the way, we buy them with no money down and in fact we're not just able to buy these property without using our money. When we close, we get money. So we set these structures up so that we get money.
Joe: And all this is taught inside the Automarketer. You can also look at my blog and my other videos. I talk a lot about the For Rent Method. I talk about the other Zero Down Structures. The whole hierarchy of zero down structures: Subject To, Multi-mortgage, Land Contract, Contract for Deed, Assignable Cash Deal and Lease Options. If you'll understand how these zero down structures work, you can make an offer on For Sale By Owners. You can make an offer on expired listings, you can make an offer on absentee owners or any other type of seller lead that you come in contact with.
Joe: The Automarketer is actually set up so that you can create your own campaigns if you want to, or you can use the preexisting templates that we use, that we have tested and tried over the years that work very effectively.
Joe: Let me how you how the drip campaigns work. Let's take a look.
Joe: I'm logged into the Automarketer now, and if you'll remember from the last video I showed you the Automarketer, Zillow Automarketer, and showed you how the campaigns work, how they scrape leads and how they put them into the system and how they send them out with a campaign. In this video, I'm going to show you how to use the follow up campaign that will, how we actually set up the follow up campaign. So the system scrapes the lead, it then puts them into a campaign and these campaigns will actually send out a series of messages. And they can be voice messages, voice blasts. They can be text messages or they can be emails.
Joe: And the emails can only go out to opt-in leads. We don't have a way to scrape leads from craigslist or Zillow with emails. But we do have their phone numbers. So, what I'm going to do is go into the Automarketer campaigns, because we've got different campaigns that do different things. But I'm going to show you the Automarketer campaigns that are set up.
Joe: And let's look specifically at the three-month campaign because that's the one that I was showing you yesterday and that's the one that we use the most. So, I'm going to go here and I'm going to actually – and you can see here I've got 655 people that are currently in the Automarketer, and 1,700 of them are in the system right now. So I'm going to look at the details of this particular campaign.
Joe: You can create your own campaign. You don't have to use this one and there's a lot of different ways that you can create these campaigns. And I want you to know right up front you don't have to do this at all. This is already set up for you. You don't have to know this stuff, you don't have to understand how it works. You don't have to do any of this stuff. I just want you to see what the capability of the system is because it can do a lot more than you'll probably ever need it to do. And we set it up so not just, so that you couldn't just send out the kind of campaign we think you should send out, but you can send out a campaign that you want to send out.
Joe: Or, you could modify one of the campaigns that we create. And we've got it set up here so you can actually clone our campaigns and then you can go in and modify a campaign so you wouldn't have to start from scratch, or you can start from scratch. So, let's take a look at what this means and how this thing works.
Joe: This is a campaign. You can see that there's 14 total events. In this particular campaign it's all text messages. But it could be a text message, it could be a voice message where it leaves a message on their voice recorder, on their phone. Or it can send them an email. It can also set up a task system so that we can say here's a task that needs to be done and have that message go out to one of your team members and remind them that hey, you need to do this today, or you need to do that today. And you can create templates of tasks. I'm going to show you how to do that in a later video. It's a very cool thing that will make it possible for you to completely automate and systematize your business. It's absolutely an amazing addition to this Automarketer.
Joe: But this is a text blast campaign that is designed for the Automarketer, for the scrape ads, the FSBO scraped ads, of the For Rent ads that are coming in from the Automarketer. And you'll see here I've given it a title. We gave it a category so this in the Automarketer. And I could set it up so that if, when this campaign ends I could have it start another campaign. I'm not going to do that on here. I've got it set up as active. I've also got it set up so that the email events, the mail events, oh, yeah – it also sends out snail mail which I'm going to show you in a later video.
Joe: This will send out postcards, self mailers, letters – We Will Buy type campaigns that all you have to do is click a button and it'll send those things out. But I've got that turned off. You can put them in a campaign so that you could do a series of postcards that go out over time. It sends out text messages, I've got that turned on. And voice blasts, I've got that turned off in this particular campaign. You can see I've got 2,400 people that are active in this campaign right now.
Joe: Now, as I scroll down the page, this shows you the events that are going out. Again, it's got 14 events. That means 14 texts that are going to go out over a three-month period. Because I set this up as a three-month campaign. And I can create new events on this and I can put as many in here as I want. If I wanted to add voice blasts into this campaign I could. If I wanted to add snail mail into it I could. I could add, you know, email into it as well and create these new events if I choose to. But I just want to show you how these events, what these events look like.
Joe: So, on day one the first thing that gets sent out is a text that says, "I saw your home advertised and I was wondering if you'd consider selling it" and this would go out immediately. If I wanted to change this to go out over a period of time I could change it to this and then I could change the days, hours, weeks months – how often it needs to go out. But I'm gong to have it go out immediately. So as this campaign is attached to a lead that is scraped it's going to send out this text blast. "I saw the home you had advertised . . ."
Joe: If I wanted to modify this message, I could. All I have to do is click on this little button here and it'll open up this in a window and it'll allow me to change the text message that is going out. The second message that goes out is on day four, and these are days that I decided. You can change them if you want. I think this makes a lot of sense and you probably want to use the system that I set up at least until you understand what you're doing and are able to get going on it. And it's going to send out a different message on day four, with a URL this time, that goes to one of the clone sites. This goes to the Rent To Buy seller site.
Joe: On day eight it sends out another. And again, I can modify these, change them, I can add things to them and make that work. And down below, if I scroll down below, you can see the activity log of this campaign. So, you can see all the ones that have been sent out since you know, since I've been running it. About 40,000 text messages have been sent out through this particular account to these particular campaigns that I've run in the Automarketer.
Joe: If you're watching this video on YouTube make sure to hit the subscribe button. If you click the one with the little bell, YouTube will send you and email every time I release a new video in the series. If you go to JoeCrumpBlog.com you can also sign up for my email subscription and you'll get all sorts of free content that I don't have on YouTube.