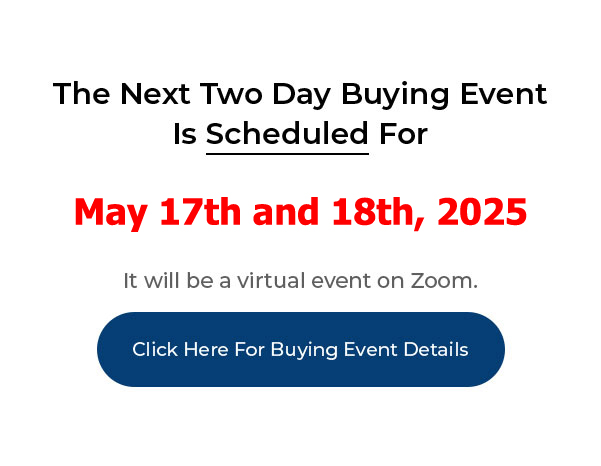 Click Here For Buying Event Details
____________________________________________________________
My PushButton Automarketer Program – Automate your business:
http://www.pushbuttonautomarketer.com
My 6 month mentor program:
http://www.ZeroDownInvesting.com
http://www.JoeCrump.com/partner
My Two Day Buying Events
My Real Estate Investing Blog:
My home study program (there are 68 free videos you can watch on this site):
http://www.PushButtonMethod.com
A Free Audio About How To Automate Your Real Estate Investing Business:
http://www.JoeCrump.com/pushbuttonmethod
My ebook:
http://RealEstateMoneyMaker.com
Free E-letter Opt-In Page:
A few Case Study Video Interviews with my Students:
http://www.JoeCrump.com/partner/casestudy.html
30 Day Free Trial Monthly Printed Newsletter and Audio:
http://www.RealEstateMoneyMaker.com/newsletter/main.html
And on youtube.com search "joseph4176"
Essential Questions all Real Estate Investors Should Ask
Joe: Essential questions all real estate investors should ask. What is my long term goal? What are you trying to accomplish? Also, what's your short term goal? What do you need right now? What are you trying to accomplish right now? You know, long term you're probably thinking let's get rich. Short term you're thinking I need to pay my rent next month, I need to pay my mortgage, I need to pay for food. I need living expenses. How do I make that happen? How do I do that consistently? How do I start building a portfolio at the same time as I'm doing all that work?

Joe: The next question you should ask yourself, do I want to do this full time, part time, do I have another job, do I want to keep that other job, do I want to do this? Do I want to travel? Do I want to you know, see the world while I'm making money? You can do all these things. It's not that big of a challenge to do real estate investing remotely if you'll just learn the processes, if you learn how to automate, if you'll learn how to outsource at work.

Joe: If you learn how to put a deal together you can make money in minutes, really. It really is as easy as I'm saying that it is. Now the hard part is learning how to do it. The hard part is developing the skill and the talent to be able to talk on the phone to sellers and get them to accept deals and to be able to look at their deals and analyze them in a way that is acceptable to them, the seller, and profitable to you as the investor. And once you learn how to do that it becomes second nature, it becomes like riding a bike and you don't really have to think about it very much.

Joe: You just get on the phone, you ask them some questions, you look at the situation, you say, okay, here's my diagnosis, here's what I think the solution is for your problem. Here's how it's going to make me money. And if you're interested in doing it let's do it. And you put the deals together. And you can do it over the phone and then once you've done that all the paperwork can be done by your administration people. All the sales of the properties can be done by people that you hire. Your boots on the ground, pictures can be taken, all that stuff can be taken care of you for you without you having to do anything but tell me, hey, this work needs to be done. Get on this, you know, take some pictures, do this work.

Joe: And if you're using automation like the Automarketer you can actually create lists of tasks that are automated that you can assign to a particular lead and it'll automatically send it out to your people saying that you need to take a picture of this guy's house. You need to put a lock box on this guys door. You need to run an ad in Zillow for this particular guy's property. And it'll do all that work for you. It'll tell your people what they need to do to fulfill their tasks.

Joe: Which means that the work will always get done. It'll always get done consistently. Things won't slip through the cracks because you'll have a list of them, a template list of them that has to be fulfilled and you'll be able to look inside the Automarketer and say yes, these tasks were done. These tasks were not done, why not? And that creates accountability for the people that work for you to make sure that it's done.

Joe: So really the biggest question that you've got to ask yourself if you want to be a real estate investor is are you willing to put in the time that it takes to learn how to talk to sellers and make offers that are going to be profitable to you over the long term with short term flips and with long term holds?

Joe: If you're willing to do that then you're going to be successful. And what I tell my mentor students, give yourself three or four months before you can expect to make any money once you start making these offers. And that's if you make eight to ten hours of offers per week. So what I expect from my mentor students to get on the phone for eight to ten hours a week and make offers. And if they do that you'll get good at it. It just takes practice, you know, and I'll be right there to help you. If you're in my mentor program I'll be there to help you through that process.

Joe: And if you're not in my mentor program you can still learn how to do this you just have to do it the hard knocks way. It takes a little bit more time, little bit more effort. There's so many free videos on my blog JoeCrumpBlog.com that you can learn how to do this without ever talking to me. It's just helpful if you have my support. It's just more expensive. It's like going to college for a semester.
Joe: So put the effort in. It will make all the difference to you and your business. All right. Good luck. If you like this subscribe, hit the plus sign and you can go to JoeCrumpBlog.com for lots of free videos. Go to ZeroDownInvesting.com to find out about my mentor program. There's actually some good videos there that are worth looking at. And then go to PushButtonAutomarketer.com to find out more about my automation system.

Joe: All right. Good luck to you.