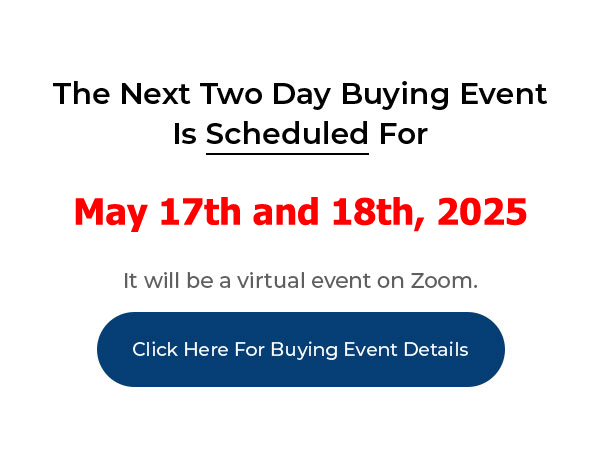 I believe the best way to learn the business of real estate investing is to hear how others have done it. When these interviews were recorded, I asked the interviewer to ask questions that would help the viewer see how these folks got started.
I wanted to hear the struggles, the successes and a clear path and explanation of what they had to do to make these deals happen. I did NOT want them to be a bunch of people telling you how wonderful Joe Crump was. I wanted content, examples and real life experiences.
I hope we succeeded.
Case Study – TJ Faison – West Palm Beach, Florida
____________________________________________________________
My PushButton Automarketer Program – Automate your business:
http://www.pushbuttonautomarketer.com
My 6 month mentor program:
http://www.ZeroDownInvesting.com
http://www.JoeCrump.com/partner
My Two Day Buying Events
My Real Estate Investing Blog:
My home study program (there are 68 free videos you can watch on this site):
http://www.PushButtonMethod.com
A Free Audio About How To Automate Your Real Estate Investing Business:
http://www.JoeCrump.com/pushbuttonmethod
My ebook:
http://RealEstateMoneyMaker.com
Free E-letter Opt-In Page:
A few Case Study Video Interviews with my Students:
http://www.JoeCrump.com/partner/casestudy.html
30 Day Free Trial Monthly Printed Newsletter and Audio:
http://www.RealEstateMoneyMaker.com/newsletter/main.html
And on youtube.com search "joseph4176"

First Deal In Two Weeks
TJ: My name is TJ Faison. I live in West Palm Beach, Florida, originally from Charleston, South Carolina. I heard about Joe Crump through a group of friends that I met through another real estate mentorship program that I had been working. And we formed a good relationship and those friends at that event which was, what, April last year. We agreed that we all should go through Joe Crump's mentorship and attend. So it was the reference of a friend that had been hearing from Joe over many years and that's what got me introduced to Joe.
TJ: So, the thing that was intriguing to me about Joe Crump to join the mentorship was the wealth of information and knowledge that he had about ways of finding opportunities to buy real estate and to help match prospective buyers with other sellers. And a way to do that with little to no money down was very interesting to me at the time.
TJ: The timing of when I went to the mentorship and when I started was interesting because I was, I work full time, so it's difficult for me to spend the time. So the timing was not good for me; however, even without the time, within a few weeks I was able to find my first deal.
TJ: My first deal using the methods that Joe really taught me, I was actually doing something where I was looking at a property with an agent who had a listing on the market that I was interested in. It was a multi-family, it was large. That opportunity didn't work out. But I needed to go back to that property the next day with a contract. And that agent couldn't really be there. So my local boots on the ground, actually the boots on the ground that I met at the Joe Crump event last year, had another agent that he knew and when that agent came, as I said, that property didn't work out, but I had a conversation with that agent based on the things I learned from the Joe Crump two-day boot camp, and I basically described for him that if he had identified any opportunities that were interesting to call me and I would help him figure it out.
TJ: So that little conversation was the seed. About a week later he called me and he described for me what I thought was a perfect kind of scenario for what ended up being a wholesale deal. But it was kind of the techniques that I learned from Joe Crump's two-day boot camp that I was able to essentially orchestrate a wholesale deal for myself and I was able to make about fifteen grand just from that conversation and a week later to get that.
TJ: At the time, I didn't have my own buyers list, which is something else Joe Crump talks about. So, I knew someone that had a very large buyers list. So I got it under contract I want to say one evening. I contacted the person with the buyers list that evening. He put it on his email list the next morning and by dinnertime that same day I had it under contract to sell. So I basically assigned my purchase agreement to a wholesale buyer and then closed within twenty-four days of that point. So it was very fast and just by hearing some of the techniques Joe described I was able to leverage it.
TJ: I still don't have time because I work full time, as I mentioned. I have a pretty important job for sales. But I do have boots on the ground here in this market and I'm working with my boots on the ground to learn the Automarketer system and to help us kind of build that team and then run more of the business since I don't have the time.
TJ: That would be nice. I have a personal vision. You know, I kind of wear it on my shirt and logo that when I do leave corporate America I would love to be able to do that vision and for me to do that visions it's going to require me to be at least a full time real estate investor or, you know, many things, to be able to have the capabilities to do it with that vision.
TJ: Well, I think the wholesale deal would be the best. I've done some transactions, but I'm in the process – these are fix 'n' flip transactions. They're not a typical one that Joe's currently promoting. But I do think these transactions will pencil very well. So these are just projects that I'm buying at a low price, I'm renovating to maximize its potential. And I put it on the market to sell on one, and on the other I'm renovating and I'll put it on the market for rent that I'll eventually refinance.
TJ: I did subscribe to the Automarketer system. And, like I said, we're training my boots on the ground, he's actually here at the buying event today to learn more about the system and I do plan to have, use that Automarketer system to automate that part of the business. And also my boots on the ground has some unique skills and he will help to train other people in other regions. So, I have about five regions that I want to expand this into eventually.
TJ: So, my personal goals for real estate investment included, obviously, building enough passive income stream to replace my corporate earnings, number one. I want to be able to take care of my family and friends so having that passive income stream will allow me the ability to do that. In addition, when I expand to these other markets, I'll be able to incorporate some family and friends in those markets by the automation. So I plan to use the automation to help me build more strategic teams and get more people that I, you know, know, care and love involved in the process to help us find opportunities.
TJ: I have been in sales since I was age eleven. And I've been in real estate investment since 2003. I enjoy both. Sales, obviously, you do it to get paid. But real estate, even if I weren't paid it's fun. I enjoy it. It gives me a spark. So, I'm excited about it. I can do it all day. I obviously can't – don't have the time. But, so, it's had a positive impact on my family life and my family and friends, I think.
TJ: My advice is one, to start, to do the research, to find a small project that you can start on of any kind. Obviously, the more that you can find and identify mentors that have done and have the experience I would highly recommend that. Going to local real estate groups; I would definitely recommend networking. There's a lot of things online where you can join forums and hear people that have masterminds. Just get in the environment of people that are investing and then the most important thing is to start. Obviously you can make a lot in real estate – you can lose a lot in real estate. So be careful how you start. But the longer you stay on the sidelines the more opportunity you're losing and the more opportunity for appreciation not getting.
TJ: I'll just say, things that I want to add that you didn't cover is one, I really have enjoyed getting to know Joe Crump and working with him. I've done a few different types of real estate mentorship and real estate programs that I've invested in my education in that regard. I think I would call it substantially. And the difference I've seen with Joe Crump is one, he's very accessible, two, he keeps it real, and he's down to earth. He seems like a normal person that you can talk to and relate to. But he's highly successful. So it gives me something to aspire to be when I become of the success that he has, hopefully, and beyond, I'll have the same nature. You know, be humble and be giving and be hoping and not put myself on a high pedestal. So I really enjoyed about Joe and I think it's important that people know that it's not about trying to sell you this greater platform or this greater, you know, subscription. It's really giving you really good tools that you can use to build a business. And he's giving you that in a way that helps you to do all the other things you want to do in real estate and he's teaching you the basic blocking techniques.
TJ: So if you have the time and you put in the work, I think he's probably one of the best mentors to help you do that.