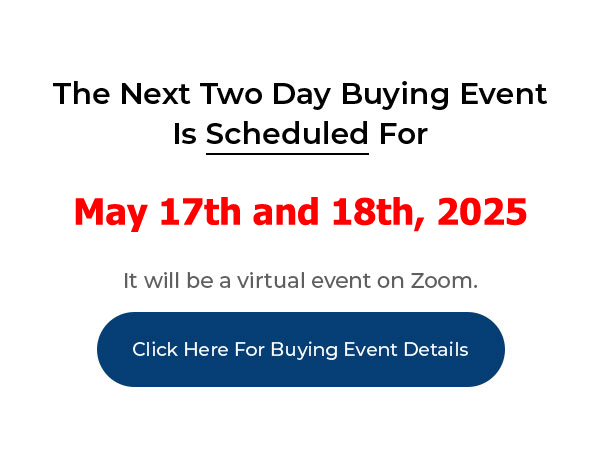 ____________________________________________________________
My PushButton Automarketer Program – Automate your business:
http://www.pushbuttonautomarketer.com
My 6 month mentor program:
http://www.ZeroDownInvesting.com
http://www.JoeCrump.com/partner
My Two Day Buying Events
My Real Estate Investing Blog:
My home study program (there are 68 free videos you can watch on this site):
http://www.PushButtonMethod.com
A Free Audio About How To Automate Your Real Estate Investing Business:
http://www.JoeCrump.com/pushbuttonmethod
My ebook:
http://RealEstateMoneyMaker.com
Free E-letter Opt-In Page:
A few Case Study Video Interviews with my Students:
http://www.JoeCrump.com/partner/casestudy.html
30 Day Free Trial Monthly Printed Newsletter and Audio:
http://www.RealEstateMoneyMaker.com/newsletter/main.html
And on youtube.com search "joseph4176"
Read Transcript for "How Do I Build Credibility As A New Investor?"
"Hi, Joe. I live in Montana and I want to expand my business into a different part of the country (because there's like three people that live in Montana). My concern is that people won't want to work with me if they know I'm out of the area. How can I inexpensively create a local presence for my business that will make my buyers and sellers more comfortable working with me?"
Joe: Well, the best way to do that is to learn how to build credibility. One of the easiest ways for somebody who's brand new at it – because if you're good on the phone, you can get on the phone and people will automatically trust you because you're good. But if you're not that good yet or you're just learning the process, then you need to have some other things that are outside you that give you credibility.
Joe: One of those things is having some websites. So when somebody says to me if I'm brand new in the business and they say, 'Well, how long have you been doing this?' I say, 'Well, why don't you take a look at my website and that'll give you an idea of how I work and what I do and how I'm positioned in the business'. And then they can go to my listing site and we use what's called the 'data feed' where we that are in the Automarketer share each other's leads so that we can show a presence in particular areas if we want to do that. So you can put up leads of properties that are for sale by other investors who have given us permission to do that and you can show that you have a presence – that you don't have zero properties, you have half a dozen, you have 500 if you want. I mean, we've got a lot of leads up there.
Joe: So you can decide which and where. Now, we may not have leads in every single city, but it doesn't really matter. What matters is that you're trying to build credibility with that. you're not necessarily trying to make money with those deals. Although we've done that in the past, I wouldn't focus on that. I'd focus on just using it as a credibility builder instead.
Joe: The other thing is you want to get a local phone number, so that when people are calling you, they're calling a local area code and not calling Montana. So if you want to work in Indiana, then you want to get a 317 area code if you're going to be working in central Indiana. The way that we do that – you can get a Google voice number by going to Google.com/voice and get one free, or we've got a service on the Automarketer and they cost $3 a piece plus you pay for the minutes. So it's very cheap to get it. it also records the calls and makes it possible to learn through that process. So if you're using the Automarketer, we've got a phone system on there that's very cheap to use. And you can have multiple phone numbers for multiple team members and you can manage them all from one admin management place on your site so that you can have a presence in that area.
Joe: That's how we're able to use telemarketers to help us work with buyers and sellers. I can hire somebody from Jamaica or I can hire somebody from the Philippines who can make calls through their internet connection. They can just press the button on the internet connection, dial the number and then when it rings in Indiana, that person picks up and they see the area code and phone number that it's calling from on their caller ID, and they'll see that it's a local person, even though that person is calling from out of the country. So it makes it possible to hire lower paid telemarketers to do the work for you as long as you can train them properly and be able to stuill have a local presence that gives you credibility.
Joe: So these are some of the techniques that we use to build credibility. The other thing is you build a buyers list over time. Don't do this at the beginning – don't just go out and build a buyers list. We used to have people start building buyers list right at the get go because that was before we had the websites. And then, when we built the websites, we decided that the buyers list is nice but the websites gave us credibility and the buyers list helps. So if you say, 'I've got 500 people that are interested in our area that are looking for lease option buyers. Would you be interested in selling to one of them?' That gives you a lot of credibility, too. So when you build a buyers list… And even if you only have 23 people on there, it's okay because it'll still give you credibility that you look like you're actually doing work. And if you have just one lease option memo signed, the likelihood that you'll get 23 people on your list very quickly, within a few weeks period, is very high. So it doesn't take that long to build that and to build the credibility.
Joe: Most of the credibility, if you don't have those things, can be built into the way you talk. By your own confidence and the eloquence that you have when you talk, the decisiveness that you have when you talk, the ability to make it sound like you know what you're doing, even if you don't – the fake it until you make it thing – it does work. And eventually, you start understanding what you're actually saying, and eventually you get good at it and people start trusting and believing you. I think the most important thing for building credibility is to actually, in your heart, feeling like you're benefitting them, serving them, looking for the problem that they have and trying to solve that problem, rather than, 'How can I get something from you?' If you approach somebody in that manner, a lot of times they can tell – they can see that coming through. So, think about them and then you will be served in that process. I think it was Zig Ziglar that said, 'The more people you help, the more money you make' – we make money by helping people. So we help people and make money doing it. Help as many people as you can. Alright, I hope that helps.