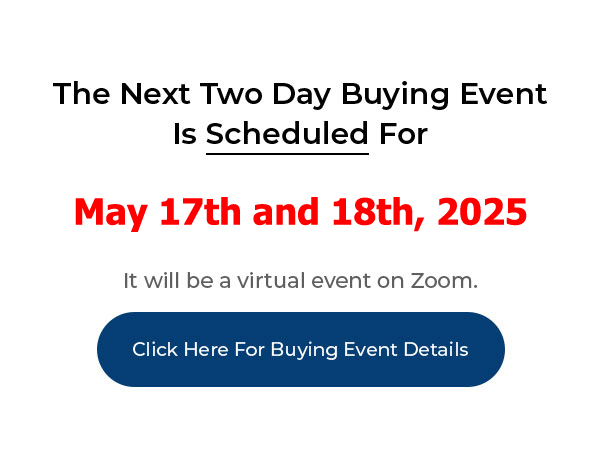 Click Here For Buying Event Details
____________________________________________________________
My PushButton Automarketer Program – Automate your business:
http://www.pushbuttonautomarketer.com
My 6 month mentor program:
http://www.ZeroDownInvesting.com
http://www.JoeCrump.com/partner
My Two Day Buying Events
My Real Estate Investing Blog:
My home study program (there are 68 free videos you can watch on this site):
http://www.PushButtonMethod.com
A Free Audio About How To Automate Your Real Estate Investing Business:
http://www.JoeCrump.com/pushbuttonmethod
My ebook:
http://RealEstateMoneyMaker.com
Free E-letter Opt-In Page:
A few Case Study Video Interviews with my Students:
http://www.JoeCrump.com/partner/casestudy.html
30 Day Free Trial Monthly Printed Newsletter and Audio:
http://www.RealEstateMoneyMaker.com/newsletter/main.html
And on youtube.com search "joseph4176"
How I Built My Portfolio In 3 Steps
Let's talk about building a portfolio…
It's great to flip deals and make chunks of cash. It's a great way to get started as a real estate investor.
But the thing that makes you rich is holding property for the long term.
You can do this without using your credit or your cash. You can also do it without much risk (since you don't use your credit or your cash). There are only three things you need to do to build a portfolio.
Step One – Learn the Zero Down Structure Hierarchy

There are three (of five) structures in the hierarchy we use for acquisition.
Subject To
Multi-Mortgage
Land Contract
I'm not going to spend time here explaining each of these structures. You can get details about them from my book (link below), and from nearly all of my other programs.
Each of these structures allow you to buy property without going begging to a bank, a private lender or your rich Uncle Bob. You won't have to use your credit and you won't need down payments.
The only thing you need is your knowledge and a piece of paper.
With "Subject To" deals, all you do is have the seller sign over the deed to you and start making payments on their existing loan. That's it. Your tenant buyer will pay the monthly mortgage for you.
With a "Multi-Mortgage," you're doing the same thing as "Subject To" except you create a second mortgage to cover the sellers equity. You always want the second mortgage to be zero interest. If you do it this way, the second mortgage or trust deed will pay off in a third the time of a conventional mortgage.

A "Land Contract" or "Contract for Deed" does not transfer the deed. It is simply a contract agreement between the seller and you to make payments to them over a certain period of time until the property is paid off.
If you do it the way I teach, you can also do Land Contracts with zero interest. This allows you to pay off the property in a fraction of the time. 
We often buy houses with no money and because of the way we finance them, they get paid off in 5 to 10 years – sometimes even sooner. We also collect immediate rental income (within 30 days) and lease option fees on these properties. On top of this, we also buy at a discount, so the property comes with built-in equity.

So that is STEP ONE… learn the Zero Down Structure Hierarchy.
Step Two – Generate leads and close deals.
In order to start using these zero down structures, you need leads. You need to find seller leads who are willing to work with you using these financing structures.
Inexperienced investors have asked me why ANYONE would sell you a property using these structures. And my answer is always the same…
There are lots of reasons.
Maybe they don't have a lot of options. Maybe they don't have much equity. Maybe they can't afford to pay a realtor. Maybe they can make MORE money selling it this way.
The only reason someone will sell to you is if THEY think it makes sense for them and their situation.

A lady once sold me a house "Subject To" because her ex-boyfriend lived across the street and she didn't want to have to watch him go in and out of the house with his new girlfriend.
Ultimately they just want to sell their house and you are there to solve that problem.
The best way to generate leads that are willing to work with you this way is to create a marketing campaign that is always turned on… always running.
I created the automarketer to do this for me.
http://www.PushButtonAutomarketer.com
It scrapes leads every day and sends out messages automatically to those sellers, making offers for me. It drips different messages on those sellers over time and sends them to three different websites (each with their own unique offer) in the attempt to hit them with the right message at the right time.
You can also upload your own leads to the automarketer. A lot of investors upload absentee owner and expired listing leads they have skiptraced. The automarketer allows you to import those leads, tag them and send voice messages and text messages to them.
When you have an automated system that is constantly bringing in new leads, you are going to put together deals.
 So step one and step two are about putting the deals into your portfolio.
Step three is what you do AFTER you own them.
Step Three – Hire a property manager.
The final step for building a portfolio is hiring a property manager. Some investors like to manage their own properties, but not me. I have not talked to any of my tenants for many years and have no plans to do so in the future.
I also own property in multiple states so it would be a challenge to try and manage them myself.
When you purchase a property, make sure you figure the cost of management into the deal.
If your margins are so tight you can't afford a property manager, the deal you made is probably not worth doing.
So that's it – building a portfolio in three simple steps.
If you'd like my personal help to build your own portfolio from the ground up, I have a Six Month Mentor Program.
I will take you through the process step by step.
If you want to work with me personally (not a hired hand), you can find out all about my Six Month Mentor program here:
http://www.ZeroDownInvesting.com
This website will show you how my program works, what is included, what it costs, what you can expect from me and what I expect from you if you sign up.
There are 3 training videos on the site that go into great detail about what you need to do to build a profitable real estate investing business.
They add up to about 2 hours of education. I call them my "Advanced Training" because that is exactly what they are. If you know nothing about real estate, they may be a bit over your head.
The techniques I teach in these videos come from my personal experience and you won't find this information anywhere else.
If you aren't interested in working with me personally or can't afford to join my mentor program, these 3 videos will still be worth your while.
They will give you an overview of my entire business and show you how to model YOUR business after the step-by-step systems I've created.
Even if you ultimately decide not to join my mentor program, I can safely say this Advanced Training Program can completely transform your thinking about building a real estate investing business.
I think these 'Advanced Training' videos are one of the best training programs I've ever created – and they won't cost you a dime.
They distill my 35 years as an investor and 20+ years as a coach and give you a complete outline of how we build a powerful, profitable, consistent, reliable, ethical, PEACEFUL business.
They give you the milestones, benchmarks, and SOPs (standard operating procedures) you need to succeed.
That's it for today!
I hope you will join me.
If you like this video, please SUBSCRIBE and hit the LIKE button.
You can also go to www.JoeCrumpBlog.com and sign up for my free email newsletter.
I put out a lot of free information there that you can't find anywhere else.