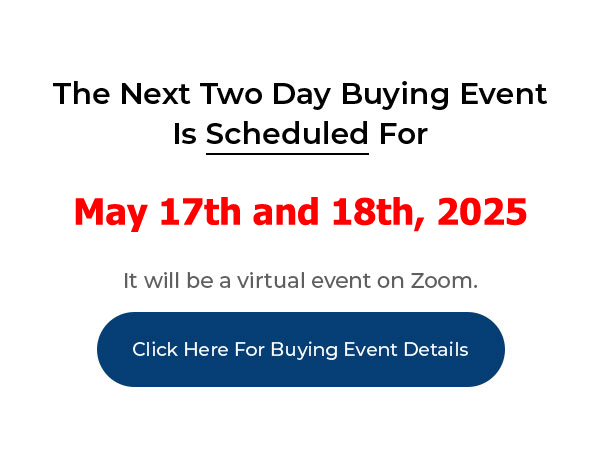 Click Here For Buying Event Details
____________________________________________________________
My PushButton Automarketer Program – Automate your business:
http://sales.pushbuttonautomarketer.com
My 6 month mentor program:
http://www.ZeroDownInvesting.com
http://www.JoeCrump.com/partner
My Two Day Buying Events
My Real Estate Investing Blog:
My home study program (there are 68 free videos you can watch on this site):
http://www.PushButtonMethod.com
A Free Audio About How To Automate Your Real Estate Investing Business:
http://www.JoeCrump.com/pushbuttonmethod
My ebook:
http://RealEstateMoneyMaker.com
Free E-letter Opt-In Page:
A few Case Study Video Interviews with my Students:
http://www.JoeCrump.com/partner/casestudy.html
30 Day Free Trial Monthly Printed Newsletter and Audio:
http://www.RealEstateMoneyMaker.com/newsletter/main.html
And on youtube.com search "joseph4176"
How to Build an Active Property Investment System – Part 1 of 10
Joe: Hey everyone. This is Joe Crump. During the next hour or so, you and I are going to pretend that you've paid me $10,000 to join my six-moth personal mentor program. And we're going to use this time together so that I can cram as much detailed information into your brain as possible in the time that we have together.
Joe: Later on, I'll tell you about some pretty interesting discounts in my mentor program and show you how you can get started with as little as $2,000 up front.
Joe: But this training, right now, is free. And this video, I'm going to give you a ton of information that'll open your eyes, explode your brain, unleash your potential and get you ready to blast through the barriers that've been keeping you from succeeding as a real estate investor.
Joe: I've been testing these techniques and perfecting them, honing them, and making them brain-dead-simple to implement for the last couple of years. I've also been teaching them to my mentor students, and creating some pretty amazing software to help automate them.
Joe: In this video, I'm going to reveal these things to you. I'm not talking about theoretical nonsense. This isn't about wishful thinking or positive attitudes, or some insubstantial, invisible power within thing. All those things are great, but you've heard them before, and they haven't brought you any closer to being a successful real estate investor. You need to know what to do.
Joe: In this video, I'm going to reveal these things to you. I'm not talking about theoretical nonsense. This isn't about wishful thinking or positive attitudes, or some insubstantial, invisible power within thing. All those things are great, but you've heard them before, and they haven't brought you any closer to being a successful real estate investor. You need to know what to do.
Joe: The first thing I'm going to show you is a specific business model I've developed, a system. Every time I build a new business, I develop a business model. It's a map of how the business works and how it generates revenue. Once you have this model, you can build your detailed systems around it. And the model can include anything you want it to include. For example, all my models include not only how the revenue is generated, but how I want the new business to impact my life, how much time I want to devote to it, how much capital – if any – I want to risk. You can design all this stuff in your business, and you should, because your business is a part of your life. And if that business takes you to a place you don't want to be, there's no reason to build it.
Joe: I'm a big advocate of designing your life. Stop thinking about how to make money. Start thinking about how you want to live. And what it would take to live like that. But let me stay on business systems and models. I have several different types of real estate investing business models that I use every day, but all of the models that I've built can be broken into two categories – passive investing and active investing.
Joe: Passive investing is where you don't do anything, and make money, usually over a period of years. This is not a quick cash model. It's long term investing. And it's very important for everyone who wants a healthy retirement income. Once you set it up, you don't have to do anything with this type of investing. Your money, or you time itself, does that work for you. I spend a lot of time with my mentor students showing them how to build passive investments, how to build a portfolio of properties that'll feed you for the rest of your life, and the lives of your children.
Joe: I also teach you how to structure your retirement, how to use a Roth IRA to create tax-free wealth when you retire. I actually show them how my personal retirement is set up. What business structures I used, and how I built it. But I'm not going to cover that today. Today I'm going to talk about active investing, building a real estate investing business, creating chunks of cash out of thin air – without capital, without down payments – just by using my automated systems.

Joe: Right now I'm going to show you one of my active investing business models, and then after that, I'm going to get into the details of the system I use to run it, the step-by-step part. I'm going to show you how to use simple automated techniques to make your real estate business a systematized machine. In other words, a real business. A real business that is profitable.

Joe: If you can walk away from your business and it keeps running, you've got a business. If you walk away and it collapses, all you've got is a glorified job. I've been investing in real estate for over thirty years now, and I've been an internet marketer since 1998 – practically the Stone Age of the internet.
Joe: What I've done over the past few years is create a series of systems, techniques and strategies that combine these two areas of expertise. My goal, or maybe I should say my business model, is to sit at home, push a few buttons and manage my real estate business from anywhere in the world. What I've built is the closest thing I've ever seen to being able to do just that.
Joe: By the way, I have quite a few students who are doing as well as me, and some who are doing better than me. Not too long ago I personally flipped over two hundred homes in about seven months to investors. These homes were in seven different states around the country. I also run my teaching and mentoring business, which is a pretty big monster on its own. I write a monthly newsletter that hundreds of people pay $39.95 a month for. And if we're ever late about getting it out, we get tons of emails and calls from people wondering where their package is.
Joe: I've also done joint venture real estate deals with other business owners, all of them have been in my mentor program before we partnered on deals. In addition to this, I own quite a bit of property because I keep some of the properties instead of flipping them all. I don't manage my own property. That's the passive part of my business.
Joe: Now, you may be thinking, "Man, this guy is a work-a-holic. When does he sleep?" Well, the truth is, I only work twenty to thirty hours a week. And I do that much because I think it's fun. But I have other things in my life that interest me and it's important for me to have time to do them. I am a film maker and I've made a couple of feature films that you can find on Amazon Prime. Just type in my name, go and watch them and give me a good review. And let me know you watched them. I'll thank you for it. I love making movies. It's what I was put here to do, and what I got my degree in way back when.
Joe: I also love to travel. Traveling the world's been great. I've been fortunate to be able to travel with my family for many years now. Having this business allowed me to be at home while my kids grew up. I was there every day when they came home. I never missed a dance recital or a soccer game. But my kids are not kids anymore, they graduated from college, and they're both involved in the arts. I want to spend as much time with them as I can. And, you know, they don't mind having me around. We have a blast together.
Joe: I'm also married to a woman I love and want to be with for the rest of my life. I want to spend time with her, too. You can't do all that if you're working sixty hours a week. They say that all you need is quality time with the ones you love. But I think it's hard to get the quality time unless you put in the quantity time. A business like this can give you back that time and give you enough money so you don't have to sacrifice your standard of living to get it.
Joe: I run my business from the comfort of my home. My office overlooks the woods out in back. It's just past this black backdrop. And most of the time things are pretty calm around here. There are exceptions – every business has its challenges.