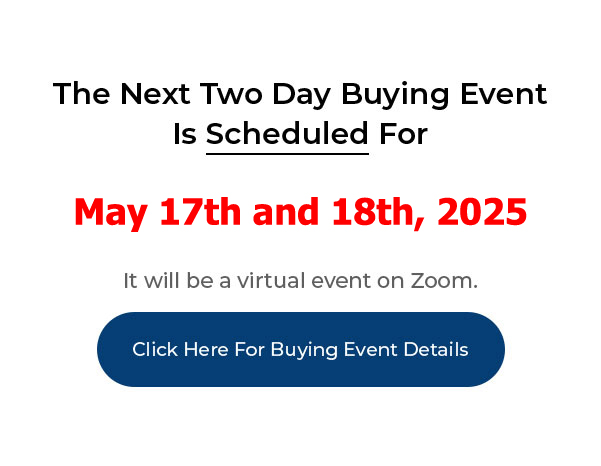 Click Here For Buying Event Details
____________________________________________________________
Discover how to find profitable property investment leads in this video and learn to set up systems that will bring you a constant stream of profit. Most importantly, learn how you can set up a fully automated marketing system for your real estate investing business.
My PushButton Automarketer Program – Automate your business:
http://sales.pushbuttonautomarketer.com
My 6 month mentor program:
http://www.ZeroDownInvesting.com
http://www.JoeCrump.com/partner
My Two Day Buying Events
My Real Estate Investing Blog:
My home study program (there are 68 free videos you can watch on this site):
http://www.PushButtonMethod.com
A Free Audio About How To Automate Your Real Estate Investing Business:
http://www.JoeCrump.com/pushbuttonmethod
My ebook:
http://RealEstateMoneyMaker.com
Free E-letter Opt-In Page:
A few Case Study Video Interviews with my Students:
http://www.JoeCrump.com/partner/casestudy.html
30 Day Free Trial Monthly Printed Newsletter and Audio:
http://www.RealEstateMoneyMaker.com/newsletter/main.html
And on youtube.com search "joseph4176"
How To Find The Most Profitable Real Estate Deals
Joe:
How to find the most profitable real estate investment opportunities. There's lots of deals out there. And you just need to learn how to find them, how to create an endless stream of those types of investment deals. How do you get those people go call you? How do you track them down? How do you find them?

Joe: One of the best ways to do it is by using a piece of software that we created call PushbuttonAutomarketer.com. It'll create an endless stream of For Sale By Owners leads that you can come in and buy properties from. Some of those leads will be the For Rent Method, some of these deals will be Subject To's, some will be under market value properties. You're going to run into investors on craigslist and Zillow which are areas that we market to, or the Automarketer markets to.

Joe: It'll send out a text to those people and it will ask them if they would like to sell their property on terms. And typically the method that we use is we send out a message that says, "Would you consider selling your home rent to buy?" And then the Automarketer drips on them over a three-month period with different options. It'll send them to websites that explain how the For Rent Method works. It'll send them to a website that explains how Subject To works. It'll send them to our We Will Buy site that says, "We Buy Houses for Cash." And, "We buy properties that are pretty houses, and ugly houses." So we send them different messages over time to try to capture them at the time that they're most ready to sell their property.

Joe: And we're going to get responses. When we send out a message like that, we typically get anywhere – let's say we send out to 100 people, 100 For Sale By Owners that are in a particular town. When we send out 100 messages, text messages, that say, "Would you consider selling your home rent to buy?" we'll typically get between 5 and 40 responses. It's really all over the board. But typically, on average, 20% will respond. And then out of that 20% that respond, so let's say we got 20 responses, out of that 20 responses that we get, 80% to 90% of them will say, "No, I'm not interested in that."
Joe: And the other 10% to 20% will say, "Yes, I would consider that," or "Maybe," or "Tell me more." So, 10% to 20% of them will say yes or maybe, 80% to 90% of them will say no, and then the rest of the people don't respond at all. So, we respond to those people in that order.
Joe: First we call the "yes" people and see if we can put a deal together. Then we call the "no" people and see if they'll work with us. And then we still call the people that haven't responded at all. Those are called "system leads." And you can set up a power dialer inside the Automarketer that makes it really easy to call through these people, 1, 2, 3, 4 5, and saves – it makes it about 400% faster to go through the leads that you've got and makes it easier for you to identify the people that have deals that might actually work for you. It does require that you make those calls or that somebody makes those calls for you.
Joe: But, it becomes much easier to do it. And you've got leads that are there, you've got all the information about the leads. You've got the ad that they put, you've got the pictures of the house. You've got Google maps of the house – all that stuff is inside the Automarketer and makes it really easy to manage and to do follow-ups without you having to think about it al all. So that's how you get a constant stream of these types of deals.
Joe: Now, there's going to be two types of deals that you're going to be mainly looking for. You're going to be looking at flip deals and you're going to be looking at long term hold deals. If you're just flipping the deals, and let's say you're doing the For Rent Method, or you're doing wholesaling, you're going to find the property, you're going to go out and raise the price, you're going to sell it again and you're going to make a profit. Pretty quick, easy, you know, not difficult to do. There's going to be a lot of leads that are going to want to do it that way. The For Rent Method is an easy one to sell because it gets that seller full price for their property without having to pay any realtor fees.

Joe: So, we can go after people not just that are distressed, that are in pain, that are in need, but we can also go after the people that want to make more money – the greed. So, you can go after need and greed types of sellers with that particular method.
Joe: There's also buying properties for cash or for terms. So, maybe you find a property that's a wholesale deal and you've got cash. You can purchase that property. Or, you find a property that you can get on terms, Subject To, Multi-Mortgage, Land Contract – you can purchase a property that way and keep it for the long term and put it in your portfolio and pay it off over time and get the tax benefits and get the buy down on the note every month, and get the cash flow on that property and the appreciation on that property. Holding properties long term is what makes you wealthy in this business. Flipping properties is what feeds you. That's what makes your business run. So you need both. It also helps you create cash and cash flow for your business and be able to buy other properties.

Joe: So, the types of deals that you're doing to do are going to be flip, or you're going to hold, you can either have cash into the deal or you're going to do zero down deals. You're either going to do rehab deals and turn and flip them, or turn and put tenants in them, or you're going to buy them turn key. You're going to buy them ready to go. You don't have to do anything to them at all.
Joe: And there's lots of ways to do each one of these methods, but the goal is that you have to keep bringing those leads in. And the best way to do that is to go after For Sal By Owners.

Joe: The other good sources of leads are absentee owners and expired listing leads. Those leads can be purchased and they can actually be uploaded into the Automarketer, with a phone number, and then those can be contacted and put into a drip system as well. And we find that those can be really wonderful leads if you're looking for wholesale deals or you're looking to buy under market value properties. Absentee owner deals can be really effective for that type of deal.

Joe: All right. I hope that helps. Good luck.