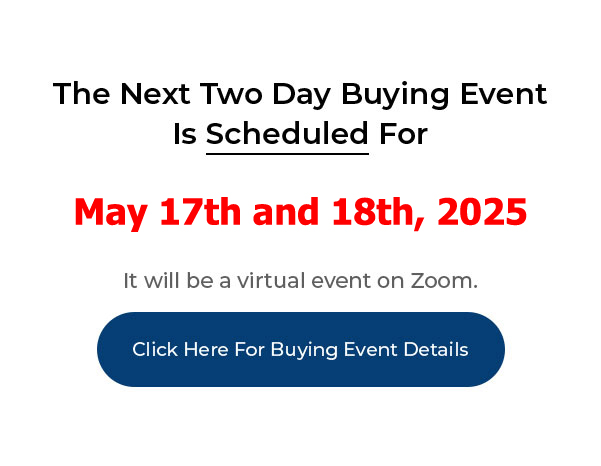 ____________________________________________________________
Build your real estate investing business in the most ethical way possible by following the process outlined in this video. My property investment strategies all center on this one important principle: Always be the most ethical person in the room!
My PushButton Automarketer Program – Automate your business:
http://sales.pushbuttonautomarketer.com
My 6 month mentor program:
http://www.ZeroDownInvesting.com
http://www.JoeCrump.com/partner
My Two Day Buying Events
My Real Estate Investing Blog:
My home study program (there are 68 free videos you can watch on this site):
http://www.PushButtonMethod.com
A Free Audio About How To Automate Your Real Estate Investing Business:
http://www.JoeCrump.com/pushbuttonmethod
My ebook:
http://RealEstateMoneyMaker.com
Free E-letter Opt-In Page:
A few Case Study Video Interviews with my Students:
http://www.JoeCrump.com/partner/casestudy.html
30 Day Free Trial Monthly Printed Newsletter and Audio:
http://www.RealEstateMoneyMaker.com/newsletter/main.html
And on youtube.com search "joseph4176"
How To Get Started In Real Estate In 3 Easy Steps
Joe: Hey, it's Joe Crump. How to get started in real estate investing in three easy steps. Or, at least they're going to be brief and short and to the point. There's a lot more to each detail as you go through.
Joe: First of all, don't spend your own money or use your own credit. Learn zero down financing structures. They say you need money to make money, but I say if you can't make money with no money you probably can't make money with money. So, learn how to do it with no money before you start investing your own money. It's a big difference between the high risk and low risk investing. Learn to do it with no money.
Joe: Step two. Learn how to make these offers with no money down. And that means that you learn how to educate the seller, you learn all of their options whether it's working with a realtor, whether it's working with the zero down structure hierarchy that you can work with. Whether they sell it for cash, or they sell it For Sale By Owner. If you learn all their options, then you can make recommendations to them and say, okay, I could buy this property from you on a lease option, and I can flip it to someone else. Or, I can buy this Subject To, or Multi-Mortgage or Land Contract or Contract for Deed, or Assignable Cash Deal. I can do all these different zero down structures and help you sell your property. So, essentially, you're buying the property with zero down. No money out of your pocket.
Joe: And then the third step is you want to turn around and sell the properties that you bought and make a profit. And you can either sell them on terms over time, of you can flip them and make a chunk of cash right now in your pocket. And let me give you two different examples, or one that may turn into two different examples. And that's using the For Rent Method. Once you've gotten control of a property and you have the right to buy it on a lease option and you have that right so that it's assignable to someone else. You can then go in and find a buyer for that property, raise the price – let's say you've got a $150K property, you raise it by $10,000, and you're going to charge $10,000 as a down payment. That's going to be your profit. $150K is what they will own the seller if they exercise the option in the future and they're going to come up with the first month's rent, and let's say it's $1,200 a month. So you're going to give that money to the seller, and you're going to make your $10,000.
Joe: And probably you're going to make $5,000 in cash and maybe another $5,000 as a promissory note which that buyer is going to pay you $200 a month for over the next couple of years paying off that $5,000 note. And that's a quick and easy way to make that happen and to get it sold and to find someone who'll do that. Selling a property on lease option is not very challenging.
Joe: Now, you may end up keeping that property. If this is your property and you're selling it on a lease option and someone buys it, they exercise the option, you make a chunk of money. If they don't exercise the option, well, then you just turn around and sell it again to the next person on another lease option. Get another lease option fee, and the monthly payments that come in on it and that's how you build long term wealth.
Joe: So, there are two ways here. One is making quick chunks of cash and two is long term wealth. Making money to live on, that's how you flip properties. Long term wealth, you hold onto the properties. And that's what's going to make you a millionaire.
Joe: Once you've learned how to do these three steps, then it's just a matter of learning how to do it over and over and over again. And the way you do that is to systematize and outsource. So you systematize, automate, outsource. Systematization will allow you to have everything done for you so that you can extract yourself from the business and put in as few hours as possible in order to make that income. Before long, you'll start having money coming in all the time and you won't be doing very much to make that happen. And that's the goal.

Joe: All right. If you like this channel hit the Subscribe button, make sure to ring the bell and it'll put you on the list so that you'll get a notification every time I put a new video up here. You can also check out my Automarketer at PushbuttonAutomarketer.com, or go to my blog, JoeCrumpBlog.com and sign up for my free newsletter, email newsletter, that I send out stuff that I don't send to anybody else. All right – I hope that helps. Good luck to you.