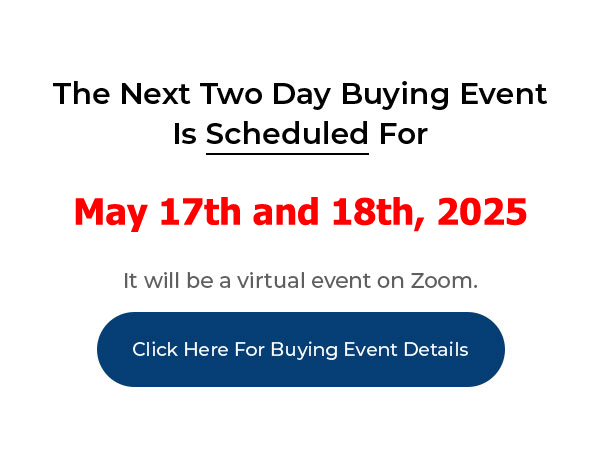 Click Here For Buying Event Details
____________________________________________________________
My PushButton Automarketer Program – Automate your business:
http://www.pushbuttonautomarketer.com
My 6 month mentor program:
http://www.ZeroDownInvesting.com
http://www.JoeCrump.com/partner
My Two Day Buying Events
My Real Estate Investing Blog:
My home study program (there are 68 free videos you can watch on this site):
http://www.PushButtonMethod.com
A Free Audio About How To Automate Your Real Estate Investing Business:
http://www.JoeCrump.com/pushbuttonmethod
My ebook:
http://RealEstateMoneyMaker.com
Free E-letter Opt-In Page:
A few Case Study Video Interviews with my Students:
http://www.JoeCrump.com/partner/casestudy.html
30 Day Free Trial Monthly Printed Newsletter and Audio:
http://www.RealEstateMoneyMaker.com/newsletter/main.html
And on youtube.com search "joseph4176"
How To Make 20K Per Deal With 0 Down
Joe: Hey, it's Joe. This next video is titled "How to Make $20K per Deal Consistently Using $0 Down Real Estate Techniques."
Joe: One of the easy ways to make more money on the properties is to work in higher end markets. So, let's say You want to go work in the east coast, or the west coast. There's a lot of high end markets there. Or, you're working within your own city, maybe your own city is the only $150K average price range for your property, but you decide you're going to work in the higher end market because you want to get more money per deal.
Joe: Now, the down side of this is if you're new at this, when you're dealing with people that have more money, they have higher expectations often. And they're sometimes a little bit more intimidation for a beginner to go to talk to. So, if you go talk to someone who's got an $800K property in Los Angeles, that may be a little bit more challenging conversation for a new investor than, you know, someone who's got a $100K property in Indianapolis. So, keep that in mind.
Joe: But, once you learn how to tackle these high end areas, it's really worth it to keep working in those areas. I had a student recently call me and said, "Hey, I just put together a $100K deal." You know, he's working out of New Jersey, working on an $800K property. So, these things can come together when you're working on higher end markets and understanding how to do it. So, learn how to do it, learn how to talk to these people, work in high end markets.
Joe: But you also want to be able to have consistency, and that's where automation comes in, and that's where having a drip system comes in and using the Automarketer to go out there, text people who are trying to sell their properties, asking them if they'd be interested in selling their property rent to buy, and then getting their responses and then talking to them if they're saying that – anything that's not "No" I would talk to them. And probably 80% of the responses that we get are "No" and the other 20% are "Maybe," or, "Give me $20K and I'll do it," or, they'll come up with different reasons that they might do it if they got a good deal.
Joe: And you want to talk to those people and you get on the phone with them and put the deal together and make that happen.
Joe: Anyway, I hope that answers the question.