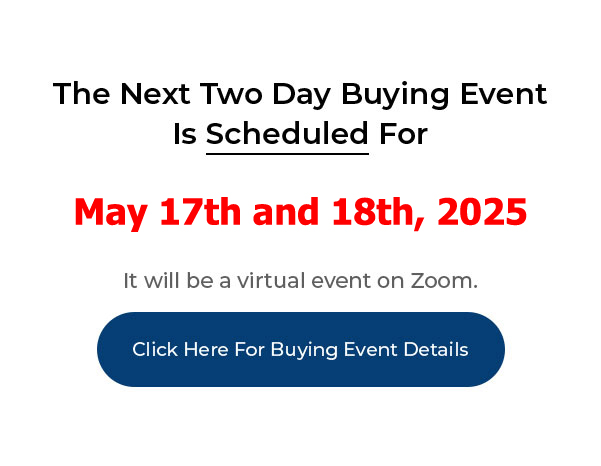 Click Here For Buying Event Details
____________________________________________________________
My PushButton Automarketer Program – Automate your business:
http://sales.pushbuttonautomarketer.com
My 6 month mentor program:
http://www.ZeroDownInvesting.com
http://www.JoeCrump.com/partner
My Two Day Buying Events
My Real Estate Investing Blog:
My home study program (there are 68 free videos you can watch on this site):
http://www.PushButtonMethod.com
A Free Audio About How To Automate Your Real Estate Investing Business:
http://www.JoeCrump.com/pushbuttonmethod
My ebook:
http://RealEstateMoneyMaker.com
Free E-letter Opt-In Page:
A few Case Study Video Interviews with my Students:
http://www.JoeCrump.com/partner/casestudy.html
30 Day Free Trial Monthly Printed Newsletter and Audio:
http://www.RealEstateMoneyMaker.com/newsletter/main.html
And on youtube.com search "joseph4176"
How We Buy Houses At My Event – Part 9 of 10
Joe: Here is what we're going to do at the buying event. One, talk to real seller leads over the phone. Learn how to interview them and analyze their deals. Put together deals right there in the buying event. This is not just theory, we're actually going to do it. And before you come, I'll tell you exactly what you need to know to be fully prepared.
Joe: Two, you'll write real deals. You may even leave the event with a deal or two in your pocket. And the profits are yours to keep from these deals. This doesn't happen for everyone at the event, but at least you'll walk away knowing that you know how to do it.
Joe: Three, I'll walk you through the entire system, step by step, every detail of a transaction will be covered. I'm going to teach in a very informal way. Some of the material I'll just stand up there and tell you about. But much of what we do is interactive, hands on, workshop-oriented. You'll be part of the program. This will be more like working by my side rather than sitting in a tedious classroom. Remember, this is a buying event, not a schoolroom. You'll be getting in the mix and learning as you go.
Joe: Four. You'll be doing the real thing. You'll be writing Purchase Agreements, making verbal offers, putting together deals right from the conference room.
Joe: Five. It'll be personal time with me and a very small group of extremely dedicated people who want to learn this process. You may not get much sleep, so come rested and ready to go. Most of the folks who have come to these events in the past tell me that when they finally do get to bed they're so excited by what they've learned that they can't shut it off. This is powerful material. An incredible way to learn.
Joe: The knowledge I'll give you builds confidence and inspires you to take action. The right action creates success and you encounter a wonderful cycle – a snowball effect – of growth, both financially and emotionally, and in your real estate business. Suddenly the other investors in town are calling you up and asking questions and advice. And the funny thing is, my students are surprised to find that they can actually answer the questions intelligently.
Joe: Six. You will mastermind with everyone else in my six-month mentor program and work together to find solutions to everyday problems encountered as an investor.
Joe: Seven. We're going to get to the nitty-gritty of all the technology I've been talking about on this call.
Joe: Eight. And I'm going to cover how to structure these deals, how to analyze them, how to make the offers. I'll teach you cash offers, subject to, land contracts, contract for deed. Lease options. I'll even show you how to fill out the forms you need to make these offers. Step by step. Boy, it would take a while to tell you everything I'm going to cover at this event. But my mentor program is much more than just the buying event.
Joe: The Joe Crump Mentor Program, Six-Month Mentor Program, is a massive educational program that consists of twenty-six weekly manuals and audio programs and a huge amount of other materials and personal one-on-one support. It's a master's course that'll teach you how to become a master real estate investor.
Joe: I put together a twenty-six week intensive training process that takes you step by step toward your dreams and desires. The great news is that you can expect to see great strides towards immediate profits within the first short weeks of beginning the journey if you just follow my simple instructions. And your successes and growth will build exponentially as you allow the entire process to be installed in your mind and your business over the six-month period.

Joe: It has a huge amount of information that you can learn easily because it's in bite-sized bits over a six-month period. But even though it goes on for six months, you get everything you need from the start. From the first day. You don't have to wait to get started. When you get started, I'm going to give you two big boxes full of my material. It's got both printed material and almost a hundred hours of audio.
Joe: I'm also going to give you access to my members-only archive. There are several hundred hours of audios on the site that you can download. All materials I've recorded over the past few years. You'll get every form you need. Every questionnaire, and every piece of marketing material I use. You'll also learn how to use the Automarketer software.
Joe: The Automarketer is not included in the mentor program, so it's not free to use. But if you compare the cost to all the other types of marketing we've used in the past, like snail mail, post cards, signs, classified, display ads, television ads, billboards – it's going to be the cheapest marketing and the biggest bang for your buck for bringing in motivated buyers and sellers that you'll ever use. Every business has infrastructure costs. The Automarketer is your infrastructure.
Joe: There's way more than that included in the mentor program. But don't get overwhelmed by all this information and all these opportunities. I want you to have this library of my material so you can grow and expand your business for years to come, well beyond your time in the six-month program.
Joe: I want to partner with you on deals. I want – I make more money partnering with my students than I do teaching them. I don't make it a secret that I'm in it to develop more business, to make more money and to have a lot of fun doing it. You don't need all of this info to start making money. I'm going to start you out with a very specific business model that'll get you making offers the first week. I call it the For Rent Method. After that, you can expand, streamline, automate your business, adding layers and systems as you go. To begin you need to start seeing some chunks of cash getting into your bank account.
Joe: You also get time with me. Every two weeks during your six months of training, I'll hold a one-hour conference call where I do nothing but answer questions from students in the mentor program. You will actually have access to me, the creator of this unique system, and be able to ask any questions you like. These days, the conference calls have been lasting an hour-and-a-half to two hours because I've been getting so many good questions and I'm unwilling to get off the phone until every questions is answered. These are not crowded calls. We have five, ten, fifteen people on these calls, on average, so it really gives me time to go deep with your questions.
Joe: I used to do one-on-one calls with each student. But I stopped that. For one, I couldn't handle the amount of time it took. But just as importantly, having other students on the call allows you to hear the answers to other peoples' questions in the group. They'll come up with questions and situations that you haven't even thought of. So you'll get much more by doing this as a group. All of the calls are recorded. If you're unable to make these calls, just send your questions via email before the call and I'll answer them on the call. This way, when you download the recording of the call, you can hear the answers to your questions in detail.
Joe: You'll have my insight and over thirty-five years of experience on your side as you begin your investing career. I'll answer all your questions as they happen, and point you in the right direction.
Joe: I normally charge $1,000 an hour for consulting. You'll have access to these conference calls every two weeks for six months. That's two hours every months for six months making twelve hours total, if the calls are short, so, you do the math. Just what you'd have to pay for my time makes this program a good deal.