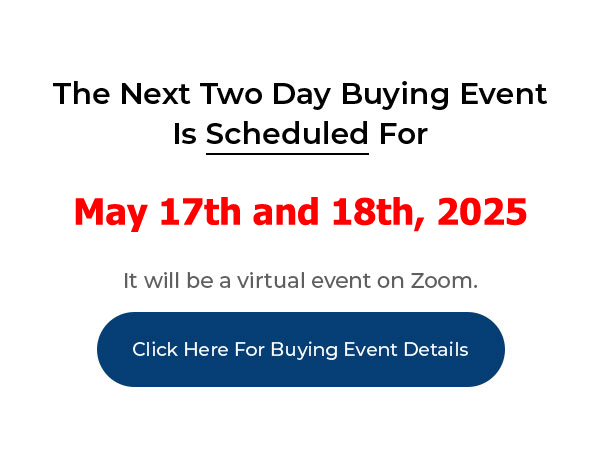 I believe the best way to learn the business of real estate investing is to hear how others have done it. When these interviews were recorded, I asked the interviewer to ask questions that would help the viewer see how these folks got started.
I wanted to hear the struggles, the successes and a clear path and explanation of what they had to do to make these deals happen. I did NOT want them to be a bunch of people telling you how wonderful Joe Crump was. I wanted content, examples and real life experiences.
I hope we succeeded.
Case Study – Robert Greer – Converse Township, Michigan
____________________________________________________________
My PushButton Automarketer Program – Automate your business:
http://www.pushbuttonautomarketer.com
My 6 month mentor program:
http://www.ZeroDownInvesting.com
http://www.JoeCrump.com/partner
My Two Day Buying Events
My Real Estate Investing Blog:
My home study program (there are 68 free videos you can watch on this site):
http://www.PushButtonMethod.com
A Free Audio About How To Automate Your Real Estate Investing Business:
http://www.JoeCrump.com/pushbuttonmethod
My ebook:
http://RealEstateMoneyMaker.com
Free E-letter Opt-In Page:
A few Case Study Video Interviews with my Students:
http://www.JoeCrump.com/partner/casestudy.html
30 Day Free Trial Monthly Printed Newsletter and Audio:
http://www.RealEstateMoneyMaker.com/newsletter/main.html
And on youtube.com search "joseph4176"

I Closed Two Deals In My First Month With Only A Few Hours Of Work
Robert: My name's Robert Greer. I'm from Converse Township, Michigan. I heard it online, I've done a lot of research and I found Joe online and was really intrigued with the mentor program. Just the way he's, he does it compared to all the other programs out there. It's more of like a seminar based, where you're traveling and thousands of people, so, I wanted more, you know, personable, and it seemed like his program was, you know, was more structured that way.
Robert: My first deal it took about, it's going on about a month now. So, and I got my first deal just a couple days ago. So, a little bit less than a month. I actually got two deals locked up. I haven't converted them yet, but first contract signed within two months and I have five to six others that I'm working on. Looking at like, a $10,000 payday for both of those deals up front and I have five to six in the works. About ten hours a week just as Joe mentioned, so making calls, you know, get the Automarketer up and running. So, you know, I'm just trying to convert those leads into contracts.
Robert: The best deal is working with an investor in Toledo. He has multiple homes and this one he's had a lot of trouble trying to sell. So I came in and offered a leas to option which he really liked because he put a lot of money into repairing and trying to get it up to speed and he doesn't want to rent it out so I guess he needs the cash, but, he's willing to wait as long as he's getting some monthly income from it. So, that was so far the best deal. And now he has two to three others that he wants me to work with him on.
Robert: Per deal I would say $3,000 to $5,000 on average. I've closed two deals and it's only been my first month and I have five to six deals lined up in addition to the two deals that I've closed. Just build wealth. It's more for wealth, as I know many you know, many people have gained generational wealth through real estate so it's something that I consider, it's just something in addition to my other business that I run, you know, it's a great tool to achieve that. Oh, it's been great so far. It's only been a month, but his program does give you all the tools you need to be successful in real estate investing.
Robert: I'm just doing it part time now. I pretty much automated a lot of my other business, so I have, do have more time going forward to dedicate to real estate. So, I think it's a great way to not only stay focused on you know, my business, but it gives me time to alleviating some of that time gives me time to do more real estate. I've been using the Automarketer for about three and a half weeks now and it's been great. I'm getting consistent leads every day texted, you know, people texting want to, you know, either considering it, or you know, interested in it. So, in doing either a lease option or other types of investment methods.
Robert: I would just say do your research, try to get with a mentor that can help you through this process. I think it's important because a lot of people get lost. Secondly, or actually firstly, I think you should take action. Just learning it doesn't do anything for you. You have to take action if you want to make money in this business. So, without doing any action, you won't get results. The more action you take, the more results you get. Joes' method works as long as you follow, you know, his steps. Try to get better on the phone talking to people. If you're shy or you know, you don't feel like you're a good, you know, you don't have that extroverted personality, try to get as better on the phone, or try to talk to people like your family, you know? That's important. I think, you know, that's where the deals are made, is talking to people. And understanding their situation and trying to find a solution for them.