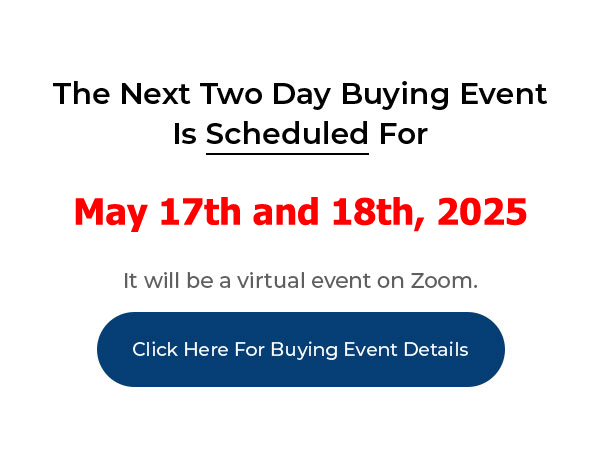 I believe the best way to learn the business of real estate investing is to hear how others have done it. When these interviews were recorded, I asked the interviewer to ask questions that would help the viewer see how these folks got started.
I wanted to hear the struggles, the successes and a clear path and explanation of what they had to do to make these deals happen. I did NOT want them to be a bunch of people telling you how wonderful Joe Crump was. I wanted content, examples and real life experiences.
I hope we succeeded.
Case Study – Armond Wright – Toledo, Ohio
____________________________________________________________
My PushButton Automarketer Program – Automate your business:
http://www.pushbuttonautomarketer.com
My 6 month mentor program:
http://www.ZeroDownInvesting.com
http://www.JoeCrump.com/partner
My Two Day Buying Events
My Real Estate Investing Blog:
My home study program (there are 68 free videos you can watch on this site):
http://www.PushButtonMethod.com
A Free Audio About How To Automate Your Real Estate Investing Business:
http://www.JoeCrump.com/pushbuttonmethod
My ebook:
http://RealEstateMoneyMaker.com
Free E-letter Opt-In Page:
A few Case Study Video Interviews with my Students:
http://www.JoeCrump.com/partner/casestudy.html
30 Day Free Trial Monthly Printed Newsletter and Audio:
http://www.RealEstateMoneyMaker.com/newsletter/main.html
And on youtube.com search "joseph4176"

I Consistently Make $10,000 Every Month
Armond: My name is Armond Wright and I'm from Toledo, Ohio. I found out about Joe Crump on the internet through YouTube. What drew me in and made me want to be a part of the program was he answered the phone when I called. A lot of times when you call people they have a secretary or someone else answering the phone for them. I felt like you know, it's a little bit more trustworthy than, you know, someone else that has someone else answer the phone for them.
Armond: The best deal that I've done was the early part of this year. I was talking to the owner. We had a conversation about HOA fees that were due that the investor I was working with needed to pay. And then from that conversation I found out that she had a package of properties that she was looking to sell. So we put that deal together and I made $46,000 off of it.
Armond: I consistently make above $10,000 a month. The key to doing deals consistently for me is networking. I joined a couple of networking groups, I network with realtors, investors, home owners, property inspectors, and that kind of brings either buyers to me, or sellers to me. So that allows me to do deals consistently. Plus, the deals that I find on my own. So I created like, a little funnel that funnels buyers and sellers to me on a consistent basis.
Armond: My first deal was a small deal and I did that one really quick. But my, the deal that was a little bit more significant it took me five months to make it. Just because I didn't follow the instructions like I should and on that deal I made $5,000.
Armond: My goals moving forward as a real estate investor is to acquire properties for myself, continue providing excellent service for other people and continue teaching other people the business.
Armond: My goals to get out of the event this weekend is just to further deepen my understanding of the processes and continue to learn the process. I think in order to master something you need to go over it over and over again. The specific skill I'm trying to learn is really how to divide my time from the business and the coaching process. To be able to better do a little bit more time management between coaching and running the business.
Armond: My business has actually brought my family closer together where I have my daughters working with me and also have my son working with me, so, it's kind of like, a family event. So, not only spending time as a family, but also we spend time as a business as well.
Armond: I have a strong passion for real estate. Even though I've worked in several industries, my passion has always been real estate from early on. My grandfather was a real estate investor and I kind of started learning from him from day one. And always wanted to have a real estate investing career.
Armond: My automation process that I have in place is mainly my daughter. She does a lot of the marketing of finding the buyers, or tenants, and then the other piece of the automation, I have an assistant that assists in a lot of the paperwork and also does some of the initial interviews of the buyers or sellers of the properties.
Armond: The advice I would give to someone that's starting off in the business is to keep going, don't give up. Everybody has ups and downs when they're first starting. All the way through the process you're going to have ups and downs. But just continue to learn, continue the process and even myself, I continue to come back to the events to continue learning. That's the advice I would tell a new person is just to, you know, keep going. Just keep moving forward.