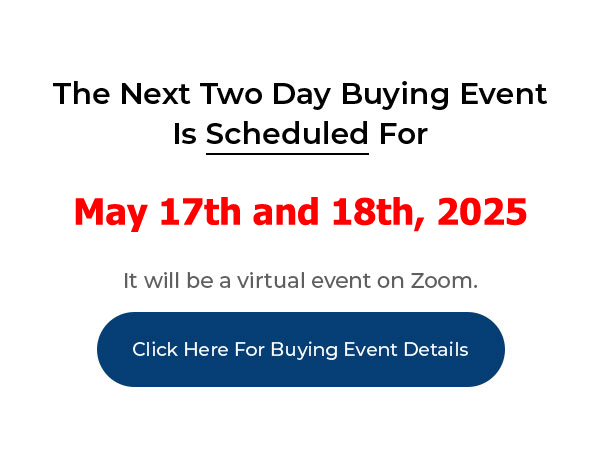 I believe the best way to learn the business of real estate investing is to hear how others have done it. When these interviews were recorded, I asked the interviewer to ask questions that would help the viewer see how these folks got started.
I wanted to hear the struggles, the successes and a clear path and explanation of what they had to do to make these deals happen. I did NOT want them to be a bunch of people telling you how wonderful Joe Crump was. I wanted content, examples and real life experiences.
I hope we succeeded.
Case Study – Armond Wright – Indianapolis, IN
____________________________________________________________
My PushButton Automarketer Program – Automate your business:
http://www.pushbuttonautomarketer.com
My 6 month mentor program:
http://www.ZeroDownInvesting.com
http://www.JoeCrump.com/partner
My Two Day Buying Events
My Real Estate Investing Blog:
My home study program (there are 68 free videos you can watch on this site):
http://www.PushButtonMethod.com
A Free Audio About How To Automate Your Real Estate Investing Business:
http://www.JoeCrump.com/pushbuttonmethod
My ebook:
http://RealEstateMoneyMaker.com
Free E-letter Opt-In Page:
A few Case Study Video Interviews with my Students:
http://www.JoeCrump.com/partner/casestudy.html
30 Day Free Trial Monthly Printed Newsletter and Audio:
http://www.RealEstateMoneyMaker.com/newsletter/main.html
And on youtube.com search "joseph4176"

I Average At Least One To Two Deals A Month
Armond: My name is Armond Wright and I'm from the Indianapolis area. I found out about Joe online, just surfing online. I found out about him I believe it was on YouTube. Well, actually, I was, contacted him as possibly looking to buy some properties that I had and from talking to him he seemed like a pretty good guy, so I eventually, he sold me on the program, but it was well worth the money I paid for it.
Armond: The best deal that I've done so far was a deal I just did a couple days ago. It was a package of twenty-three properties and probably made, or I will make $46,000 off the deal.
Armond: I'm working with an investor who had some condos and the person called me about paying the condo fee. And from the dialog I found out the person that called me had some condos they were looking to sell, a package of them. So from that initial conversation, I ended up making an offer and I flipped those deals over to an investors.
Armond: I knew I had a buyer that was interested in the package of properties, so this particular deal, I made an offer on the property and I assigned the offer over to an investor for a fee.
Armond: On this particular deal, I got paid off an assignment fee so I made an offer on the property and then I assigned it over to the buyer for a fee. This particular deal took two weeks. Consistently I make six digits – six figures a year. My first deal took me longer because I didn't follow the instructions like I should have and I made $5,000 off my first deal. I look to add more automation and I look to share what I've learned from Joe with others as well as grow the business.
Armond: This business has allowed me to quit my full time job and pursue it full time. I have my oldest daughter, she works in the business with me full time. And at one time I had my oldest daughter, my son and my youngest daughter working with me. So, it's kind of become more of a family business and not only do we work together, you know, as far as a family, but also we, you know, we get to spend more quality time with each other. I guess in a way it's just kind of make the family even come even closer.
Armond: I have a, I'm really passionate about real estate. I really like it and always wanted to do it full time because I like helping people. Yes, I do have some automation. I have my office assistant who handles a lot of the paperwork and the filings we pretty much operate off of, spreadsheet, and I have my office assistant who assists in showings and I have a couple other people who assist in showings. And then I have my daughter who qualifies some sellers and some buyers as well as tenants.
Armond: Absolutely I plan on automating a lot more, a lot more adding people to make the workload more fluid, more organized, even though I don't have a problem with hard work. But, I do plan on adding a lot more automation.
Armond: I have a gentleman that's working with me and through him working with me he was able to help pay for his kids' college tuition. And I thought that was pretty cool, something that I kind of created, invited someone to take part in, and through the results of this creation is allowing him to not only take care of his family but also help pay his kids' college tuition. I think that was, I think that's pretty cool.
Armond: Somebody that's just starting out, I would advise them to never give up. Keep striving and to work hard. Because I do have some coaching students and I think one missing element is the hard work they're not willing to put in because anything worth having is not going to be easy to attain. So, I just recommend people set aside some time and actually work hard on attaining the goal.