Here is how to decide if a real estate investing system is right for you based on the amount of competition there is in your market.
You can watch it in this video.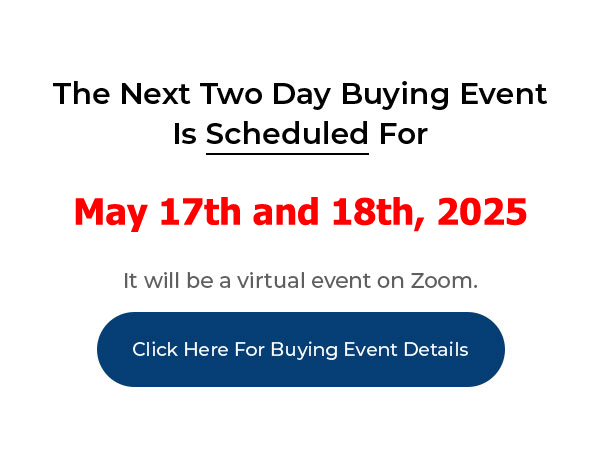 ____________________________________________________________
My PushButton Automarketer Program – Automate your business:
http://www.pushbuttonautomarketer.com
My 6 month mentor program:
http://www.ZeroDownInvesting.com
http://www.JoeCrump.com/partner
My Two Day Buying Events
My Real Estate Investing Blog:
My home study program (there are 68 free videos you can watch on this site):
http://www.PushButtonMethod.com
A Free Audio About How To Automate Your Real Estate Investing Business:
http://www.JoeCrump.com/pushbuttonmethod
My ebook:
http://RealEstateMoneyMaker.com
Free E-letter Opt-In Page:
A few Case Study Video Interviews with my Students:
http://www.JoeCrump.com/partner/casestudy.html
30 Day Free Trial Monthly Printed Newsletter and Audio:
http://www.RealEstateMoneyMaker.com/newsletter/main.html
And on youtube.com search "joseph4176"
Read Transcript for "If We All Use Your Techniques Won't We Be Competing With Each Other?"
"I have a question for you. I watch your videos and read your blog and I'm currently looking at the Automarketer with the view to build up to your mentor program. I have a fear that the more marketing you do, the more people will be using the strategies and the less opportunity there will be. Will we eventually be competing against each other? I know there are significant number of markets this works in but what if there are a disproportionate number of your students all looking to cover the same geographic area? I love your work, your strategies and business. I'm just worried I might be beaten up by a more skilled or capable investor. Thank you – Will" – Will Jackson, Melbourne, Australia
Joe: You're going to have competition. No matter where you go, you're going to have competition. If you use my system, there's going to be competition. If you work in Indianapolis alone, there's 12000 real estate agents right here in town and those real estate agents go after for sale by owners and people that are selling their home for rent, or at least the goods ones are. So there's going to be other people that are working in these markets that are going to be competing against you.

Joe: So what you have to do is learn how to speak to sellers and do the marketing properly. Even using the "Automarketer" properly makes a difference (using it consistently). A lot of times, people will use it and they'll use it for a week and then they'll deal with those properties for a while, then they'll come back and use it a month later and send out some more, and of course they've got their websites and all of the rest of the infrastructure that the Automarketer creates – it's not just about sending out leads – and they're not doing it every day. My recommendation to you is to be consistent – do it every day or hire somebody that can be consistent for you so that the leads are going out every day.

Joe: But even then, you're going to get different responses from the same people. So you may send out one to somebody and somebody else may send out to the same person and get a different response or they'll say, 'Boy, is there a lot of people using this same program?' That's pretty rare. I hear that every once in a while, but it's still pretty rare, but it still happens.

Joe: I can tell you right now that with the Automarketer, it's pretty well divided up across the country. There aren't very many places where there are a lot of people using it in one specific area. There may be two or three people in the most used and developed areas, but in most places around the country, that's not the case so you don't have a lot of competition at this time with this particular system.

Joe: There is going to be a point where I feel that we're saturated, and when I get to that point, then I'll stop adding new people to the system. We also get new people that come into the system, they try it for a while, they don't succeed and they go away. That's called retention. There's a certain period of retention that you have when you're selling people new software during which they may or may not follow through or they're just excited by watching a video or two of me and they're not really serious about building a business.

Joe: As I've told you over and over and over again, this is not a get rich quick scheme – this is a business building program and if you treat it like a business, I guarantee you'll make money, you'll go through this process, you'll learn and you'll turn it into consistent income and it will work if you follow through and if you do the work. But if you come in and just try it for a few months and turn it on for a few days and then turn it off then turn it on again a few weeks later, it's not going to really produce very much for you so it's likely that you'll bail out.

Joe: I can see a saturation level being quite a bit more than if everyone were using it consistently every single day, so I'm not too worried about that happening. So I would say get started and get going on it.

Joe: The other thing that struck me in your question here was that you're looking at trying out the Automarketer, trying to put a deal together and then joining the mentor program. One of the things that I equate this to is if I wanted to be a heart surgeon, I could say, 'Well, if I could just do one or two heart surgeries, that would be enough to pay for my med school.' – Nobody's going to let you do that – you're not going to be able to accomplish that. You're not going to be able to do heart surgeries until you learn how to do it and have somebody train you in that process.

Joe: Is it possible to learn how to do heart surgeries by listening to an audio or by reading a book? Absolutely it is. I don't know how often that's been done but it is absolutely possible. I know there are a lot of people that have taken my training that have not been in my mentor program that have used the Automarketer or that have used one of my books or some of my audio trainings and they've learned how to do this and they've made money and gotten their business started, and then they've come into my mentor program. That has happened and it happens pretty regularly.

Joe: But if you want it to happen quickly – I would look at this as, 'Let's take the time. Let's go to college. Let's spend six months and learn how to do this.' You don't have to go for four years and get a degree – the degree doesn't matter – what matters is the knowledge, and I can get you the knowledge you need to make money in a few short weeks and then the developing of the skills to make that money can happen in a few short months, and then after you start making money, you start learning how to make that money consistently by automating everything and making sure that everything is chugging along. And then as that happens, you start to outsource to pull yourself away from that process as well. And then after that happens, then you start building a portfolio – you start buying properties that you're going to keep in the long term.

Joe: Buying and flipping properties – that makes you money and can make you a great income and can make you a great living for very little work, but, if you want to get rich – building a portfolio using the techniques that I'm teaching, using the Automarketer to buy properties "Subject To" and land contracts and those types of things, which you have to learn as an advanced technique – if you can learn those things, then you can build this portfolio for the long term that'll serve you very well and will make you rich so that you'll have stuff to leave for your kids and have for your retirement as well.

Joe: I think that we're all concerned about our retirement – we want to make sure that we're able to maintain or improve the quality of life that we have once we retire, and this type of investing can do that for you. But it takes time; it's a process, you have to learn it, you have to become mature in it and you have to go through this process. You start out as a baby, you take baby steps and then eventually you're going to learn how to run, and eventually you jump onto a jet that's going to take you where you want to go. Alright, I hope that helps.