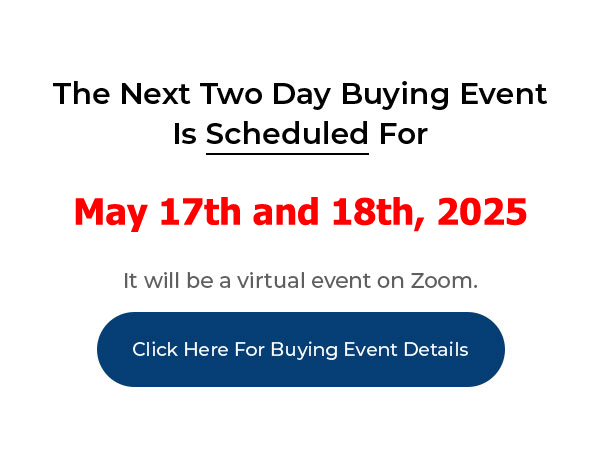 I believe the best way to learn the business of real estate investing is to hear how others have done it. When these interviews were recorded, I asked the interviewer to ask questions that would help the viewer see how these folks got started.
I wanted to hear the struggles, the successes and a clear path and explanation of what they had to do to make these deals happen. I did NOT want them to be a bunch of people telling you how wonderful Joe Crump was. I wanted content, examples and real life experiences.
I hope we succeeded.
Case Study – Don Sizemore – Tampa Bay, FL
____________________________________________________________
My PushButton Automarketer Program – Automate your business:
http://www.pushbuttonautomarketer.com
My 6 month mentor program:
http://www.ZeroDownInvesting.com
http://www.JoeCrump.com/partner
My Two Day Buying Events
My Real Estate Investing Blog:
My home study program (there are 68 free videos you can watch on this site):
http://www.PushButtonMethod.com
A Free Audio About How To Automate Your Real Estate Investing Business:
http://www.JoeCrump.com/pushbuttonmethod
My ebook:
http://RealEstateMoneyMaker.com
Free E-letter Opt-In Page:
A few Case Study Video Interviews with my Students:
http://www.JoeCrump.com/partner/casestudy.html
30 Day Free Trial Monthly Printed Newsletter and Audio:
http://www.RealEstateMoneyMaker.com/newsletter/main.html
And on youtube.com search "joseph4176"

I'm Using My Business To Build A legacy For My Family
Don: I'm Don Sizemore from the Tampa Bay area. I've been in real estate since 07. I just joined the mentor program this week. And I joined it because I'm very interested in, well, two things. One, learning how these systems can help me in my real estate business. But I'm also interested in tapering off my regular real estate business and going to more into investing. Having a bigger part of my business as investing.
Don: I was a realtor during the 08 market and saw values drop as much as 50%. And missed the opportunity because I wasn't an investor at that point in the dramatic increases that occurred after that. And I believe that being in this side of the business will benefit me in future market drops and I know Joe's program will benefit me in that I'll have a constant supply of buyers. And I'll be able to help an awful lot of people using his strategies.
Don: I initially heard about Joe on the internet and have listened to a good many of his recordings in the last two years. Over a two-year period. It took me two years to, for some reason, start with the program. There's a lot of trepidation in starting a new program and I think I was a little wary for a while, but what really convinced me is Joe's style. He's such, he comes off as such an honest and humble man. And I really trust him.
Don: When you hear enough about his material and hear enough through his students of how they've succeeded it gives you a lot of confidence to move forward. And I'm glad I've done it. I'm here at the first day of meetings and I'm really psyched about it. It's very exciting. But Joe's demeanor and his knowledge is what convinced me to come into the mentor program.
Don: The best thing that I've learned in the program so far is really about the For Rent Method. It appears to me to be a program that I can do virtually every day. I believe that the For Rent Method will provide me with consistent income that I might not have in dealing with the normal investment vehicles.
Don: My ultimate goal with real estate investing is to have a consistent income and to be able to work when I want to work and to not be beholding to a company or to anyone else. In other words, this will be my own business. I'll be the one driving it. And if I want to take a day off I can take it off, or if I want to go on a trip with my family I can do that. And also I'd like to build a bigger nest egg, a legacy if you will, for my children and my grandchildren.
Don: This weekend I'm expecting to learn more about the, making the calls that'll drive the business and we've had a good two sessions so far of calls. And Joe has been excellent in guiding us through that.
Don: Running a business like this will enable me to have the funds that I need to do what I want to do and to do it on a schedule that is mine. What I'm looking to accomplish in being a real estate investor versus being a realtor is that with this business I can do an awful lot of business. Accomplish a lot of the things I need to accomplish right from my desk. Right from my home. No need to go out. And Joe has said, I've heard him say it many times, that every time you leave the house it's three hours that you're going to be – I don't know whether wasting is the right word – but you're going to be using three hours of your time every time you go out.
Don: With real estate, I have to go list houses and visit people in their homes. You have to, you know, do all the paperwork regarding that, the listings and so forth. You have to deal with other realtors and the phone calls, you have to go to showings, you have to go to closings, inspections – all things that take you away from your office and your business. It's really busy work.
Don: And I'm looking forward to not having much of that. I know I'll have to go take a few pictures here and there and put up signs initially, until I have people in the field doing that for me. But I see that there'll be a better use of my time and that more of my time will be spent in money making items. In other words, the things that I do will be more geared toward actual moneymaking than the busy work that a realtor has.
Don: I see the transition to being a real estate investor as really impacting my family and my life style and that I'll get more time with not only my wife, but with my children and my grandchildren. We've got a lot of functions that the grandchildren are in, whether it be plays or dances or what have you, and I'd like to be able to see more of those, or go attend more of those than I've been able to in the past.
Don: Also, with the income that you're capable of in this business, I look forward to having more money to enjoy doing things with my family.
Don: The advice I would have for anyone that's thinking about doing the mentor program or going with Joe, is to not wait the two years that I waited to get involved. Do it – I mean, certainly look into his business, certainly study as many of his videos as possible. But I'd say trust that he's the guy you see on film and jump into it.
Don: Having seen so many of his videos and enjoying them, I called Joe to sign up for the mentor program. And he picked up the phone. And he talked to me. And the same calm demeanor that you pick up on the film is exactly the way Joe was on the phone with me and the way he's been since we first met last night. He's just a terrific guy and he gives you a lot of confidence just being around him. You know when you meet with Joe, you talk with Joe, you listen to Joe, that you're going to be successful.