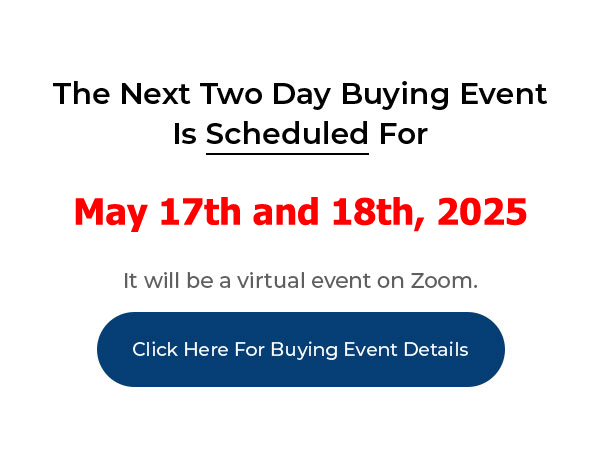 I believe the best way to learn the business of real estate investing is to hear how others have done it. When these interviews were recorded, I asked the interviewer to ask questions that would help the viewer see how these folks got started.
I wanted to hear the struggles, the successes and a clear path and explanation of what they had to do to make these deals happen. I did NOT want them to be a bunch of people telling you how wonderful Joe Crump was. I wanted content, examples and real life experiences.
I hope we succeeded.
Case Study – Clive Clewer – Tampa Clearwater
____________________________________________________________
My PushButton Automarketer Program – Automate your business:
http://www.pushbuttonautomarketer.com
My 6 month mentor program:
http://www.ZeroDownInvesting.com
http://www.JoeCrump.com/partner
My Two Day Buying Events
My Real Estate Investing Blog:
My home study program (there are 68 free videos you can watch on this site):
http://www.PushButtonMethod.com
A Free Audio About How To Automate Your Real Estate Investing Business:
http://www.JoeCrump.com/pushbuttonmethod
My ebook:
http://RealEstateMoneyMaker.com
Free E-letter Opt-In Page:
A few Case Study Video Interviews with my Students:
http://www.JoeCrump.com/partner/casestudy.html
30 Day Free Trial Monthly Printed Newsletter and Audio:
http://www.RealEstateMoneyMaker.com/newsletter/main.html
And on youtube.com search "joseph4176"

I've Leased Optioned The Same House Four Times, So I've Actually Made $20,000 Overall
Clive: My name is Clive Clewer. I'm originally from London England. Now I live in Tampa Clearwater. On the YouTube. Yeah, he does a lot of good videos on YouTube. Gives a lot of good content on there. And then I decided it sounds like the right move to make to actually com aboard and get mentored by him and see how the program works properly.
Clive: Well, what I actually did was lease option my own property, so learning just what I knew about the least option side of things. I think it was probably took me just barely two months and I made five grand on that particular thing. And I'll add to that that I actually lease optioned that same house four times. So, I actually made twenty grand overall. So, not a bad touch at all.
Clive: Realistically, if you want to put it together, probably five hours each time. Not even, maybe. Stick a sign at the end of the street, you know, Joe teaches you to put the sign in the yard itself. You know, a lot of people are little bit embarrassed about actually advertising for the thing, but, you can stick it at the end of the street to be perfectly honest and you'll get your phone ringing off the hook. And you know, surprised, you know, at how easy it really was.
Clive: Unfortunately, I'm a buy, fix and flip person. I flip literally that many and take and sort of take notice of that. I had an argument with a table saw and I lost the argument. But, you know, I do buy properties, fix them myself with a helper and flip them. And, you know, so right now I'm really back in this program because it's time for me to do what I say what I want to do which is work smart and not hard. And that's basically what I'm all about.
Clive: Not consistently as it will be when I use the program next because I stopped doing the lease options more. But I say, I buy, fix and flip. And it takes me average about three months each time. And I normally, sometimes I do even what they call a round robin auction, and I'll get above retail on it. Because if I fix the house the way I do, the word they use when they walk in the door is Wow! And I can get sales every time. No problem.
Clive: Well, as I say, the main goal is literally to try to do it virtually. You know, I've got family in Portugal and we want to jump back and forth so if I can do this system virtually, it's a home run, you know.
Clive: You know, unfortunately, you know, when you start talking about different programs and that, you'll get people say yeah, yeah, yeah, you know, whatever. Sure. It's not going to work. You can't do that, and that kind of stuff. So, you know, you do get an input from family people saying here we go again. You've done. But, you know, it doesn't matter. Just, you know, stay focused, stay in it and it does work. I know that.
Clive: I haven't done it consistently enough yet with this program to prove it, because I keep saying I want to work smart, but you know, a house comes around, oh, I can make more money if I flip it. So, meaning, literally fix it and flip it. So, that's what I've been doing constantly, like, you know, but like I say, I've come to the line now that basically it's stick to it. Work smart and not hard.
Clive: Literally just work smart and hard and travel. You know, and I say we want to be out and just jump on a plane, pop back to Portugal, back to England, you know, whenever we want to do it. And if you can keep doing that, and then get it to the point of having VA's do the work for you, you know. If it's all virtual, you know, you'll have it running, no problem.