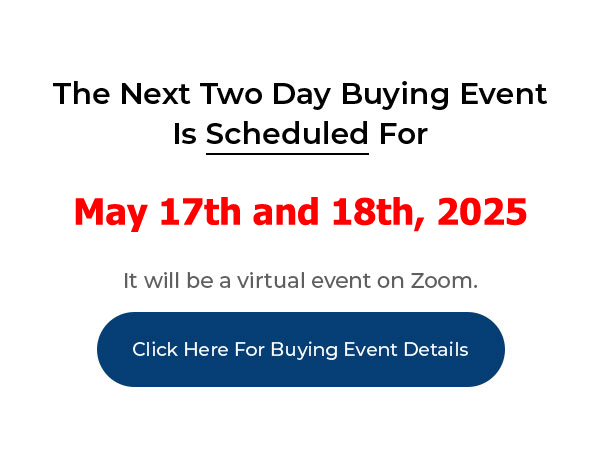 ____________________________________________________________
My PushButton Automarketer Program – Automate your business:
http://sales.pushbuttonautomarketer.com
My 6 month mentor program:
http://www.ZeroDownInvesting.com
http://www.JoeCrump.com/partner
My Two Day Buying Events
My Real Estate Investing Blog:
My home study program (there are 68 free videos you can watch on this site):
http://www.PushButtonMethod.com
A Free Audio About How To Automate Your Real Estate Investing Business:
http://www.JoeCrump.com/pushbuttonmethod
My ebook:
http://RealEstateMoneyMaker.com
Free E-letter Opt-In Page:
A few Case Study Video Interviews with my Students:
http://www.JoeCrump.com/partner/casestudy.html
30 Day Free Trial Monthly Printed Newsletter and Audio:
http://www.RealEstateMoneyMaker.com/newsletter/main.html
And on youtube.com search "joseph4176"
Marketing Voiceblasts Sent Directly to Voicemail
Joe: In this video I'm going to show you how to use direct to voicemail marketing to generate leads for real estate investors. This technique will skyrocket the number of buyer and seller leads you bring in at a tiny fraction of the price you're paying now. I'm going to show you how to send recorded marketing voiceblasts directly to voicemail. You can send them individually or you can send them in bulk or you can send them in a multi-day drip sequence. You can do this with leads that the Automarketer has scanned from craigslist or Zillow, or you can send directly to buyer or seller leads that you've uploaded to the system yourself. Let's take a look.
Joe: Hi, I'm Joe Crump. Hit the subscribe button and ring the bell if you'd like to get notified every time I post a new video in this real estate investor automation series.
Joe: I've logged into the Automarketer. Here's a couple of ways that you can send out these types of broadcast voice messages. First, you go to Broadcast Messages and then you can create a new message. And it makes it pretty easy to do this. You can give a title to the name, and then you can decide if you want to send out an email, a text message or a voice message. Pick Voice Message here, and then you can decide which number you want to send it out from. So, it's going to go from this phone number, which is a number that I purchased inside the phone system of the Automarketer. And you can have as many of these as you like.
Joe: If you're sending out a message use the Area Code of the leads that you've got so it looks like a local message. And then this is Send Call Directly to the Voice Mail. And if I check this box, it's going to send a message that goes directly to the voice mail and it doesn't ring the telephone. It goes directly to the voice mail. So I find that to be the most effective way to do it.
Joe: After that, all you have to do is record your message, simply by speaking your message into your microphone of your computer or in your laptop. And then once that – and you can make it as short or as long as you like – and then once you're done with that, go to step two and then you pick the list of people that you want to send it to. So, these are people that are in your CRM, people that you've either scraped through the Automarketer which would be through craigslist or Zillow, or people that you inputted in the Lead Management section. You can import .csv files – comma separated variable – files. Just Excel files, basically, into the system with their first name, last name, all that information, and phone number.
Joe: And then you can pick those people based on whatever tag you've given them when you uploaded them, do a search for them and it'll tell you how many that it's going out to. So, if I was to use this particular lists, there's 3,900 people on this list, I would then scroll down to the bottom, hit Broadcast Message, and it'll send out the message that I created to that entire group of people and it'll do it all for you.
Joe: The other way to do it is through the Follow Up Campaigns. You can use existing follow up campaigns or you can create a new campaign. If you're doing a voice blast, you're going to need to create a new campaign because you're going to want it to be in your voice or a voice with a script that you want to use. Let's say you've uploaded a list of absentee owners to your Lead Management section and you want to send a voice blast to those people telling them that you're interested in buying their property. And, so, you can record that voice blast, create a name for it, create the category for it, and once you save it, it'll give you the opportunity to add messages to that campaign.
Joe: And you can add as many messages as you want over any period of time that you want. So, let's say once you launch it it'll be on Day One. And then you want another one to go out three days later, and another one to go out six days after that, and another one to go out seven days after that. You can continue to add as many of these messages to go to the same lead as you like. So, the way it works is, once you have created this campaign to send out. Then you could go back to Lead Management and pick your list. And you could search based on the tag that you created for that particular list.
Joe: So, what I can do, I have to go into Lead Management, I can go to these tags and I can pick, let's say I pick Absentee Owner list that we created previously. And we'll pull them up and there's sixteen of these here. I can select the leads that I want, Select All Leads, all sixteen leads, and then you'll see a little check box is marked here. And once I create those I can put them into the follow up campaign. And when I click on this it'll give me all the options of my follow up campaigns and I can pick the one that I created for this particular campaign. And once I do that, I can attach it to those leads and they'll automatically start getting that information, and they'll start getting those voice blasts in that series.
Joe:
So there's two ways to do it. One is a series of them by creating a campaign for them. And another one is just a straight up, one time, you know, broadcast that you can send out to them. And, again, you can send out, doesn't matter if you send out a voice blast, it can go directly to their voicemail, or you can have it call them and, where they can actually pick up, or you can have them get a text message from you and so there's a lot of different ways you can make this work.

Joe: Don't forget to subscribed. You can click on this button as well. Also go to JoeCrumpBlog.com and sign up for my email list. I give out free information to the people on the mailing list that I don't give to anyone else. Also, watch the next video in the series. Thanks, now.