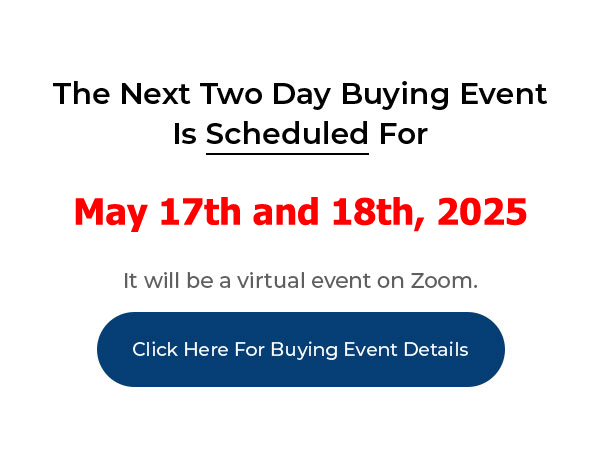 I believe the best way to learn the business of real estate investing is to hear how others have done it. When these interviews were recorded, I asked the interviewer to ask questions that would help the viewer see how these folks got started.
I wanted to hear the struggles, the successes and a clear path and explanation of what they had to do to make these deals happen. I did NOT want them to be a bunch of people telling you how wonderful Joe Crump was. I wanted content, examples and real life experiences.
I hope we succeeded.
Case Study – Adam Campbell – Windber, Pennsylvania
____________________________________________________________
My PushButton Automarketer Program – Automate your business:
http://www.pushbuttonautomarketer.com
My 6 month mentor program:
http://www.ZeroDownInvesting.com
http://www.JoeCrump.com/partner
My Two Day Buying Events
My Real Estate Investing Blog:
My home study program (there are 68 free videos you can watch on this site):
http://www.PushButtonMethod.com
A Free Audio About How To Automate Your Real Estate Investing Business:
http://www.JoeCrump.com/pushbuttonmethod
My ebook:
http://RealEstateMoneyMaker.com
Free E-letter Opt-In Page:
A few Case Study Video Interviews with my Students:
http://www.JoeCrump.com/partner/casestudy.html
30 Day Free Trial Monthly Printed Newsletter and Audio:
http://www.RealEstateMoneyMaker.com/newsletter/main.html
And on youtube.com search "joseph4176"

My First Deal Earned Me $13,500
Adam: My name is Adam Campbell from Windber, Pennsylvania. I was doing some research on the internet and couple other mentors online, looking through different scenarios.
Adam: Joe seemed to share everything that he knew. He shared it very well and he portrayed himself as a genuine person. The first deal I'm going to be making $275 cash flow a month and that ended up being a subject to deal. So, I'll be, whenever that's cashed out I'll be making no less than $13,500.
Adam: So, it being my first deal, that one probably took me in the neighborhood of thirty hours of work, I would say. I was all hands on deck when I started the program and you know, didn't limit myself to just the Automarketer. I would reach out to various you know, wherever I could find houses for sale. So, I did, like, let go apps on the phone, I did craigslist and basically a bunch of cold calling. So, that's where I found my first deal, on one of the cold calls.
Adam: Went and saw the property because it was about a forty-five minute drive for me. And so, yeah, I checked it out. There was an investor, another investor that I learned that they were talking to at the time and they couldn't get it, apparently they were working with this investor for a couple months prior to meeting me and I explained what – how we did it, and how I could help them sell their property. And they decided to give me a shot and within the first day of marketing it, it was sold. So, yeah.
Adam: For sure it was the first deal. It was originally going to be a lease option deal and like I say, there was another party interested and I could sense that nervousness with the sellers. So I went ahead instead of keeping it zero down, I know that they, from conversations that I had the seller, they were willing to, you know, they kind of gave me a figure because they wanted a boiler for their new house which he said cost about nine thousand. So I just offered subject to existing mortgage, plus the nine thousand. They called me an hour later and said let's do that deal. So, I was only going to make four thousand dollars as a lease option. Now I'm making no less than $13,500 plus the $275 a month.
Adam: My goals moving forward are to acquire one unit per month. So, having the tools in my tool belt that Joe has taught me and you know, along the way he's helped me, even, through emails from, you know, within one day he'll get back to me if I have a question. That's what I like about being a mentor – him being, mentoring me. He's always at my disposal. Be it, it's not just going after lease option deals. It's whatever I can help the seller get out of their situation with. So, whatever structure best fits their needs, now I can, I have a broader range of tools to use.
Adam: So, the impact on my life that it has, it definitely, it will help out financially. My goal is to eventually have this be the primary source of income for me. I want to be a full time investor, eventually, but you know, as of now I, like I said, I'd like to acquire one unit per month and eventually build up to the point where it can exceed my expenses and become financially free.
Adam: The most appealing aspect of doing this full time is that it gives me the freedom, the freedom to do what I want, when I want. I can make the calls whenever I want, you know, you know, I can spend more time with my family and just the freedom all around.
Adam: I do plan to automate more. I started with the Automarketer when I began this and that helps some, but still a lot of my time is spent talking with the buyers and I realize the moneymaker is talking to sellers. So, I would like to definitely automate the buyer side of it.
Adam: The advice I would give to a real estate investor starting out is just do it. Whatever you're thinking about, just get started. Doesn't matter what it is, just do it. Additional information would be, you know, it doesn't have to be just the zero down structure. I still work with a real estate agent and I still buy properties off the MLS. But this just helps add to that repertoire of tools, like I said, to be able to help the seller one-on-one structure the best deal possible.