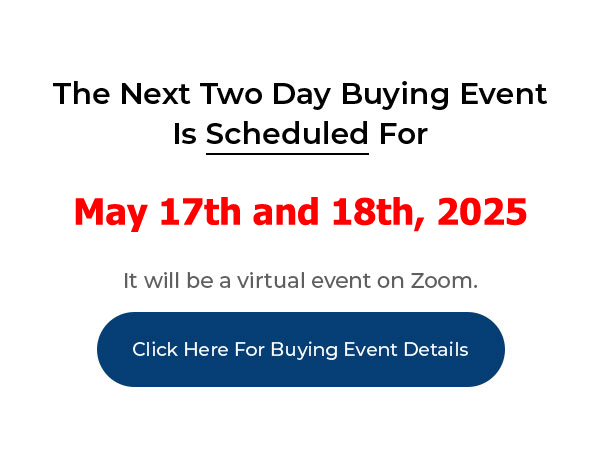 Click Here For Buying Event Details
____________________________________________________________
My PushButton Automarketer Program – Automate your business:
http://sales.pushbuttonautomarketer.com
My 6 month mentor program:
http://www.ZeroDownInvesting.com
http://www.JoeCrump.com/partner
My Two Day Buying Events
My Real Estate Investing Blog:
My home study program (there are 68 free videos you can watch on this site):
http://www.PushButtonMethod.com
A Free Audio About How To Automate Your Real Estate Investing Business:
http://www.JoeCrump.com/pushbuttonmethod
My ebook:
http://RealEstateMoneyMaker.com
Free E-letter Opt-In Page:
A few Case Study Video Interviews with my Students:
http://www.JoeCrump.com/partner/casestudy.html
30 Day Free Trial Monthly Printed Newsletter and Audio:
http://www.RealEstateMoneyMaker.com/newsletter/main.html
And on youtube.com search "joseph4176"
Property Investment System for Beginners – Part 3 of 10
Joe: I send out a text offering for a home that I control to end users who want to buy a lease option. It makes life so much easier if you have a list of ready-to-go buyers and sellers. Automating my business is what I've done for myself. It's also what most of my mentor students are doing using the Automarketer, those same techniques and tools I've created for myself. Okay, most of them aren't working at the same scale as I am yet, but many of them are headed in the right direction.
Joe: It's time for me to make a dramatic statement. Those of you who know me well have heard me say it before. I'm going to say something that may blow your mind. You certainly have never heard this from any real estate teacher. It may even make you angry. Certainly, it'll strain my credibility with you, but I know that it's true because I live it every day. And the very fact that you're on this, watching this video, proves my point. Here it is.
Joe: You're list is worth more than your real estate. It has the capacity to generate more income over a longer period of time with less effort, less risk, and less investment than many, many houses. It's also something you can put on a thumb drive and carry around in your pocket. If you burn down my houses, destroyed all my properties, foreclosed on me, sued me, took away all my products and made me start with only one thing I'd want that one thing to be my list. Don't under estimate the power of a good list.
Joe: But you have to tend to your list. It's your baby and you have to nurture it and develop it and build a relationship with the people on it. But you want that to be done automatically – with the push of a button. Not by spending hours a day on it. That brings me to the next thing I taught my group at that mentor program, the two-day buying event. I taught the group how to use autoresponder.
Joe: An autoresponder sends out sequential email or text messages or voice messages, or snail mail messages. It works like this. Someone registers at one of my websites, let's say it's a buyer who wants to buy a house rent-to-buy. They go to the internet in response to one of my ads, advertising that costs me nothing, by the way.
Joe: They read the letter on my website and fill out a form telling me that they're interested in working with me. The site tells them exactly what they have to do to make that happen, the hoops they have to jump through, what they have to do to qualify – all that stuff.
Joe: After they do that, we do several things with their information. But what I'm talking about here is autoresponders, so let me tell you how that works first. They automatically get a response email thanking them for signing up and telling them what to expect from us and what they need to do to buy a property from us. We don't do anything to make that happen. The software does that for us. It would be a nightmare if we had to send out individual emails like that.
Joe: Then, after the buyers get the thank you, they start getting emails from us every few days that educate them, build a relationship with them and sell to them. I wrote all these emails in these sequences so all my students needed to do was use the software I suggested to start the mailing campaigns. We've been using this technology for real estate investing for a while now, and it's breaking all of our previous records.
Joe: But even though we had all this technology in place, we still had a big, big problem. No one comes to your website by accident. And if they do, they probably won't be interested in what you have to offer. You must drive traffic to your site. And not just traffic, but targeted traffic. People who are interested in what you have to offer. This is where the whole idea of internet marketing falls apart for most people. They don't know how to drive traffic to their site. They don't know how to find people who fit their demographic who are interested in the solution that we have to offer. They buy premade websites that are supposed to make them money. But then no one domes to their site and they don't know how to get people to start coming.
Joe: I've changed all that. I now have software that I can guarantee will bring you targeted, motivated sellers who will say yes to your no money down offers on their house. My system, with the push of a button, will bring you in powerful, motivated leads every single day. It'll then educate those leads using the websites and emails, it'll build a relationship with them for you so they think that you're the expert when it comes to solving their problem even if this is your first day as a real estate investor.
Joe: And then it'll sell them on the idea of working with you. And sometimes it'll even get them to sign over their house to you using a digital signature before you even speak to them. Most of the time you'll need to speak to them when they respond to this marketing system. Even when they say yes, most folks will still want to talk to you. But sometimes you get a digitally signed contract giving you control over a house and putting you in a position to make money from its sale in a matter of a few days or weeks.

Joe: This automated system I call the Pushbutton Automarketer. You don't have to be in the mentor program to take advantage of it, but I find that a lot of folks who use it without help converting the leads often end up with a lot of deals and a lot of leads that don't come together. It becomes a problem for them.
Joe: None of this is rocket science. It doesn't take years to learn how to do it. And you can learn how to do it without someone like me holding your hand. You can do it by simply listening to my training audios which are included free in the system, watching my videos and then going out there and practicing making real offers.
Joe: But with that said, having someone looking over your shoulder, someone who's there for you, there with you when you're making the calls, someone who can listen to you talk and pinpoint the mistakes you're making. Someone who cares as much about your success as you do. find that when you have this kind of help your chances of success go up dramatically.
Joe: Anyway, you're starting to see how a system is created. There are a lot of pieces to the puzzle and all the details can seem pretty overwhelming. But the hard part is testing and creating the system, writing it all out, building the websites and the software. Yes – that is rocket science – but, once that's done, these systems aren't very difficult to implement.