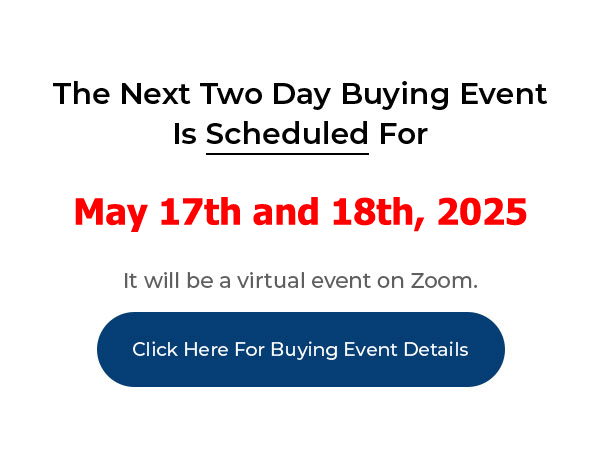 Click Here For Buying Event Details
____________________________________________________________
One of the biggest lessons in real estate investing for beginners is learning to control expectations. This video will show you how to find a balance between the excitement for possible outcomes, and the reality of property investment.
My PushButton Automarketer Program – Automate your business:
http://sales.pushbuttonautomarketer.com
My 6 month mentor program:
http://www.ZeroDownInvesting.com
http://www.JoeCrump.com/partner
My Two Day Buying Events
My Real Estate Investing Blog:
My home study program (there are 68 free videos you can watch on this site):
http://www.PushButtonMethod.com
A Free Audio About How To Automate Your Real Estate Investing Business:
http://www.JoeCrump.com/pushbuttonmethod
My ebook:
http://RealEstateMoneyMaker.com
Free E-letter Opt-In Page:
A few Case Study Video Interviews with my Students:
http://www.JoeCrump.com/partner/casestudy.html
30 Day Free Trial Monthly Printed Newsletter and Audio:
http://www.RealEstateMoneyMaker.com/newsletter/main.html
And on youtube.com search "joseph4176"
Real Estate Investing For Beginners – Expectations vs. Reality
Joe: Real Estate Investing for Beginners – Expectations v. Reality. We all have really high expectations. And everybody that I talk to that comes into my mentor program has great expectations and great confidence. And I guess you kind of need that going in.

Joe: Now, everybody has underlying fear as well. But a lot of us have, think that we're going to do something really amazing in a very short period of time. I tell everybody give yourself three or four months before you can expect to make any money in this business. And that's only going to happen if you'll put in eight to ten hours a week on the phone talking to sellers, making offers, learning that process. And you're not going to have to do that forever. But you have to do it at the beginning in order to become competent so you can put those deals together. So, give yourself time in that process.

Joe: Now, once you do that, things are going to start to snowball. And your expectations will start going up. But you'll stop thinking about what you expect out of this business and stop guessing about it and you'll just focus on the business itself. Focus on the deals that you're doing and as you do that, the money will come.

Joe: I find that the most important thing is to stop focusing on yourself and what you're trying to accomplish and the money you're trying to make and start focusing on that seller, or that buyer. What is it that they need? What is it they're trying to accomplish? Because if you can solve that problem, you're going to make money. It's like Zig Ziglar said, "The more people you help, the more money you make." And it's absolutely true with these processes that I'm teaching with real estate investing.
Joe: So, lower your expectations to start. And allow yourself to screw things up for a while. Allow yourself to make mistakes. And eventually you'll get where you want to be. And you're going to find that your desire and your expectations are always going to be higher and you're always going to be pushing to try to make something more. That's why we're entrepreneurs. Because we're like that. We're always looking on the other side of the fence. The grass is always greener. And we're always going to be pushing for that. So we've got to stay focused on what's important. And what's important in real estate investing is putting together deals.
Joe: The more deals you put together, the more money you make. If you spend all your time swinging a hammer or painting the house or doing fixups or going out there and trying to find buyers. You need to focus on your sellers. Because putting the deal together is where the money is made. Yeah, the money doesn't actually come until you find a buyer, but that seller, putting that deal together, that's where the money is made. So, learn how to do that and be competent at that and outsource and automate everything else and you'll make far more money if you'll do it that way.
Joe: All right. Good luck with it.