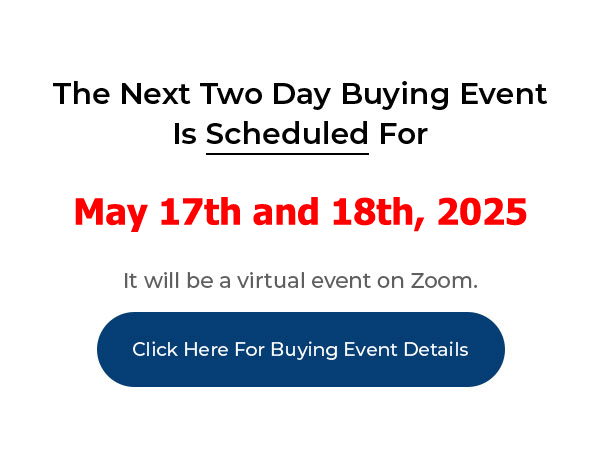 Click Here For Buying Event Details
____________________________________________________________
My PushButton Automarketer Program – Automate your business:
http://sales.pushbuttonautomarketer.com
My 6 month mentor program:
http://www.ZeroDownInvesting.com
http://www.JoeCrump.com/partner
My Two Day Buying Events
My Real Estate Investing Blog:
My home study program (there are 68 free videos you can watch on this site):
http://www.PushButtonMethod.com
A Free Audio About How To Automate Your Real Estate Investing Business:
http://www.JoeCrump.com/pushbuttonmethod
My ebook:
http://RealEstateMoneyMaker.com
Free E-letter Opt-In Page:
A few Case Study Video Interviews with my Students:
http://www.JoeCrump.com/partner/casestudy.html
30 Day Free Trial Monthly Printed Newsletter and Audio:
http://www.RealEstateMoneyMaker.com/newsletter/main.html
And on youtube.com search "joseph4176"
Real Estate Investment Strategies for Low Priced Rural Areas
Joe: Real estate strategies for low priced small towns and urban areas. Now, I've been talking about some of these on some previous videos, about how to do zero interest loans, how to do land contracts, how to do subject to deals. And do them with cheap properties and the reason they make sense to do them with these cheap properties because it's the rent to price ratio. Now, if you're just flipping properties, you're doing the For Rent Method or you're buying properties and turning around and flipping them, and just cashing out of them, then sometimes working on high end properties makes sense. With the For Rent Method deals if you're working in $400K, $500K, $600K and $700K price ranges you're going to make $20K, $30K, $50K on your lease option fee and that's pretty sweet when you can do that.

Joe: And you know, when you're working a higher end markets it's a little easier to do those types of markets. But if you're working in a cheap market, or if you're willing to work outside your area where you live and find a cheap market, because there's a ton of them out there, they'll all over the country. In the Midwest, in the Sun Belt – almost every state has areas that you can buy properties in that $50K price range. And they're price to income ratio is so much better.

Joe: You know, if you buy a property for $50K that makes $900 a month of income, that's so much better than if you paid $100K for that property that only has a $900 a month income. Or you pay $200K for a property that has you know, $1,500 a month income. You know, you're percentage of your investment is higher, your return is higher because your rent to cost ratio is so much higher. And that's why you want to try to buy these little properties for your long term portfolio.

Joe: The other thing that you're going to run into is there's a lot more people in those areas that have their properties free and clear. They don't have a mortgage on them. You can't even get a mortgage on a house that's less than $40K. So if you look at properties that are under $40K they're not going to have mortgages on them most of the time unless they paid $70K and they've dropped in value or something like that. But most of the time those people are going to have their properties free and clear.

Joe: So you can go in there and you can buy those properties. Or, if they do have a mortgage on there it'll be a mortgage that you can go in and just take over subject to, or maybe you can do a land contract and take over the payments on their mortgage as well. Of course, if they've got a mortgage in place they're going to have an interest rate and it's going to take longer to pay off that property. But still those types of deals will still make sense even if it takes you 30 years to pay them off instead of 10 years to pay them off. They still make sense. They're just not as exciting.

Joe: When you hit those deals with the zero interest deals, and we do that pretty frequently because we've got our eyes open for them all the time and we're trying to make those things happen all the time. And so they happen more often because we're focused on those because the return on our investment is so much higher than with a lot of other properties out there.

Joe: So use these strategies to build your portfolio quickly and be able to make great cashflow on properties in a very short period of time.

Joe: All right. I hope that helps. Subscribe to the channel. Go to ZeroDownInvesting.com and check our my mentor program. Go to PushButtonAutomarketer.com and find out about the automation systems that we use and JoeCrumpBlog.com and check out a bunch of free videos and training materials that you can get and get on my free newsletter list as well. Thanks. Take care.