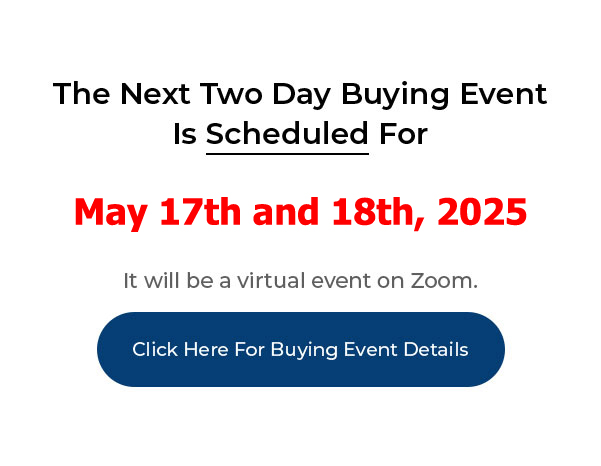 ____________________________________________________________
My PushButton Automarketer Program – Automate your business:
http://www.pushbuttonautomarketer.com
My 6 month mentor program:
http://www.ZeroDownInvesting.com
http://www.JoeCrump.com/partner
My Two Day Buying Events
My Real Estate Investing Blog:
My home study program (there are 68 free videos you can watch on this site):
http://www.PushButtonMethod.com
A Free Audio About How To Automate Your Real Estate Investing Business:
http://www.JoeCrump.com/pushbuttonmethod
My ebook:
http://RealEstateMoneyMaker.com
Free E-letter Opt-In Page:
A few Case Study Video Interviews with my Students:
http://www.JoeCrump.com/partner/casestudy.html
30 Day Free Trial Monthly Printed Newsletter and Audio:
http://www.RealEstateMoneyMaker.com/newsletter/main.html
And on youtube.com search "joseph4176"
Should You Pay A Real Estate Investor Teacher For Your Education Or Learn On Youtube?
Joe: Hey, it's Joe. Question here, "Joe, should I pay a real estate investor teacher for my education, or learn it on YouTube?" There's a lot of good stuff on YouTube. There's a lot of good training there. I love YouTube and whenever I need to know something I go to YouTube and I type it in and I'll watch every video I can find on it. And I think those are valuable. I've got YouTube videos, I've got well over 500 videos on YouTube and you can learn a lot. You can get a Master's education from just watching my YouTube videos and have a pretty clear understanding of how this business works. So that's a great way to do it – and it's free. You know, you can do it for no money.
Joe: But there's some value in hiring somebody to walk you through the process. Somebody you trust, somebody you think knows what they're doing, an expert, that understands how to build a business from scratch, how to go back to beginners mind. You know, I've talked to an awful lot of investors and when they try to teach the business, they're so caught up in how they do it now, it makes it difficult for them to go back to beginners mind, to teach someone who's just getting started, to help them understand how that works from the get go.
Joe: So, you know, you're going to, having a teacher can be really valuable. And you're going to pay for your education one way or the other. You're either going to pay for it through hard knocks, which is the way I did it, you know, I lost that business. And if I'd have had help, if I'd have had an expert walking me through that process, if I'd have had somebody looking over my shoulder do this stuff, I probably wouldn't have made the mistakes that I made. But I made those mistakes and I paid for it.

Joe: So I paid for my education. You know, I didn't have a mentor, I didn't have a real estate mentor and I didn't have, there was nobody out there at the time that I could go to and do this kind of thing. Now, with the advent of the internet and with companies like mine you can go out there and you can learn how to do it and you get help and walk you through that process.

Joe: It's also nice to have somebody who you can always ask for help whenever you get stuck. You can email and they'll send you back a note saying, hey, do it this way, or, don't give up. You know, just that encouragement, keeping you focused on what matters. Keeping you focused on the things that are going to make a difference in your business. Because there's a lot that you can do and you can spin your wheels and spend your time on things that don't matter. And you have to figure out what those things are, but you won't really know what they are until you've put 100 hours into them unless you talk to somebody who's already been there, already done that for you.
Joe: And then also, just reducing your learning curve. Making that happen a lot faster. I think that's overall what you're trying to accomplish. Having a mentor can make all the difference in the world and you know, I'd like to apply for the job. You know, this is what I do for a living. I mean, I've got some other things that are going as well, but this is what I do and I enjoy it. I enjoy making the money. There's no doubt about it, I'm in it for the money. But, it also brings me enormous satisfaction to see people succeed. And if you'll become a part of this process, I'll help you and I'll walk you through it and I'll hold your hand and take through the mine field and show you how it works. And keep you from getting hurt, keep you from losing money, keep you from screwing up your credit.
Joe: Learn how to make money with no money first. I believe that yes, they say you need money to make money, but I believe if you can't make money with no money, you probably can't make money with money. Learn how to do it with the Zero Down techniques and then it'll launch you into being able to use the cash that you make through these deals, or money that you may have in your portfolio already to be able to advance that quicker and make more money and grow your business faster.
Joe: All right. Hope that helps.