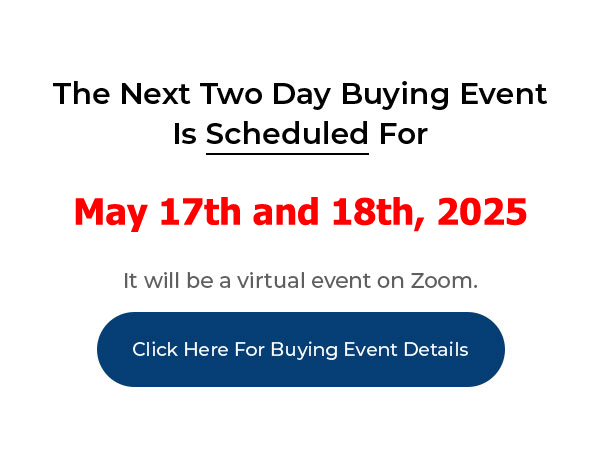 Click Here For Buying Event Details
I believe the best way to learn the business of real estate investing is to hear how others have done it. When these interviews were recorded, I asked the interviewer to ask questions that would help the viewer see how these folks got started.
I wanted to hear the struggles, the successes and a clear path and explanation of what they had to do to make these deals happen. I did NOT want them to be a bunch of people telling you how wonderful Joe Crump was. I wanted content, examples and real life experiences.
I hope we succeeded.
Case Study – Alex Cherry – Pahoa, HI
____________________________________________________________
My PushButton Automarketer Program – Automate your business:
http://www.pushbuttonautomarketer.com
My 6 month mentor program:
http://www.ZeroDownInvesting.com
http://www.JoeCrump.com/partner
My Two Day Buying Events
My Real Estate Investing Blog:
My home study program (there are 68 free videos you can watch on this site):
http://www.PushButtonMethod.com
A Free Audio About How To Automate Your Real Estate Investing Business:
http://www.JoeCrump.com/pushbuttonmethod
My ebook:
http://RealEstateMoneyMaker.com
Free E-letter Opt-In Page:
A few Case Study Video Interviews with my Students:
http://www.JoeCrump.com/partner/casestudy.html
30 Day Free Trial Monthly Printed Newsletter and Audio:
http://www.RealEstateMoneyMaker.com/newsletter/main.html
And on youtube.com search "joseph4176"

The Automarketer Helped Me Find My Family's Dream House
Alex: My name is Alex Cherny. I'm from Hawaii. Pretty nice state. I guess I went through the YouTube videos and Joe's name were coming up, like, quite a few times and this, I made a contact through, I'm not sure how did I contact. Joe, maybe emailed, yeah, through email, yeah. It was like six months ago. Six, maybe seven months ago. Well, first month of, first couple months I haven't done anything. And this first deal and I'm buying it for myself so I did it on the Subject To, $650K in the paradise, with a stream on the property running through. It's maybe like, 5,000 square feet worth of living space and 1,300 square feet for my family and the other ones, the other units and, with a garage. And it's going to be for Air B&B rentals.
Alex: So that's supposed to work out, you know, pretty good deal. And my family loves it. And I think it's a, I'm like it to help that property if it wasn't for the, Joe's program, if it wasn't the Automarketer I probably wouldn't even ever thinking about acquiring something like that. I think it's a golden nugget that I've found through the Automarketer.
Alex: I originally, the Automarketer start to doing its own thing and I contacted the seller through Automarketer and it's like, a kind of shopping, and sent them a text and then he called me and he says, you know, you've been, we've been texting, how about we talk a little bit, you know? And so what happens, I ask him a question saying, I told him, why don't I just, you know, stop by tomorrow, maybe next day, you know, I'll, you know, take a look. And then I kind of thought about it, went on Google, on Zillow, and say, hey, before anybody gets to it maybe I should go there first, you know? So I jump in the car and told him hey, I'm on my way.
Alex: So he showed me the property and everything so I kind of liked it and then I was going to flip it and would do the numbers and everything then I talk to my wife and she says, you know, need to live somewhere, so I thought, yeah, she's right, you know, and I talked to Joe and says, and he says, the property that comes along that you want to live in does not comes by very often. So, I wanted to look at it more closely.
Alex: It's been a long time since I had a real job. I'm like you, I am also unemployable at this point. I would not make a very good employee. I like to do my own thing at my own pace and that, and I make a lot more money than somebody who wants to pay me to do whatever it is.
Alex: So, I did some number crunching, it's only $1,000 more than I'm paying right now, so why not? Why not live in the paradise, sort of a paradise place, you know? We will like it. And I took my kids there and they loved. I mean, they were screaming, they were bouncing off the walls, you know, they were so excited. So, I really like it.
Alex: I don't think it's the best deal. I think the best deal is yet to go, but, it's best deal for my family right now. I'm working on it, there is an $850K house, three houses on the property and I'm obviously working on that. And, there is one in Honolulu I'm talking to somebody that they might do, maybe not, I'm not sure. But they do it. It's a three bedroom three bathroom condo. Condominium. They wanted $650K for it. So I really want to stay in that market, you know, the $600K and up, you know? I think it's very lucrative in my opinion.
Alex: I haven't done many, it's only one that I done if for myself, is the first one. Because first couple of months, maybe like, four of five months I haven't done anything because I was busy running my virtual reality arcade in Hilo, Hawaii. So, now, I want to get away from it and concentrate on the real estate market because that business doesn't really make much money anymore. So, I needed to do, concentrate more on the real estate aspect of my income. So I'm not sure if it applies to me yet. I haven't got any money yet. But if I would have sold and flipped that house that I just bought, I probably would easy make, you know, $40K, $50K.
Alex: I will like to acquire within the next year a million dollar worth of real estate. I think I'm pretty conservative right now. Million dollar worth of, especially in a market like that, you know? I mean, two house. And I need one more.
Alex: I think the way Joe teaches is Socratic method of questioning. I think that's a very good character change for me. So I be able to ask more questions rather than come up with a statement. Statement didn't really work out lately. Need to ask more questions, especially with the customers. And I believe the more you get proficient, the more I get proficient in it is going to be part of my life and I hope it's going to happen.
Alex: I have full support from my wife and kids. So, that's a big plus. Currently I'm running virtual reality arcade in Hilo, Hawaii. But I want to get away form it slowly so I can concentrate and make full time out of real estate business investments. I would say, you know, to have more time because if I'm working in my other business, it's like, ten, eleven hours a day. If I put ten, eleven hours a day in real estate market it's probably be a lot more lucrative I would say. But, I'm working on it. It's not, probably, what I found out, it's not as easy as it been talked about. It takes a lot of character to get through that personal wall, you know. It's only in your head. And you need to get around, over that wall.
Alex: My previous job before I did virtual reality arcade, I was a truck driver. And before started doing real estate I was a manager. So I guess, you can start anywhere I guess, you can start anywhere. So it doesn't matter what your background probably, you know, that's what I heard about people in, and I've been talking to a lot of people here, this is my second event. And from all walks of life, people coming from all walks of life. It's all in your head. So you've got to go over that wall that you, that we put up, unintentionally probably.
Alex: I want to go back to what Joe says one time. The house that you want to live in you need to make a wise choice and sometimes you have to, if you want to, if you really want to live in that house you probably want to go through a real estate agent and you know, do the conventional way and pay extra money. I was fortunate enough to do Joe's program for the benefit of my family. And I think that's the best way, you know, for my family.