<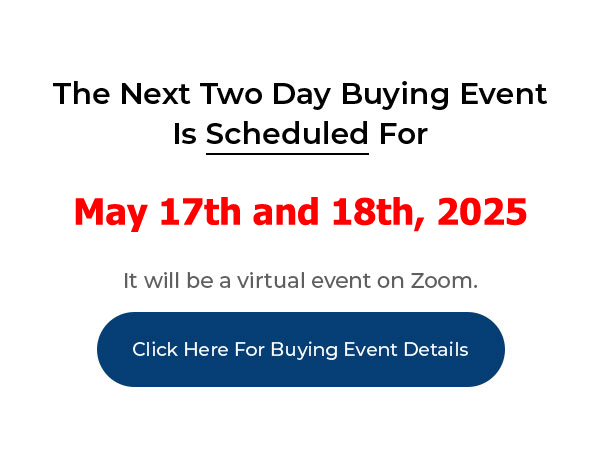 Click Here For Buying Event Details
____________________________________________________________
http://www.ZeroDownInvesting.com
http://www.JoeCrump.com/partner
A few Case Study Video Interviews with my Students:
http://www.JoeCrump.com/partner/casestudy.html
Read Transcript for "The Goal For Me Is Not To Quit My Job, But To Build A Profitable Portfolio Of Homes"

Bill: Bill Custer from Granville, Ohio. Joe had sent me an email some time ago and I responded to it, looked at the program and thought it had a lot of legs. I'm just getting started. I've had it for about 9 months but I haven't had the time to really work on it and I'm just now getting it ramped up.
Bill: I've been a passive investor more than an active investor. The first deal was a 3 bedroom, 1 bath single family home that I purchased with Joe's help and now it's on the rental market, in the rental pool, fully rented, and it's been doing great. Right now, it's averaging about 13.5% net-net after all costs. The gross margin on the property before the ongoing fix costs is about 58% and then after taxes and insurance that's down to about 13 or 14%.
Bill: Not long. I called Joe and I said, 'Let's go do a deal' because I wanted to get my feet wet and get some experience firsthand. Probably about 60 days. I actually bought Carlton Sheet's program like 15 or 20 years ago and it just didn't work. Some of the other programs I don't think were realistic in the way they approached the market and negotiating for no money down deals. It didn't make sense to me.
Bill: Oh, there is none. You're on your own, from soup to nuts. Now maybe that's changed, but I've never seen anything like Joe's. Joe is a hands-on mentor. You can call him. You can email him. He's there 24/7. It's really a great program.
Bill: I'm building a portfolio of passive properties. I have some now that are more on the commercial side and I'm really focused in now on single family homes for diversification. So this year I'd like to build up ten additional homes. Just thinking about where I want to transition myself over the next 1 to 3 years in terms of how I work and especially Joe's automation feature – it's going to allow me to augment what I currently do with my business to add this as an incremental revenue stream.
Bill: I don't think so – I like what I do. I may scale back a little bit and change the focus. In fact, I might even integrate parts of Joe's program into my business because there's some overlap that would be synergistic for what we do for our core business. Well, my business, but not the real estate side – that's why I'm here talking to Joe – I want to get the Push Button Method up and running and start using it.
Bill: I think, first of all, that you should determine whether you want to be an active investor or a passive investor, or maybe a combination of both using the cash flow that you generate from the active side to buy a cumulative portfolio of passive holdings – that's number one. Number two would be work with somebody like Joe who's going to hold your hand. And you may think the price is high when you first hear it, but you get more than your money's worth. The old saying, 'You get what you pay for,' is so true.
Bill: I'm very pleased and I'm excited to really get going with it now.