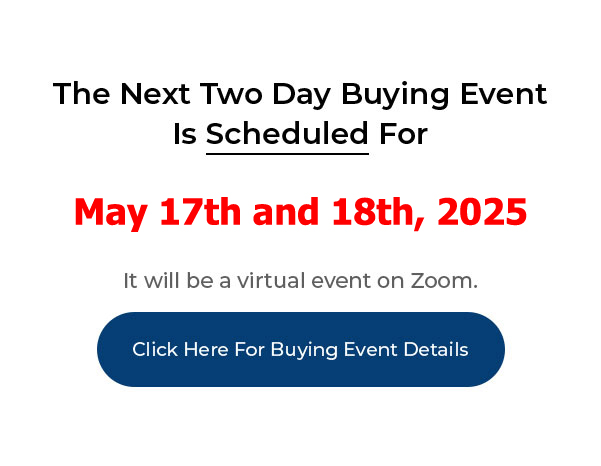 Click Here For Buying Event Details
____________________________________________________________
My PushButton Automarketer Program – Automate your business:
http://www.pushbuttonautomarketer.com
My 6 month mentor program:
http://www.ZeroDownInvesting.com
http://www.JoeCrump.com/partner
My Two Day Buying Events
My Real Estate Investing Blog:
My home study program (there are 68 free videos you can watch on this site):
http://www.PushButtonMethod.com
A Free Audio About How To Automate Your Real Estate Investing Business:
http://www.JoeCrump.com/pushbuttonmethod
My ebook:
http://RealEstateMoneyMaker.com
Free E-letter Opt-In Page:
A few Case Study Video Interviews with my Students:
http://www.JoeCrump.com/partner/casestudy.html
30 Day Free Trial Monthly Printed Newsletter and Audio:
http://www.RealEstateMoneyMaker.com/newsletter/main.html
And on youtube.com search "joseph4176"
The Long Game
Most people give up because they don't want to play the long game.
They want it NOW.
Learning patience in your life and business will serve you. It will actually SPEED up your income and your growth. I know it sounds counterintuitive.
The urgency and desperation to create income quickly can destroy your dreams.
But maybe you don't have to get rich overnight to consider yourself a success. I don't know anyone who made their money overnight.
You have to learn foundational skills.
These are skills that will serve you until you die and you only have to learn them once.
Some things take a long time to learn, like playing the piano or becoming a physician.
Some things, although seemingly complex, can be learned much faster.
Learning how to put a deal together is the foundational skill you need as an investor. Learning how to talk to buyers and sellers and learning the basic structures of how to finance the deals are vital.
Once you learn these things, there's a lifetime of other lessons you will gain over time by doing deals. But that lifetime of lessons also comes with profits.
Spend a month or two or three learning how to communicate properly, then build your business from there.
Once you learn the foundational skill of communication, it will be time to systematize, automate and outsource. These things you can do WHILE you are making money and growing your wealth.
At the same time you will also start to build a portfolio – a portfolio that will feed you until you die.
You can build a million dollar portfolio in 2 years or less that can support you for the rest of your life.
So that's it.
Learn to talk.
Learn how to help sellers and buyers.
Learn how to systematize and automate your business.
Learn to build your portfolio.
Once you've done these things, you will have found success.
If you would like my help learning these things. If you would like me to take you by the hand personally and lead you along the path and through the minefield, you should consider getting into my mentor program.
If you want to work with me personally (not a hired hand), you can find out all about my Six Month Mentor program here:
http://www.ZeroDownInvesting.com
This website will show you how my program works, what is included, what it costs, what you can expect from me and what I expect from you if you sign up.
There are 3 training videos on the site that go into great detail about what you need to do to build a profitable real estate investing business.
They add up to about 2 hours of education. I call them my "Advanced Training" because that is exactly what they are. If you know nothing about real estate, they may be a bit over your head.
The techniques I teach in these videos come from my personal experience and you won't find this information anywhere else.
If you aren't interested in working with me personally or can't afford to join my mentor program, these 3 videos will still be worth your while.
They will give you an overview of my entire business and show you how to model YOUR business after the step-by-step systems I've created.
Even if you ultimately decide not to join my mentor program, I can safely say this Advanced Training Program can completely transform your thinking about building a real estate investing business.
I think these 'Advanced Training' videos are one of the best training programs I've ever created – and they won't cost you a dime.
They distill my 35 years as an investor and 20+ years as a coach and give you a complete outline of how we build a powerful, profitable, consistent, reliable, ethical, PEACEFUL business.
They give you the milestones, benchmarks, and SOPs (standard operating procedures) you need to succeed.
That's it for today!
Good deals are not that hard to find if you have the skill to craft an offer that MAKES SENSE.
I hope you will join me.
If you like this video, please SUBSCRIBE and hit the LIKE button.
You can also go to www.JoeCrumpBlog.com and sign up for my free email newsletter.
I put out a lot of free information there that you can't find anywhere else.