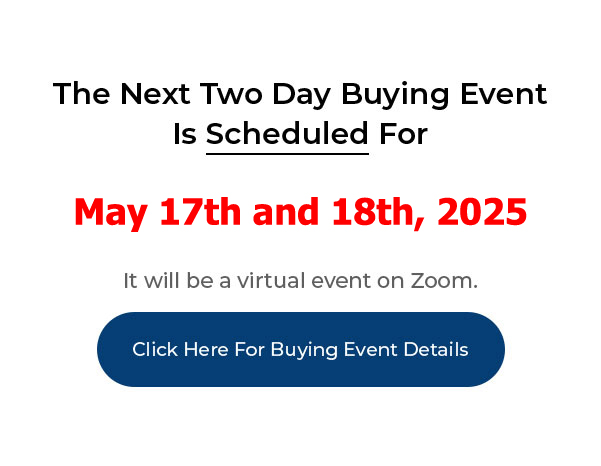 ____________________________________________________________
My PushButton Automarketer Program – Automate your business:
http://www.pushbuttonautomarketer.com
My 6 month mentor program:
http://www.ZeroDownInvesting.com
http://www.JoeCrump.com/partner
My Two Day Buying Events
My Real Estate Investing Blog:
My home study program (there are 68 free videos you can watch on this site):
http://www.PushButtonMethod.com
A Free Audio About How To Automate Your Real Estate Investing Business:
http://www.JoeCrump.com/pushbuttonmethod
My ebook:
http://RealEstateMoneyMaker.com
Free E-letter Opt-In Page:
A few Case Study Video Interviews with my Students:
http://www.JoeCrump.com/partner/casestudy.html
30 Day Free Trial Monthly Printed Newsletter and Audio:
http://www.RealEstateMoneyMaker.com/newsletter/main.html
And on youtube.com search "joseph4176"
The One Single Thing That Will Ensure Your Success As A Real Estate Investor
Joe: Hey, it's Joe. "What is the one single thing that will ensure my success as a real estate investor?" If I had to
boil it down to just one thing, because there's so many things that you can do to be successful, but this one
thing is sort of overarching and covers everything, and that is just one word: Action. If you will take action, you
will succeed in your business. And if you do the right type of action you'll succeed massively. Even if you do
stupid stuff, you'll probably end up making money, if you're taking action.
Joe: Because you keep making mistakes, keep making mistakes, until you eventually get to the point where you're not making mistakes anymore. That's kind of what I did. When I got started, I started, and I got lucky at the beginning and I made money just because I was taking action on stuff. And I thought, hey, this is a great business, and I started doing it, and I followed the same path that I did that made me money and it turned out that path wasn't great because I was borrowing money and I shouldn't have borrowed money. I shouldn't have gone through the banks. I shouldn't have risked that.
Joe: And then when the market crashed and I bought an appreciation, I did some other stupid things, but I took action and I built a big business and it crashed and then I had to start over again and I didn't want to do those stupid things the second time so I did it a different way the second time and that's what I'm teaching you guys on these videos.

Joe: And that action is what turned my business into what it is today. It's that action is what has made it possible for so many of my students to have massive success, to have life changing businesses that have served them for many years. And I've been teaching this stuff, you know, I've been investing since 1986 and I've been teaching since 1998. I was one of the first people on the internet, you know, teaching real estate investing. Back in 1998 is when I sold my first real estate book. And you can still get it and it's still valid and it's still a good program.

Joe: But I've also created an awful lot of material since then and worked with a lot of people and I've learned a lot about teaching this process and making it work for people and it's made, you know, it's made a difference in my life and hopefully it's made a difference in a lot of other people's lives as well.
Joe: All right, thanks now.