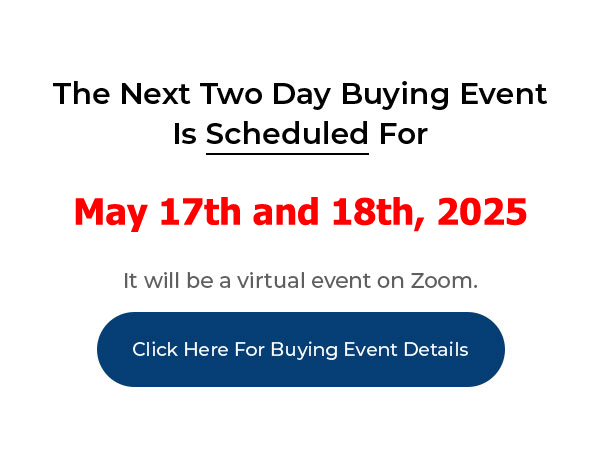 I believe the best way to learn the business of real estate investing is to hear how others have done it. When these interviews were recorded, I asked the interviewer to ask questions that would help the viewer see how these folks got started.
I wanted to hear the struggles, the successes and a clear path and explanation of what they had to do to make these deals happen. I did NOT want them to be a bunch of people telling you how wonderful Joe Crump was. I wanted content, examples and real life experiences.
I hope we succeeded.
Case Study – Hollie Place – Shelbyville, Kentucky
____________________________________________________________
My PushButton Automarketer Program – Automate your business:
http://www.pushbuttonautomarketer.com
My 6 month mentor program:
http://www.ZeroDownInvesting.com
http://www.JoeCrump.com/partner
My Two Day Buying Events
My Real Estate Investing Blog:
My home study program (there are 68 free videos you can watch on this site):
http://www.PushButtonMethod.com
A Free Audio About How To Automate Your Real Estate Investing Business:
http://www.JoeCrump.com/pushbuttonmethod
My ebook:
http://RealEstateMoneyMaker.com
Free E-letter Opt-In Page:
A few Case Study Video Interviews with my Students:
http://www.JoeCrump.com/partner/casestudy.html
30 Day Free Trial Monthly Printed Newsletter and Audio:
http://www.RealEstateMoneyMaker.com/newsletter/main.html
And on youtube.com search "joseph4176"

We Can Be Our Own Boss And Still Support Our Family
Hollie: My name's Hollie Place and I'm from Shelbyville, Kentucky. I heard about Joe's program online. I was searching for just real estate investing programs, you know, how to learn how to do those types of things because my husband and I wanted to get some rentals going and so his name popped up on YouTube and we watched videos for hour and loved it.
Hollie: I think it was about two or three years ago that we started, give or take. And we've kind of you know, done it off and on. As life kind of got crazy we stopped and so we're kind of back trying to, we've learned a lot in the process and we're ready to take it to the next level and ready to go at it again.
Hollie: I would say it probably took about, I don't know, two or three weeks to make my first deal. How much I made…I think I made about $2,000 on it. Probably about five or six, total [hours] so it didn't take very long.
Hollie: Yeah, I would say so. It does take a long time, sometimes, to make phone calls throughout the week, but I mean, really, in an hour you can do a lot of calls and the more you do it the faster it gets. So it really doesn't have to take a lot of time to find buyers.
Hollie: Well, I have one right now, actually, that's still going and I like it because it's still making me money continually and it was a Subject To and the owner lived out of state and he was looking to sell his rental property. And so he wanted money up front, but we talked and we had a good conversation. Because of Joe's training, I knew how to talk with him about his options and we found an option that would work for him and so I really didn't have to put very much down on the home. I think maybe a thousand dollars down. I have a great renter in it right now that's fixing to hopefully buy it and I'll probably make, probably about $25,000 on the deal and I only started with the thousand dollar investment. So, yeah. It was well worth, I think I spent probably a total of four or five hours talking and finishing paperwork with him.
Hollie: I would say to average it out, probably about $5,000 a month was kind of what we were doing. And I know there's a lot more to be made, but I was only doing it very, very part time, in between a lot of other things. Because I home school and so I was kind of fitting it into the pockets. So I'm looking forward to now that my husband's on board to help me, I think we could easily make it $10,000 plus a month if we put our minds to it.
Hollie: When I do, yes, I had to stay on top of it, but yes, I would say. I just had to keep on top of my contacts and be very personable. And if you're good with people it can happen.
Hollie: Our ultimate goal is to have a portfolio big enough to where we could retire and it pays for all of our needs and we can go on vacation and we can eventually give that to our kids. Maybe it can help pay for college. We want this to be an income that keeps paying itself back over and over. So, yeah, we want to have hundreds of houses eventually and, but not a lot put into it. We'll put in the time, but we'd like to put in as little money as possible and that's what I like about Joe's program. It shows you how to do that.
Hollie: We can do what we want. We can be our own boss and we can make enough money to support our family. It gives us freedom. And it boosts our self confidence and I feel like I'm helping the community, too, because we're offering a way for people to get homes that normally might not get them. We're offering non-conventional ways to get into the homes through the lease option program. And if feels good to help people with that. And our kids see it and they think it's pretty interesting what we do. And so they're pretty, they help us, too. They help me do paperwork and all that. So it is a family affair with everything, and it's fun. We enjoy it a lot.
Hollie: I mean, my husband's a realtor now. He's got his license because of this because he wanted to continue to open up his options and be able to offer anything that he could and so yes, he has taken it upon himself to pretty much do it full time from here on out. So, we're excited to see what the results will be when we put in you know, more than five hours a week, like we were doing before.
Hollie: Yeah, I'm kind of stepping back a little bit. I might help him with some phone calls, but he's going to be kind of taking over that, because he saw the success I had in the little amount of time that I put in. I was able, I think we probably made thirty to forty thousand with the few deals. I did probably eight deals total before I took a break. And he was very impressed. So, he's like, I can only imagine what I can do since I have more time than you. So, yeah, I mean, it's something that you know, moms at home can do, but man, if you can team up, it's even better.
Hollie: Oh, I'm eager. That's one of the reasons we're at the conference is because Joe had talked about how good the [Automarketer] is getting. And so we want to try that now to help us manage it. Because it could get overwhelming with the amount of people you get to talk with. So I would like to see how that managing software and just having those leads come to you is going to help us maybe not have to work as hard as we did before.
Hollie: Watch Joe's videos. Because they're all up there on YouTube and I really don't think it takes a lot of money. You just need to give your time to just get to know people and learn how to talk with them and learn to listen. So it really, I don't think it takes very much at all to get started. You can go grab signs for a few dollars at the store and just start talking with people and so I would say if you want to do it, do it. Don't let the money stand in front of you. Your first one could pay for the next part and it'll build. So start small and you'll see it grow.