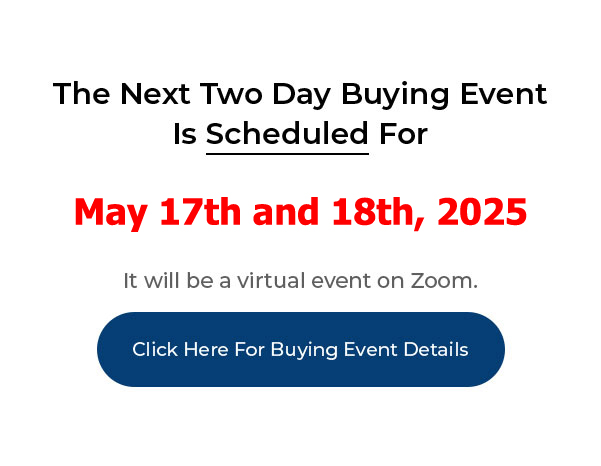 I believe the best way to learn the business of real estate investing is to hear how others have done it. When these interviews were recorded, I asked the interviewer to ask questions that would help the viewer see how these folks got started.
I wanted to hear the struggles, the successes and a clear path and explanation of what they had to do to make these deals happen. I did NOT want them to be a bunch of people telling you how wonderful Joe Crump was. I wanted content, examples and real life experiences.
I hope we succeeded.
Case Study – Elaine Clark – Greenwood, Indiana.
____________________________________________________________
My PushButton Automarketer Program – Automate your business:
http://www.pushbuttonautomarketer.com
My 6 month mentor program:
http://www.ZeroDownInvesting.com
http://www.JoeCrump.com/partner
My Two Day Buying Events
My Real Estate Investing Blog:
My home study program (there are 68 free videos you can watch on this site):
http://www.PushButtonMethod.com
A Free Audio About How To Automate Your Real Estate Investing Business:
http://www.JoeCrump.com/pushbuttonmethod
My ebook:
http://RealEstateMoneyMaker.com
Free E-letter Opt-In Page:
A few Case Study Video Interviews with my Students:
http://www.JoeCrump.com/partner/casestudy.html
30 Day Free Trial Monthly Printed Newsletter and Audio:
http://www.RealEstateMoneyMaker.com/newsletter/main.html
And on youtube.com search "joseph4176"

We Follow The System 102% And Our Business Is Flourishing
Elaine: I'm Elaine Clark and I live in Greenwood, Indiana. About ten years ago my husband found Joe online and we went to our first program and were completely blown away. Lots of amazing information. Probably about five years ago was our last conference we came to and we just took what we learned and just started to go to work and do what he said and follow the system a hundred and two percent. And our business is flourishing.
Elaine: It was about three weeks, we made $7,000 and we did the lease option agreement and then once you do it and realize you can do it, and the money is there, we just took off. And what we found in homes we could list and sell, the ones that weren't selling, the lease option was a perfect option to move that property.
Elaine: I would guess probably twenty, twenty-five hour. It was really a small amount of time, especially compared to the traditional selling of a home. No, the first deal was that. Now we're a lot faster and I would say, especially with the automated system, we maybe put in five to ten hours. We had a package from an investor and we did a lot of lease options with him and we made $60,000 in our fee. That was amazing.
Elaine: We have a rule, it's called the Sixty-five Percent Rule and so our average on a deal for an outright rehab or sale is $30,000 for a lease option it's $10,000.
Elaine: I think because we apply Joe's principles and it's just doing it consistently, being confident and when you have a system, the system works. We just have to execute. This year we had a goal of doing twenty houses. We've done sixteen, so we still have a little time. So that's really, and I think more in terms of houses. When you talk to my husband he'll probably have a number, but I think in terms of houses and so we're on track.
Elaine: It actually helped us achieve a goal we really didn't believe we would be able to achieve, and that was to work from home, to work together, because we both have the W-2, 8-5, and we started this in our spare time and now it has become our full time. I can stay in my jammies and Burt 'n' Ernie slippers until two o'clock in the afternoon if I want to and still be making money. We love it.
Elaine: We feel like not only are we earning income, but we're adding value to people who maybe don't qualify for a home at this time. So it gives them a chance. So we feel like it's really that double win.
Elaine: We subscribe to Joe's program and, because we've tried to do it ourselves thinking, oh, you know, we don't want to do this or that, or maybe we're not in the 21st Century completely. But we subscribe to the Automarketer and it has been amazing because we just watch for the leads and whether they say yes, we're interested, or no, you know, this doesn't work for me, we call them all.
Elaine: Money is really irrelevant. It's really the heart and the passion. Because if you want to do something the way will be opened. The way will happen, but you just have to start the first step, do the things you need to do because there's so much abundance out there. If you wait for the money you'll never start.
Elaine: I just think if people are on the fence, you already know what you have now. Do it. Try it. Check it off the list of I wonder if this would help, because absolutely. I see people here coming back with the same stories as us, that it's out there and Joe's got a great system that gives you the confidence, confidence right out of the gate and you can start making money.