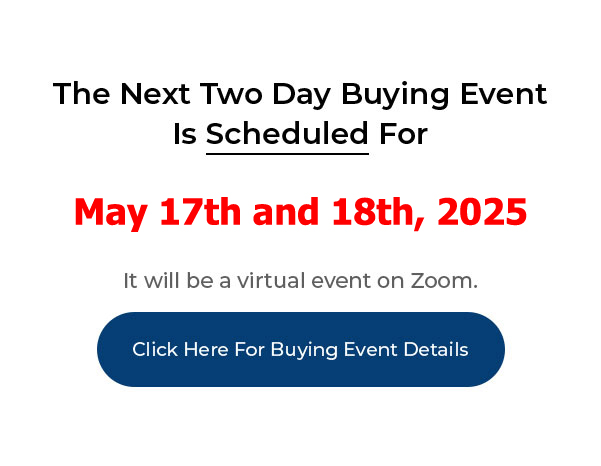 Click Here For Buying Event Details
____________________________________________________________
My PushButton Automarketer Program – Automate your business:
http://www.pushbuttonautomarketer.com
My 6 month mentor program:
http://www.ZeroDownInvesting.com
http://www.JoeCrump.com/partner
My Two Day Buying Events
My Real Estate Investing Blog:
My home study program (there are 68 free videos you can watch on this site):
http://www.PushButtonMethod.com
A Free Audio About How To Automate Your Real Estate Investing Business:
http://www.JoeCrump.com/pushbuttonmethod
My ebook:
http://RealEstateMoneyMaker.com
Free E-letter Opt-In Page:
A few Case Study Video Interviews with my Students:
http://www.JoeCrump.com/partner/casestudy.html
30 Day Free Trial Monthly Printed Newsletter and Audio:
http://www.RealEstateMoneyMaker.com/newsletter/main.html
And on youtube.com search "joseph4176"
What do you do when you feel stuck
I don't know about you, but sometimes I feel stuck. Sometimes, it feels like everything I try lands with a thud.
After a while you start questioning yourself. You start to wonder if the path you are on is ever going to go anywhere.
I see this happen with my mentor students all the time.
It's normal.
It's part of the process of learning something new.
AND…
It sucks.

But there is a way to deal with it that works for me and many of my students.
When this happens to the folks in my group, I don't do the rah, rah motivational thing and try to prop them up with false energy. I don't just give generalized advice and hope the problem will magically disappear if I keep talking.
Instead, I get focused.
I gather my 35 years of experience as an entrepreneur and…
I ask questions.
You've got to figure out the questions. If you don't know the questions, you can't hope to find the answers.
If you know the right questions, finding the answers is MUCH easier.
My goal is to help my students find those questions. Then we can find the answers together.
When we get stuck it's because we don't know what to do next. Sometimes, we don't know what to do because we can't figure out what the problem is.
So when someone is having problems getting their business off the ground or getting their first deal closed or building an outsourced team or building a long term portfolio of properties, I ask them questions.
I base those questions specifically on what THEY personally are trying to accomplish.
We dig deep to find the wrench in the works, the clog in the pipe, the barrier in the road.
We look at the end goal and then work our way backward so we can figure out where the sticking point is.
One of the best ways to do this is by going through my business milestones.
I talk a LOT about milestones in my mentor program because they provide waypoints on your journey that help you know if you are making progress.
Milestones also make it possible to understand each step in your business so you can break them down into smaller, more digestible and actionable pieces.

Here are the milestones and benchmarks we focus on the moment you join my group:

Set up full lead generation automation. (1 day)
Start making offers. (3 days)
Get control of your first property. (1-2 months)
Find your first buyer. (7 to 30 days later)
CLOSE YOUR FIRST DEAL AND MAKE MONEY! (3-4 months)
Make money EVERY month, consistently and reliably. (6 to 12 months)
Hire your first outsourced worker. (2-6 months)
Hire a full team. (6 to 12 months)
Stop talking to buyers and sellers. (1 year – varies)
Build a passive portfolio. (2-12 months)
Own your first $1 million in EQUITY. (benchmark 2 years)
EXTRACT yourself from the work of your business. (1 to 2 years)
These milestones create a simple framework for an entire real estate investing business. Once you've accomplished these milestones, you will be rich and you will have control of your life and your time.
So all you have to do is start at the beginning and accomplish them one-by-one.
It doesn't happen overnight. It takes time and patience and perseverance, but it's definitely NOT rocket science – you don't have to be a genius. As Edison said, it's 99% perspiration and 1% inspiration.

Once you get started…
After the first few months, you start to bring in chunks of cash and then it all becomes easier. You can take a deep breath of relief and your growth starts to accelerate.
At least that is what happens with my students. I've been doing this for more than 20 years and I've seen it happen thousands of times.
One thing I've designed in my program is…
There will never be a time when you won't know what you are supposed to be working on – what your next step should be.

If you get stuck, just say so and I'll be there to put you through the wringer… er, I mean, I'll be there to ask you questions.
Okay, I may beat you up a little bit – but I promise to do it with love.
Using this framework of milestones makes it possible for me to help my students no matter where they are in the process of building their business.
It's also the only way I can make the guarantees I make in my mentor program.

If you would like my help building your business. If you would like me at your side guiding you through the entrepreneurial landmines…
You should think about joining my Six Month Personal Mentor Program.
It's not cheap – about the same as going to college for a semester, but I think there is a good argument that says that accomplishing ANY of the Milestones above is worth much more than the cost of my program.
If you are serious about building a healthy real estate investing business that will feed you and your loved ones for the rest of your life, you should check out my website about the program.
If you want to work with me personally (not a hired hand), you can find out all about my Six Month Mentor program here:
http://www.ZeroDownInvesting.com
This website will show you how my program works, what is included, what it costs, what you can expect from me and what I expect from you if you sign up.
There are 3 training videos on the site that go into great detail about what you need to do to build a profitable real estate investing business.
They add up to about 2 hours of education. I call them my "Advanced Training" because that is exactly what they are. If you know nothing about real estate, they may be a bit over your head.
The techniques I teach in these videos come from my personal experience and you won't find this information anywhere else.
If you aren't interested in working with me personally or can't afford to join my mentor program, these 3 videos will still be worth your while.
They will give you an overview of my entire business and show you how to model YOUR business after the step-by-step systems I've created.
Even if you ultimately decide not to join my mentor program, I can safely say this Advanced Training Program can completely transform your thinking about building a real estate investing business.
I think these 'Advanced Training' videos are one of the best training programs I've ever created – and they won't cost you a dime.
They distill my 35 years as an investor and 20+ years as a coach and give you a complete outline of how we build a powerful, profitable, consistent, reliable, ethical, PEACEFUL business.
They give you the milestones, benchmarks, and SOPs (standard operating procedures) you need to succeed.
One last thing…
I am a lucky man – sometimes I have to pinch myself. Yes, I've worked hard and taken risks and I've failed SO many times. I've literally failed my way to success.
But the harder you work, the luckier you get.
They give you the milestones, benchmarks, and SOPs (standard operating procedures) you need to succeed.
One last thing…
I am a lucky man – sometimes I have to pinch myself. Yes, I've worked hard and taken risks and I've failed SO many times. I've literally failed my way to success.
But the harder you work, the luckier you get.
I built my business from nothing – actually, from being in the hole BELOW nothing – read my story sometime – lol.
But I had help from so many people over the years. You just can't do this on your own. I've been blessed, but I stand on the shoulders of my mentors who came before me.
I'm so grateful I've been able to live this life and share it with so many good people.
I hope you will join me on this fantastic journey.
If you like this video, please SUBSCRIBE and hit the LIKE button.
You can also go to www.JoeCrumpBlog.com and sign up for my free email newsletter.
I put out a lot of free information there that you can't find anywhere else.