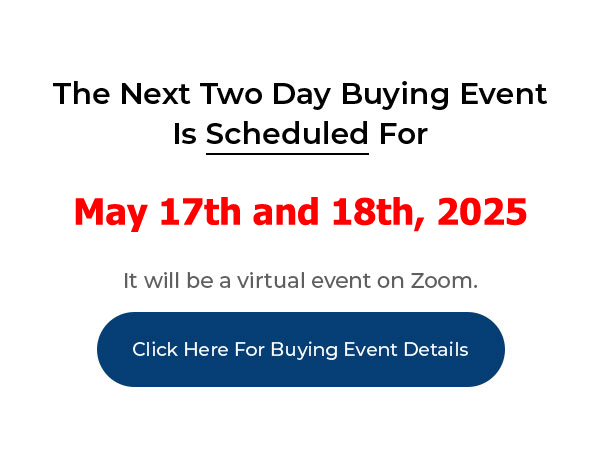 Click Here For Buying Event Details
____________________________________________________________
Discover an amazing real estate investing workplace that's better than a brick and mortar office to host your business. This informative video will teach you about the best ways to host your property investment business and set it up for success!
My PushButton Automarketer Program – Automate your business:
http://sales.pushbuttonautomarketer.com
My 6 month mentor program:
http://www.ZeroDownInvesting.com
http://www.JoeCrump.com/partner
My Two Day Buying Events
My Real Estate Investing Blog:
My home study program (there are 68 free videos you can watch on this site):
http://www.PushButtonMethod.com
A Free Audio About How To Automate Your Real Estate Investing Business:
http://www.JoeCrump.com/pushbuttonmethod
My ebook:
http://RealEstateMoneyMaker.com
Free E-letter Opt-In Page:
A few Case Study Video Interviews with my Students:
http://www.JoeCrump.com/partner/casestudy.html
30 Day Free Trial Monthly Printed Newsletter and Audio:
http://www.RealEstateMoneyMaker.com/newsletter/main.html
And on youtube.com search "joseph4176"
What Works Better Than A Brick And Mortar Office For Real Estate Investors?
Joe: Hey, it's Joe. What works better than a brick and mortar store for your real estate investing business? And that, of course, is a website. If you have a website that's all you need these days. You don't need to spend the money on that infrastructure. Now, I've got a few students who have bought office buildings that they build their real estate business in because they like to have people in one place. But I don't like that. I like to work out of my home. And everybody that works for me works out of their home. And it makes it so much easier. And, now that we've got this pandemic that we're dealing with, it makes life a lot easier because they're working from their home anyway.

Joe: And I think that we're finding across the country that working from home isn't such a bad thing, that it makes people more productive, they enjoy their work better, they're able to live the life that they want to live and it's just, in general, a better way to go. So, having your own website makes it possible for you to do all this stuff remotely, and being able to build your business so it's a remote business that you can work at lot of different areas, if you want to, or you can work in the are that you live in – doesn't matter. You just don't have to leave your house.

Joe: Every time I leave my house it costs me three hours of my time. So, I don't want to do that. So, what I did was created different websites for different things. And one of the things I've learned over the many years that I've been in real estate, in the teaching business of real estate, is that, actually the information business, because I've been doing this since – I've been actually investing since 1986 – but I've been online doing this since about 1998 which is sort of the Dark Ages of internet marketing.

Joe: And the things that we learned then and now work still – and these are things that we learned before the internet when we were doing direct marketing with mail. We learned that if you try to focus on one thing that often is the best way to accomplish that thing in marketing. So, if I want to talk to sellers, I'll talk to sellers. And then if I want to talk to sellers about a specific type of investment or a specific type of sale, I'll have a website that's centered around that specific sale. If I'm talking to buyers, I talk to buyers in a certain way. So, I want to make sure that the website that I have is very focused on what I'm trying to accomplish. That's why we have multiple websites.
Joe: And when you get the Automarketer you're going to need four different domain names. Domain names, by the way, are going to cost you about $10 each per year to register a domain name. So, you can have your own unique domain name. And when you get that domain, that's your website. You can put it on your business card. You can use it in your marketing and it'll be unique to you. But the site will be a clone of the other types of sites that we use, that I've already written the copy for.
Joe: And I'm going to show you what those different sites are and how you can use them to give yourself credibility. One of the most important things that a new investor needs is credibility. Because when you get on the phone, you don't really sound like you know what you're talking about. You sound maybe a little incompetent. And when you sound incompetent typically people don't think that you're incompetent, they think that you're a scam. They always go to the worst of it all. So, you can teach them and you can show them by having a website that yes, you really are in business, you really do have a place that people can go and that you can be tracked down, and that you're a real investor.
Joe: And these sites will give you that credibility and make those conversations that you have a lot easier, especially at the beginning. Now, if you're good on the phone, you don't really need a website. You can do this just with a telephone and nothing else. You don't need any of this stuff. This stuff just makes it a lot easer and it'll help you systematize your business, give you credibility and let other things do the work for you so you don't have to get on the phone, ultimately. At the beginning, it may take some more time for you to make that happen. But later on, it's not going to be as big a deal.
Joe: So, let's take a look at some of these different sites. The first one, and you can go into the Automarketer and go into the Clone Sites and check out your clone sites, and you'll notice here there's also a website editor so you can modify these websites any way you like. And you can also set up your domains if you want them to have your own specific unique domains. You can use our subdomains if you want to – I don't recommend it. But you can do that if you don't want to spend the $10 for a unique domain name.

Joe: But the first site that we're going to look at is the Listing site. And if I go to – my listing site is called StopPayingRentAmerica.com. And you can actually go online and see this if you'd like to, and play around with it if you like, but I'm just going to show you the basics of it here. Essentially, it's got a few different ways to capture leads, because I still want to capture leads, and this is what I call my generic site, my business site. This is the site I give people when I want them to know that I have a business.

Joe: And it also allows me to post my listings, my properties, on here that I have for sale, so that I can you know, get them out to the world and try to get them sold. But, mainly, it's here to kind of show that I've got a business and to capture leads. So, it allows me to capture investor leads, another one for investor leads, and then this is rent to buy buyer leads that'll help me capture.

Joe: And then, below this, are the different properties. And some of these properties are in the data feed of the Automarketer. These aren't necessarily my properties, but other people that are using the Automarketer that have properties that are for sale. Now, if I pick any of the properties that are in the data feed they're going to show up as sold. But what they'll do is, they'll show that I've got a business. That I'm in business. This won't just be a blank area down here. It'll actually have properties in it that are for sale that they can see, oh, this person has been working this area. And you can go into the data feed of the Automarketer and you can pick, let's say I want to pick properties in Texas. So, I'll pick properties in Texas and I'll put them on this site and that way people can see them and, oh, he's got properties in Texas and he's been working in Texas.
Joe: Now, most states in the data feed have properties that you can pull up. Not every city does. What I would suggest is you just pull a property that's as close to what you've got as you can and all that matters is that it shows that you're in business. That's the most important thing. Because you're not trying to sell those properties for those other investors. All you want to do is show that you're in business.
Joe: And then as you get new properties, you can put your own properties on here and you can put all the details about those properties and if you click on this link it'll open up this site and you'll see the detail of this particular property. You can embed a YouTube video. Let's say you want to walk through the property with a YouTube camera and you can upload it to a YouTube account and then you can put a link into the embed and you can actually have a video of this particular property on this stie that people can go in and look at.
Joe: Or, you can add as many photographs as you want. There's a slide show system in here that allows you to put that information in here. And all this is managed, by the way, inside the inventory in your Automarketer. So, if you go to Inventory, it'll allow you put in all these details. And it'll also allow you to go in to each of these leads and if you go into the property details of each particular property you can put the details that will also show up on this site. So, when you go into the site you'll see that it's got three bedrooms and the square footage and all the details and descriptions that you've put for that particular property. Then you can put as many photos in here as you'd like.
Joe: And I haven't put very much on this particular property. You can put a big description on here, you can put that it's rent to buy, you can put all the details that you need, plus have video is you choose, to do that. So, that's the basics of the listing site and it gives you a lot of capability.
Joe: The next site I want to show you, and I'm just going to give you the basics of these. You can get into it in detail, or you can go check them out yourself, if you like. StopPayingRentIndiana.com, and again, these are going to be your domain names – you're going to create your own domain name for these that's unique to you. But, they're going to look like these sites. And this one says Indianapolis Rent to Buy. If you're area that you want, you can put in, you know, Atlanta or Dallas or whatever it is that you want in here you can have your site say that.
Joe: Or, if you want it to be more generic, you can get rid of Indianapolis altogether and it can just say "Rent To Buy Homes For Sale." And then there's an audio here of me speaking. And this audio is basically me reading this documentation down here below that explains how rent to buy works and you know, what you need to do in order to buy a rent to buy property. Click on this button, it'll take you down to those leads.

Joe: And if they're interested, then they'll put in their name, email address, phone number, what they're looking for, how much they've got for a down payment, if they're looking to buy, how much they've got for a monthly payment, how many bedrooms and baths they want. You're probably not going to call these people unless they're trying to contact you about a specific lead. These are probably going to be more generic leads. And this is how you build your list. Because you're going to, as you get new lease option memos, or properties to sell on a lease option, you're going to want to broadcast messages to these people. So, you can send out an email or a text or a voice blast to these people with new properties as you get them. And so, you're going to build this list.
Joe: There's also, when they fill out this form, they're going to get a follow-up series of emails and if you go into the follow-up campaigns there's an email campaign set up specifically for rent to own buyers that explains how rent to buy works, thanks them for being a part of your list, lets them know that you're going to be sending them properties as you get them. Educates them about the process, builds a relationship with them and by doing that it makes it more likely that they're going to work with you.

Joe: I find when you have 500 to 1,000 buyers on your list in a specific area that you're working, which usually takes, you know, after you go through 4 or 5 or 6 sales, you're going to have about that many people on your list. As soon as you get that many people on your buyers list, you're going to be selling 10% to 20% of your properties directly to the people on that list. And it's going to happen, you know, pretty much on the first or second or third day that you have that thing on the market because as soon as you get a lease option memo signed, you're going to send out a broadcast to your list sending them a link to the listing sites so they can see what you've got for sale. And also giving them the details about the property, or maybe sending them a voice blast that has that information, or maybe you send them email that has that information. And then they can go and they click on that link and they can go look and see what you have and you'll sell to a lot of these people.
Joe: Previously, the best marketing technique that we've had is a sign in the yard. Sign in the yard still sells 20% of our leads. That's an incredible way to sell a property. So, you've got to have a sign in the yard. But, if you have a list of properties, that's also going to 10% to 20% of our leads, which is a substantial amount of leads. Craigslist, Zillow, Facebook – those are all great sources of bringing in buyer leads as well. And you can use those sources to drive traffic to your rent to buy sellers site.
Joe: The other one we've got is the rent to own seller site. This is the one where we show people how we do the For Rent Method. And it explains this whole process. And you can go to this site if you'd like, BuyersForYourHouse.com, and it'll show you exactly what's on here. Again, there's a recording of me explaining how that all works. There's a FAQ section below. There's a place for them to fill out what type of property they have for sale. And these are for sellers. This isn't for buyers. This is rent to own seller site, so we get those people and then we can assign that property to somebody else once we get the lease option memo signed. This also gives all the details about this process and all the questions that they might have about it.
Joe: And then once they fill out this form and send it you, it's going to automatically send them an email that says, "Why don't you go fill out the lease option memo and give me control of your property so that I can sell it and get the ball rolling on it right away?" So, it'll send them an email like that. But you're also going to want to call them. If they fill out this form, this is really low hanging fruit. These are people that are absolutely ready to go. They've already got the information, they know what you're trying to do, what you're trying to accomplish. And it makes it so easy to convert these.
Joe: You're going to get a lot fewer people filling out this form than you're going to get people to respond to your text message campaign that you're doing. But when they do fill this out, it's absolutely a lead that you need to go after. Some people only wait for these types of things to be filled out and then they contact them because almost every one they do, they can put together a deal on.
Joe: If you don't know what you're doing, if you're not good at talking to people on the phone, and you get a lead like this and you try to call it, you're probably not going to put it together. You're not going to be good enough to do that. So, you need to put the time in to learn the process of talking to sellers. Again, that typically takes a hundred phone calls where you don't get off the phone until they say no at least five times, and if they say yes, don't get off the phone until they say yes five times. And that, if you do that a hundred times over a three or four month period, which means 8 to 10 hours a week to make that many calls, if you do that you'll get pretty good at this.
Joe: And so when you get somebody to fill out a form like this, you'll be able to call them and put a deal together because you'll be eloquent enough to make that happen and competent enough to make that happen.
Joe: And you can also have them fill out the Lease Option Agreement online and this is a digital signature. So, this is the Lease Option Agreement memo and if you go to this BuyersForYourHouse.com/memo.html, you'll be able to actually look at this memo and you can use this memo. And we have this memo in .pdf format and you can have it in paper, or however you want. As long as you get people to sign this document, that gives you control of their property without giving them any risk at all. And this gives you control, it allows you to assign it to somebody else, raise the price, make a profit off of it and bring that lease option buyer to that owner and put that deal together. This is, you know, the agreement that we use for all the people that are just getting started in my mentor program.
Joe: The other offer site that we've got is the WeWillBuy.com and of course you're going to have your own domain, again. And this is the first type of I Buy Houses site that I ever created. The verbiage is the same, the design is different. But essentially I'll make an offer on your home in 24 hours guaranteed. And it tells we can buy any type of property, ugly properties; this allows us to buy subject to, you know, multi-mortgage, wholesale deals, all kinds of things. And you can use this site.
Joe: Now, as we're sending out these Automarketer campaigns, this is one of the sites that's going to be sent to the sellers showing them that there's different ways that we can buy their properties. So, and this kind of explains all the different ways that we can make this happen. I'm not going to read through this. I'm going to let you go to the website and look at it yourself if you're interested. And if you're interested, you can make an offer to us, if you want an offer, we'll make an offer on your property.
Joe: But we're going to ask you for all this information. And if we have all this information, that's going to give me enough detail to know whether or not I want to make an offer on this property. So, as soon as I get this details, it's going to be sent to me in an email. They're going to be put into the system as a lead. They're going to get an automatic response that says, "Thank you for filling out the form. I'll be in touch with you as soon as possible." And then I give them a call and put the deal together. And these days, I'm not the one that's making the call. I've got other people doing that for me and you can set that up as well so you don't have to make any of these calls, ultimately. But you do need to know how to do it before you give it to someone else.
Joe: The last form that I'm going to show you here, the last clone site that I'm going to show you is the Subject To FSBO site. And we send this out to the FSBOs as well, the sellers, and say, "Would you consider selling your home subject to the existing loan?" And there's a couple of different ways that we do it. If you have a need, or the greed. And it shows, you know, which category do you fit? And if they fill out this is something that I need to do because I can't sell it with an agent, then it'll take them to this page.
Joe: If it's something that they have plenty of equity and the could work with an agent, then you go with the greed because that makes you more money and does it in a quicker period of time. So, this shows them how we can make that process work, depending on who these people are and what they're trying to accomplish. And if they like any of these things, all they have to do is fill out this form, click here to sell your house, and it'll give them a form that they can fill out with all the questions that you need in order to understand the deal that they've got and whether or not it's a good deal. And then call them up, make an offer, and put a deal together.
Joe: When people fill this form out they're ready to hand you over their deed. They're going to deed you the property and all you have to do is making the payments on it and it's your house. You can go out and put a lease option tenant in it, you can get a lease option fee on it, you can get the monthly income on the property and it's a wonderful to buy property. So, these are all different ways that you can buy these houses.

Joe: And these websites are sent to these sellers that we're scraping in the Automarketer as a link that they can go and look and see the type of offers that we make. So, these are the different clone sites that are in the Automarketer that will give you credibility, that they'll sell for you, they'll educate for you, they'll build a relationship for you with the sellers and buyers that you're working with and make your life a whole lot easier. And make it easy for you to build a business, not just with yourself but with a whole team of people that can work with you.
Joe: All right. If you like this video hit the Subscribe button. Go to my website JoeCrumpBlog.com and sign up for my free newsletter. You can also go to the Automarketer at PushbuttonAutomarketer.com. And of course I've got a six-month mentor program ZeroDownInvesting.com. It's an expensive program. It's a six-month program where you work personally with me. It's like going to college for a semester and about that expensive. So, if you're interested let me know.
Joe: All right – good luck to you. Talk to you on the next one.