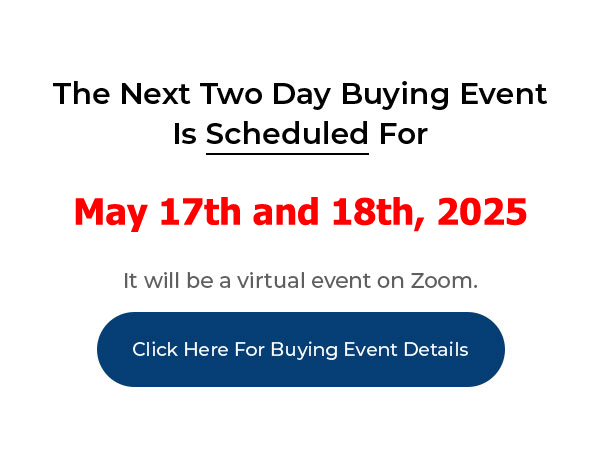 ____________________________________________________________
My PushButton Automarketer Program – Automate your business:
http://www.pushbuttonautomarketer.com
My 6 month mentor program:
http://www.ZeroDownInvesting.com
http://www.JoeCrump.com/partner
My Two Day Buying Events
My Real Estate Investing Blog:
My home study program (there are 68 free videos you can watch on this site):
http://www.PushButtonMethod.com
A Free Audio About How To Automate Your Real Estate Investing Business:
http://www.JoeCrump.com/pushbuttonmethod
My ebook:
http://RealEstateMoneyMaker.com
Free E-letter Opt-In Page:
A few Case Study Video Interviews with my Students:
http://www.JoeCrump.com/partner/casestudy.html
30 Day Free Trial Monthly Printed Newsletter and Audio:
http://www.RealEstateMoneyMaker.com/newsletter/main.html
And on youtube.com search "joseph4176"
Who Has Better Leads? Zillow vs. Craigslist
Joe: Which system has the better For Sale By Owner leads? Is it Zillow or is it craigslist? Now, our system scrapes both craigslist and Zillow. For a while all we scraped was craigslist and then we switched and all we did was Zillow. And we've tested both of them pretty well. And now we've brought craigslist back in. So now we scrape both craigslist and Zillow and that seems to be getting us the very highest quality and the most amount of leads that we can get.
Joe: Now, the difference between the two is craigslist, people post, you know, on a regular basis and they'll post over and over again, so you'll get duplicates. But there are a lot more leads that are coming on craigslist that aren't going to be on Zillow, at least in a lot of areas. So, you know, craigslist regular leads that are being posted every single day.
Joe: Sometimes, some areas have you know, 10, 20, 50, 100 new properties that are being posted on a regular basis, almost every day. And the system will go in every day and check and find those and it'll look at the duplicates and it won't send those again, because it's putting those into a follow up system. But it'll send out to all the new people that are putting on their properties. So that's a good process.
Joe: Zillow is also good because it'll give you all the properties in a particular area and it gives you more details about those properties. Zillow has more information than craigslist so you'll have the exact address, whereas craigslist you won't always have the address. But there are fewer leads in Zillow and so it'll also scrape Zillow and will give you all those details. And it'll give you the address so when you try to call that lead you'll have the address. craigslist you won't always have the address because they don't put it into the ad. But you will have their phone number and you'll be able to text them.
Joe: So, they both will bring in leads. craigslist typically will bring in more leads than Zillow. Zillow gives you more information about the leads so they both can be wonderful.
Joe: The other thing that I found with Zillow, a lot of people that don't use craigslist in rural areas. We're working in some places in Illinois and Arkansas, Oklahoma, and I find that some of those areas don't have big craigslist presence. But they, most all of them, use Zillow. And the people will post all their stuff on Zillow. So we're able to contact them through Zillow even if they don't have a big craigslist presence which has made a big difference for the rural areas that we're working in.
Joe: Anyway, that's the process. I hope it helps.