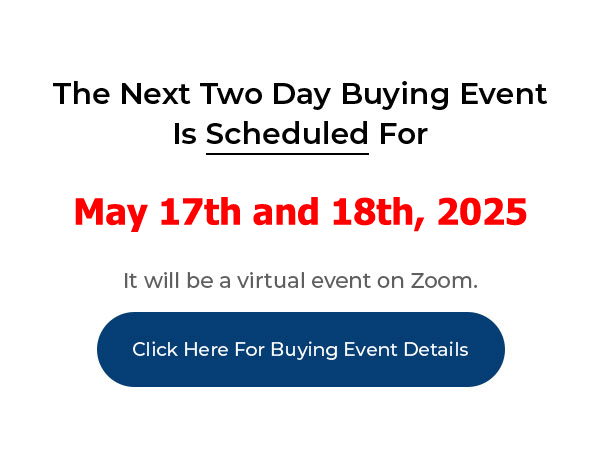 Click Here For Buying Event Details
____________________________________________________________
My PushButton Automarketer Program – Automate your business:
http://www.pushbuttonautomarketer.com
My 6 month mentor program:
http://www.ZeroDownInvesting.com
http://www.JoeCrump.com/partner
My Two Day Buying Events
My Real Estate Investing Blog:
My home study program (there are 68 free videos you can watch on this site):
http://www.PushButtonMethod.com
A Free Audio About How To Automate Your Real Estate Investing Business:
http://www.JoeCrump.com/pushbuttonmethod
My ebook:
http://RealEstateMoneyMaker.com
Free E-letter Opt-In Page:
A few Case Study Video Interviews with my Students:
http://www.JoeCrump.com/partner/casestudy.html
30 Day Free Trial Monthly Printed Newsletter and Audio:
http://www.RealEstateMoneyMaker.com/newsletter/main.html
And on youtube.com search "joseph4176"
Are You stuck at six figures?
Let's say…
You're an experienced investor. You're doing pretty well and bringing in six figures a year flipping property. I've worked with a lot of people just like you.
Congratulations. No one is crying in their beer for you. 😉
Sure you're grateful – and you should be. You have what very few people have, not only a reasonable income, you also have control over your time.
On top of that, you work far less hours than the average Joe.
So you can't complain, you're proud of your accomplishments, but you know you could do so much better if you could just get over the hump.
All is not right with the world as far as you're concerned.
You might think you know what the problem is and you might be right.
But…
I believe every business problem you have points back to your systems. If there's something wrong with your systems, it will create dysfunction in your entire business.
That dysfunction can take a lot of forms:
Not enough leads.
Not enough money to invest or financing.
Not enough closed deals.
Not enough flipped properties.
Not enough portfolio properties.
Too much wasted time doing unimportant tasks.
Not enough cash flow.
Not enough living wage.
The list can go on and on.
Sometimes I find it hard to get perspective on my own business problems. I need to talk them through with someone.
Sometimes when I'm struggling with something in my business, I'll sit down with my wife. She's got great insight into the world and into people and that can be extremely helpful.
But she's not a real estate investor (even though she probably knows more through osmosis than most investors I know).

What I really need is an experienced investor to look over the issues that I'm encountering and give me thoughtful advice. Advice based on personal experience and friendship.
You get this kind of advice through a mastermind.
A Mastermind is a group of like-minded people who work together to help each other improve their businesses and their lives.
The problem is it's hard to find a good mastermind group. It took me years to develop mine.
My mentor group is my mastermind. It's filled with both experienced and newbie investors. It's wonderful to see the experienced investors giving advice to the new people – this happens on nearly every coaching call.
There is nothing like having someone who has already experienced the hard knocks of building a business give you their experiential advice.

And the experienced people learn from the new folks as well. They bring us back to "beginners mind."
We always try to go back to beginner's mind because it forces us to think about how our business is structured in it's simplest form – in a form that can be explained to someone who isn't well versed in the business.
Simplicity creates clarity.
We learn through teaching.
This process may be why I love this group so much. I have learned so much from my students over the years. I can safely say that my biggest mentor has been this group, collectively.
Sometimes I'll get questions that make me laugh. Questions that seem, on the surface, so stupid they tickle me. I try to make an effort not to laugh in anyone's face.
One of my students might say to me, "What if I did this…?"
And I'll say, (in my excess of wisdom) "I don't think that'll work."
And then they go out and do it – and it works!
I stop laughing and start USING the technique – and thank them for the revelation. I then incorporate that technique into my system for everyone.
Sometimes one tiny tweak can revolutionize your entire business. One small suggestion, one slightly different way of looking at your existing business can change everything.
So with that said, find a mastermind group. It doesn't have to be mine but it's important that you find a group like this to help you through the rough spots.
If you want to work with me personally (not a hired hand), you can find out all about my Six Month Mentor program here:
http://www.ZeroDownInvesting.com
This website will show you how my program works, what is included, what it costs, what you can expect from me and what I expect from you if you sign up.
There are 3 training videos on the site that go into great detail about what you need to do to build a profitable real estate investing business.
They add up to about 2 hours of education. I call them my "Advanced Training" because that is exactly what they are. If you know nothing about real estate, they may be a bit over your head.
The techniques I teach in these videos come from my personal experience and you won't find this information anywhere else.
If you aren't interested in working with me personally or can't afford to join my mentor program, these 3 videos will still be worth your while.
They will give you an overview of my entire business and show you how to model YOUR business after the step-by-step systems I've created.
Even if you ultimately decide not to join my mentor program, I can safely say this Advanced Training Program can completely transform your thinking about building a real estate investing business.
I think these 'Advanced Training' videos are one of the best training programs I've ever created – and they won't cost you a dime.
They distill my 35 years as an investor and 20+ years as a coach and give you a complete outline of how we build a powerful, profitable, consistent, reliable, ethical, PEACEFUL business.
They give you the milestones, benchmarks, and SOPs (standard operating procedures) you need to succeed.
That's it for today!
I hope you will join me.
If you like this video, please SUBSCRIBE and hit the LIKE button.
You can also go to www.JoeCrumpBlog.com and sign up for my free email newsletter.
I put out a lot of free information there that you can't find anywhere else.