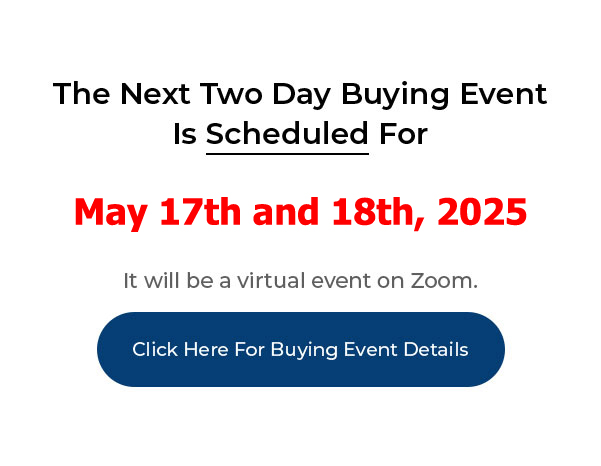 Click Here For Buying Event Details
____________________________________________________________
I believe the best way to learn the business of real estate investing is to hear how others have done it. When these interviews were recorded, I asked the interviewer to ask questions that would help the viewer see how these folks got started.
I wanted to hear the struggles, the successes and a clear path and explanation of what they had to do to make these deals happen. I did NOT want them to be a bunch of people telling you how wonderful Joe Crump was. I wanted content, examples and real life experiences.
I hope we succeeded.
Case Study – Steve Lundahl – in New Hampshire, the Concord, New Hampshire
____________________________________________________________
My PushButton Automarketer Program – Automate your business:
http://www.pushbuttonautomarketer.com
My 6 month mentor program:
http://www.ZeroDownInvesting.com
http://www.JoeCrump.com/partner
My Two Day Buying Events
My Real Estate Investing Blog:
My home study program (there are 68 free videos you can watch on this site):
http://www.PushButtonMethod.com
A Free Audio About How To Automate Your Real Estate Investing Business:
http://www.JoeCrump.com/pushbuttonmethod
My ebook:
http://RealEstateMoneyMaker.com
Free E-letter Opt-In Page:
A few Case Study Video Interviews with my Students:
http://www.JoeCrump.com/partner/casestudy.html
30 Day Free Trial Monthly Printed Newsletter and Audio:
http://www.RealEstateMoneyMaker.com/newsletter/main.html
And on youtube.com search "joseph4176"
Building An Ethical Business That Helps Others And Yourself
Steve: My name's Steve Lundahl. I live in New Hampshire, the Concord, New Hampshire area. This is my first real foray into real estate. I was just in the process of purchasing some properties with cash, but the cash wasn't going to last forever. And I wanted to be able to acquire more property at less risk to myself and I had done a couple of no money down deals over twenty years ago and this sounded really great. And I've been wanting to do more of that and get back into that and this looked like an excellent opportunity to do that.
Steve: I had bought three properties cash, one of which was required a major rehab which is just finishing this week and I just sold it, first person who looked at it. And now I'm doing a reboot to be able to spend much more time doing the what I call the "Crumpian Way."
Steve: This rehab, it was a foreclosure and the bank wanted $109,000. I looked at it, it was a duplex built in 1900 and I looked at how much work. It had great bones, but it needed a lot. Needed a new roof, new, you know, hearing system, new everything. So, I offered them $70,000 and took them a month. I was just about to back out and when I was telling the realtor I was going to back out, they came back and went, "Oh – oh – we're going to accept your offer." And they did. And it cost a lot more than I thought it was going to cost to rehab it, but I got a full price offer and I'm going to make money on it. So, that's good.
Steve: I can't do it full time. I have a full time job and so my goal is to be doing it between fifteen and twenty hours a week. I think fifteen's probably more realistic. I have two other careers, full time job and a music career. Right now I've got, after this, I've got more time. So it's basically, you know, have to work on weekends.
Steve: The rewards for the benefit, the potential rewards are very good. And for me, it is a way to ensure basically retirement, income during retirement and hopefully a legacy to leave my children.
Steve: The effect that this could have once I'm successful and I believe that that's going to happen, is that I will be able to eventually leave my job and have more time to do this and more time to just enjoy my family. My grandkids all live a long distance away and in very different directions. And I would like to be able to spend more time with them. But this is something that I can do on the road. So I can do this anywhere.
Steve: I haven't gotten other people fully involved. I do have my kids and a friend of mine involved a little bit. But I'm still the one that's doing all the calls. Once I'm getting better at my conversations with people and start having some success, then I will bring them in more. But I'm looking in different areas. And each one of them, you know, each of my kids and my friend all live in different areas, so I have different people who can do boots on the ground kinds of things in different areas. And that's sort of what their roles are going to be once I land something in their area.
Steve: Personal goal is number one, get good at this. Get good at conversations. And I am looking for long term, I would like to acquire a minimum of four additional properties this year and build on that for next year. But basically this year's goal is a minimum of four using the Crumpian Method and hopefully more than that the following year. But that is my short term goal. Long term goal is to build a portfolio of buy and hold properties under management, property management, that I don't have to worry about that will provide a steady income over a long period of time.
Steve: This is a really great way to do it. I really think that, I really like Joe, really like his ethics. I've listened to a lot of others and some people are really slick and I don't really – it's not me. This is the way that appeals to me, with a mentor that has the same kinds of outlook on life and the people that we're dealing with that I do. So, I think that for people who want a really ethical way of helping people and helping themselves at the same time, this is a great way to do it.