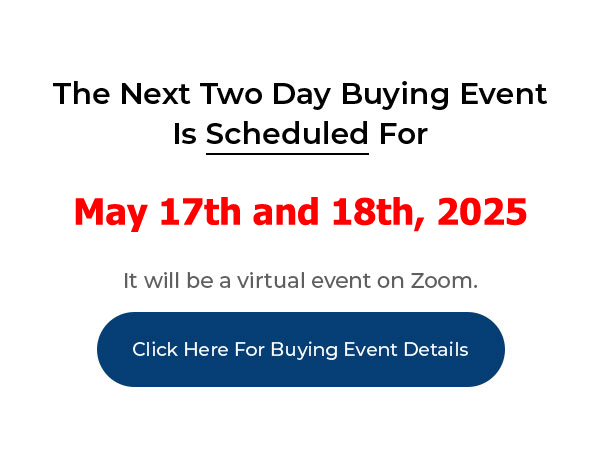 ____________________________________________________________
My PushButton Automarketer Program – Automate your business:
http://www.pushbuttonautomarketer.com
My 6 month mentor program:
http://www.ZeroDownInvesting.com
http://www.JoeCrump.com/partner
My Two Day Buying Events
My Real Estate Investing Blog:
My home study program (there are 68 free videos you can watch on this site):
http://www.PushButtonMethod.com
A Free Audio About How To Automate Your Real Estate Investing Business:
http://www.JoeCrump.com/pushbuttonmethod
My ebook:
http://RealEstateMoneyMaker.com
Free E-letter Opt-In Page:
A few Case Study Video Interviews with my Students:
http://www.JoeCrump.com/partner/casestudy.html
30 Day Free Trial Monthly Printed Newsletter and Audio:
http://www.RealEstateMoneyMaker.com/newsletter/main.html
And on youtube.com search "joseph4176"

How Do I Make Money on a Property That Won't Sell
Joe: Hey it's Joe. I've got another one for you here. This one is another example deal. Here's the guy, it says, "I'm in DC, Washington DC, and I have a seller with a $775,000 house. Real estate's very high out here. It would rent for about $3,500 a month. It's in excellent condition. He owes $700,000 on it and it's payments of $4,100. He tried to sell it with an agent, first at $825,000 and then eventually dropped it to $775,000. He did this for six months but didn't have any luck. How can I make money on this house?"
Joe: Well, he's already, we've already discovered through his realtor that it's not worth the $775,000. If he's had it on the market for more than 30 to 45 days at a specific price and he's got it on the MLS or the realtor has it listed for that amount for that period of time, it's likely not worth that amount because it's not going to sell. Most properties, 40% of all houses that sell in the United States on the, by realtors sell within the first 30 days. The second 30 days only 7% sell. The third 30 days only 7% sell, the fourth 30 days it jumps up to 20% that sell. The reason that 20% sell after 90 days is because on average people lower their price after 90 days. So if it's not sold within the first 30 to 45 days, on the MLS and it's properly marketed on the MLS and not outside the MLS, doesn't matter where else it because the MLS is what sells those properties because that's where other agents bring their qualified buyers. And buyers always work with agents because, if they're qualified, because it's free. It's free to have a professional do that work for you and show you everything that's available. And that's why for sale by owners don't work because people are all working with agents if they're qualified. Otherwise for sale by owners would work and they don't.
Joe: And even if you offered as a for sale by owner, commission, agents don't want to work with you because then they have to do twice as much work and it's much harder to put a deal together if you're on both sides of it when you don't really have control, if you don't have the listing and the buyer and you're going to get full commission for it which is usually the whole reason people, for say by owners are not doing it that way. If you're not going to get that stuff you don't want to have to be the person who's doing all the work on both sides of the transaction to get it done. So they're not going to even show your property even if you're offering them a commission.
Joe: Anyway. Here's how I would do this property. You can't take the subject to. Go look at the hierarchy of zero down structures, you know, always start at the top of the hierarchies, you know, subject to. Not going to be a subject to because there's not any cash flow in this property. It's actually negative cash flow. It's not going to be multi mortgage because there's not much equity in this property. Even at $700,000 it's probably worth under $775,000 so maybe it's worth $750,000. So that means they'd have $50,000 of equity, but that would all be eaten up by a realtor fee if he sold it.
Joe: He says, "It will only rent for $3,500 a month," if we did, we could do a land contract on this but he's going to take a negative cash flow on that. What I would do as a short term type of deal, is I would try to rent it for three months on a lease option as the seller and I would take a negative cash flow. If he has payments of $4,100 PITI and he's only getting $3,500 that means he's got $600 a month negative cash flow. But so many people that are in this price range have credit reports, especially if it's in DC, where he's probably a government worker who's making good money and he has to keep his credit clean. Otherwise he loses his security clearance, or he's not able to move up on the corporate ladder because they check his credit report before they hire him. So he cannot have bad credit.
Joe: So $600 a month is a lot better of a loss than losing $4,100 a month. So if we did a three year lease option on this property and let the market kick in for a while and maybe the values would start going up so if the values go up that eventually after three years if this guy doesn't exercise the option then he can, the seller could sell the property and the values would have gone up and he would have more equity and it'd make it easier for him to sell. Or, he could continue to take that negative cash flow and turn this into a profitable deal. And so their payment usually aren't that bad. They do have taxes, they have to do repairs, you know, those types of things happen but still it's not going to be horrible for this situation.
Joe: So that's how I would do it. And I would try to get him to whole $775,000 for the property. Raise the price by $20,000, now you're at $795,000 and then you go out and find a lease option buyer at $3,500 a month. Now, you don't want to get him, try to get him the $4,100 because you will not get it. You're just wasting your time if you're trying to sell that property not for a higher price but for a higher monthly payment. Monthly payment is, buyers are far more sensitive. Lease option buyers are far more sensitive on monthly payment than they are on the purchase price. They'll be willing to pay a premium on the purchase price of the property because they couldn't even go out and buy this property without coming up with, you know, 10% or 20% down so they're looking at $70,000 to $150,000 for a down payment, plus they have to pay payments that would be very close to this $4,100 every month anyway. So instead of doing that they can get if for $3,500, they can get for $10,000 or $20,000 down and they can call this property their home and it could end up being a decent deal for them. And values may go up over the next two or three years and they may be able to actually make money on the property depending on how fast the market is moving.
Joe: All right. Hope that helps.