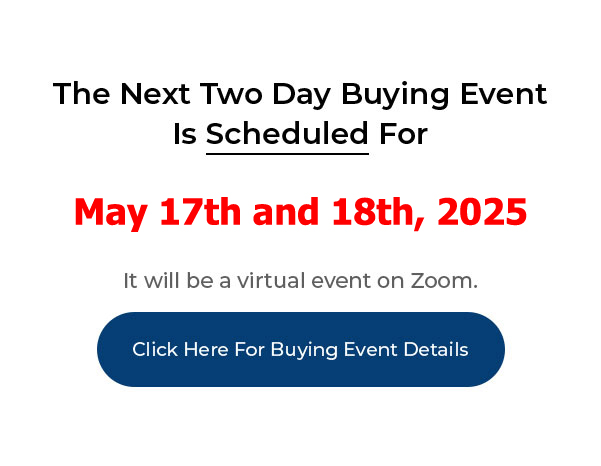 Click Here For Buying Event Details
____________________________________________________________
My PushButton Automarketer Program – Automate your business:
http://www.pushbuttonautomarketer.com
My 6 month mentor program:
http://www.ZeroDownInvesting.com
http://www.JoeCrump.com/partner
My Two Day Buying Events
My Real Estate Investing Blog:
My home study program (there are 68 free videos you can watch on this site):
http://www.PushButtonMethod.com
A Free Audio About How To Automate Your Real Estate Investing Business:
http://www.JoeCrump.com/pushbuttonmethod
My ebook:
http://RealEstateMoneyMaker.com
Free E-letter Opt-In Page:
A few Case Study Video Interviews with my Students:
http://www.JoeCrump.com/partner/casestudy.html
30 Day Free Trial Monthly Printed Newsletter and Audio:
http://www.RealEstateMoneyMaker.com/newsletter/main.html
And on youtube.com search "joseph4176"
The Coming Real Estate Crash
We are sitting on a bubble that is going to pop.
It's not a matter of IF, but WHEN.
That means there are going to be HUGE opportunities to buy real estate for pennies on the dollar if you understand when and how to do it.
The last time this happened was in 2008, and at that time, I was able to buy millions of dollars of real estate for 20 or 30 cents on the dollar.
I used some cash (because I had cash to invest), but I was also able to structure deals in a way that didn't require me to have much capital.
More millionaires are created during a crash than at any other time, because a recession creates a massive transfer of wealth in the country.
There are several ways to be successful as an investor.
One of those ways is buying properties and flipping them as a wholesaler. This is an excellent way to make money as an investor and we use it – sometimes…
But there are better ways – and those are the SUPER TECHNIQUES I teach. These strategies have 20 to 30 TIMES the number of deals available to wholesalers because we don't have to buy them at a dramatic discount and the sellers are easy to find.
Using these techniques, you can even make money in BOOMING markets.
It's wonderful when we get properties at deep discounts. I love a great deal and we're going to see more of them when the market crashes – and it WILL crash and you want to be positioned properly when it does…
But you don't have to wait till then.
There will always be a lot more sellers willing to sell for full price than for substantially under market value.
I've written a book titled, "How To Make $1 Million In 2 Years Investing In Real Estate."
I call this technique, "The Millionaire Matrix."
In the book, I'll show you how to create consistent, reliable chunks of income AND build a multimillion dollar portfolio of residential real estate in a very short period of time.
We use 'Subject To', Multi-Mortgage, Land Contracts and Contracts for Deed, Assignable Cash Deals and Lease Options to do all this.
My name is Joe Crump. I've been a real estate investor for 35 years and I've been teaching real estate investors for more than 20 years.
I built a real estate portfolio for myself that will feed me and my family comfortably for the rest of our lives. I've also taught thousands of investors over the years, many with no prior real estate experience, how to quickly use my evergreen techniques to create consistent, reliable income – big chunks of cash that come in regularly.
AND I've helped many of them build multi-million dollar real estate portfolios that will allow them to retire and ultimately, leave as a legacy to the ones they love.
You don't have to be Einstein to grasp these techniques.
Most of the work can be automated or outsourced so you can extract yourself from the work of the business.
And you can start making chunks of cash almost immediately – within a few short months.
A recession is coming… you can't do anything to stop it, but you can be prepared for when it happens.
NOW is the time to position yourself to take advantage of this opportunity.
You do this by gaining the knowledge you need to put together profitable deals.
In real estate, if you know what you are doing, when the market is good, you make money every day.
When the market crashes, that's when you get rich.
All you need is a step-by-step guide – a proven path to income and wealth.
In my book, "How To Make $1 Million In 2 Years Investing In Real Estate," I will walk you through the simple process for doing profitable deals.
This isn't rocket science. In fact, I've taught this to rooms full of newbie investors in a couple short hours on a Saturday morning and by Saturday afternoon, they were all making offers to live sellers, all over the country, from that conference room, and putting together deals without needing cash for down payments or good credit.
When I first started, I didn't have anyone like me to help me through this process, but I still managed to build a $17 million dollar business in 3 short years.
Unfortunately, I built it wrong and in 1991, when the Savings and Loan crash happened, I got caught in it and lost everything.
That desperation – that need – is where the beginnings of these techniques came from.
That was a long time ago, but I still remember it in horrifying detail and I wouldn't wish it on anyone. I learned from the school of hard knocks. You don't have to.
After the crash, I had to start over and learn to buy properties without using cash (which I didn't have) or credit (which got completely trashed). All I had was a wife who loved me and a brand new baby at home who needed me to step up to the plate.
And these strategies are what has allowed me and thousands of my students over the past 20 years to find success and wealth investing in real estate.
In the beginning, as I succeeded, I started talking to my friends and family about what I was doing and showing them how they could do the same thing – and how to do it without taking the same risks I took when I started.
I remember talking to the woman we had hired as our family's personal chef about these strategies and she gave them a try. It wasn't long before we lost Christie as our chef because she started making hundreds of thousands of dollars as an investor. I still miss her Fettuccini Alfredo.
I found it so rewarding to help others like this, I started teaching these techniques. I laid everything out, one step at a time, so that anyone could follow in my footsteps.
I also started personally mentoring people who were serious about building a business.
More than 20 years have gone by since I started teaching and a lot has changed over the years. Technology has made our business so much easier. It's been a game changer.
Recently, I wrote this NEW book to show you what is working RIGHT now and give you the tools you need to start doing deals right out of the gate and prepare yourself for the coming market crash and the opportunities it will bring.
And the exciting thing is, these techniques are evergreen. My students and I have used them in up markets and down markets, high end markets and low end markets. We've even used them in Canada and overseas in Europe, Australia, India and the Arab Emirates. As long as a nation has a free market and private ownership of real estate, my strategies work.
I'd like to offer you a front row seat into these techniques and strategies in my new digital book, "How To Make $1 Million In 2 Years Investing In Real Estate."
It's only $27.
All you have to do to get started is click this link:
www.JoeCrump.com/millionbook
When you order, you will be sent an email with a link and password to the member site. You will be able to start learning in less than 10 minutes.
I'm also going to GIVE you five very powerful free bonuses if you order today.
BONUS ONE
The "For Rent Method" Training
This is a 68 minute audio that will teach you how to flip properties without ever owning them. I teach this technique to my six-month mentor students – the folks who pay me about the same amount it would cost to go to college for a semester.
This is the FIRST technique I teach them because I believe it is the fastest and EASIEST to implement to get started making money. After two decades of teaching real estate investing, I found that THIS technique is the best one to start with for most people. You get this extra training for free when you purchase the book.
**
BONUS TWO
A one-on-one conversation with me personally during one of my mentor coaching calls. Sometimes, no matter how much recorded material you listen to, you just need to ask a question to the guy who created the system. I get it.
Normally, I charge $1,000 per hour for phone consultations and honestly, I don't do them very often any more because I prefer to only work with my six month mentor group.
But I'm going to GIVE you access to me for ONE of my mentor coaching calls. I'll give you a zoom link so you can show up on the call and ask me your most pressing question. I'll answer that question in detail. You will also be able to participate on the call and listen to the questions my other mentor students have and hear my answers to them.
This is a limited time offer. In fact, this is the one bonus that I'm a little nervous to make because it takes my TIME – and that's the one thing I can't get more of. So, if this is something that you would find valuable – take advantage of it before it goes away.
**
BONUS THREE
A one hour audio training titled, "10 Common Myths That Cause Investors To Fail"
This audio will change the way you look at real estate investing.
In it, we'll ask these questions:
How much money do you need to buy houses for your portfolio?
When do you need to set up an LLC or S Corporation?
Should you set up a Roth IRA?
When do you need to hire an attorney, agent, property manager or mortgage broker?
What should your expectations of income be – when will I be rich?
When should you get started? – Is this a challenging market? – Is now the right time?
What types of properties should you put in your portfolio?
What are the best sources for motivated seller leads?
How do you turn flipping a few deals into a full fledged systematized business?
How many hours do I need to work per week to succeed?
Do I need to rent office space for my team?
What are the best ways to get started doing deals today.
I Created This Program To Help My Students SHIFT The Way They Think About Some Of The Biggest Misconceptions About Investing
***
BONUS FOUR
A 53 minute audio titled, "I Just Hit $1 Million!"
This is an interview I did with one of my successful mentor students, Daniel Riegel, at one of my Two Day Buying Events shortly after he passed $1,000,000 in equity in his portfolio.
He tells exactly how he got there and what he had to do to find success. This milestone came two years after he started in my mentor program. Daniel talks about driving to Indianapolis in his old car without air conditioning for the Two Day Buying Event the first time he attended – wondering if the car was going to make it.
He also took questions from the class and explained how he structured his deals and the triumphs and challenges he faced as he built his business. And did I mention, he does all this from a wheelchair.
You Are Going To Love This Bonus – It's Uplifting, Exciting And It Shows You The True Possibilities Of Real Estate Investing
**
BONUS FIVE – this one is optional
30 Days Free of my CASH FLOW NEWSLETTER AND MEMBERSHIP
Every month, I send out a 12 page printed newsletter by SNAIL MAIL. Yes, I'm old school when it comes to my newsletter. I've been writing this newsletter for a long time and I still love it. I also send out a training disc with the newsletter – either audio or video.
I cover new material on these training discs and newsletters – in fact, I use this newsletter group as an outlet for my new techniques and ideas. It's often one of the first places I discuss the new strategies I'm developing and implementing with my team and with my mentor students.
The reason I'm making this bonus optional is because it's a SUBSCRIPTION. I'm going to send you the first one free. If you like it, do nothing and I'll send you the newsletter every month at the low cost of $39.95 per month. If you want to cancel, just let me know within 30 days and you will never be charged.
If you want this bonus, be sure to click the "YES" button on the order page.
***
Well that's it.
Just click on the link and you'll get the book and the five free bonuses immediately.
https://joecrump.com/millionbook
If you're serious about building a real estate investing business…
If you want to create chunks of cash consistently, sustainably and reliably…
If you want to purchase a multi-million dollar portfolio of properties with a massive equity position that will give you cash flow every month, pay off automatically over time, appreciate in value AND give you some very attractive tax benefits…
And if you want to get started immediately and prepare yourself for the incredible opportunities of the coming recession, all you have to do is click below.
I look forward to working with you! Let's get started.
If you like this video, please SUBSCRIBE and hit the LIKE button.
You can also go to www.JoeCrumpBlog.com and sign up for my free email newsletter.
I put out a lot of free information there that you can't find anywhere else.